After years of uncertainty and underperformance, it seems things are moving in the right direction for America's largest telecom operator, AT&T (NYSE:).
During the past couple of months, the debt-laden telecom giant has been able to show that its is gaining momentum. The Dallas, Texas-based media company is on a track to improve its portfolio, which could generate attractive returns.
Last month, AT&T announced it will off-load its loss-making DirecTV operations in a deal with private equity firm TPG. The move creates a joint venture in which TPG will be responsible for running DirecTV and AT&T's other pay-TV operations. 
Through this arrangement, AT&T will get $7.6 billion in cash, with the new DirecTV taking on $5.8 billion in committed debt financing. With the sale, AT&T is closer to becoming a smaller, modern communications and media company with a clear focus on its wireless and streaming businesses. 
AT&T's video-streaming venture, HBO Max, is also taking shape after some uncertainty about its place in a market dominated by Netflix (NASDAQ:) and Disney (NYSE:). AT&T said this month it is releasing an ad-supported version of its HBO Max streaming service in June to benefit from the pent-up demand from marketers seeking to reach the HBO Max audience. 
70 Million Subscribers
Dallas-based AT&T is aiming to bring HBO Max to 60 international markets this year, in an effort to broaden its geographic reach. The goal is to boost HBO Max and HBO together, so they finish 2021 with 67 million to 70 million worldwide subscribers. 
In December, the company surprised Hollywood when its Warner Bros. studio division said it would release its entire 2021 slate of theatrical films simultaneously in theaters and on the streaming service.
These encouraging signs, however, don't hide the fact that AT&T has been a bad investment during the past five years, when the stock lost more than 20% of its value. During the same period, the benchmark delivered 90% in total returns.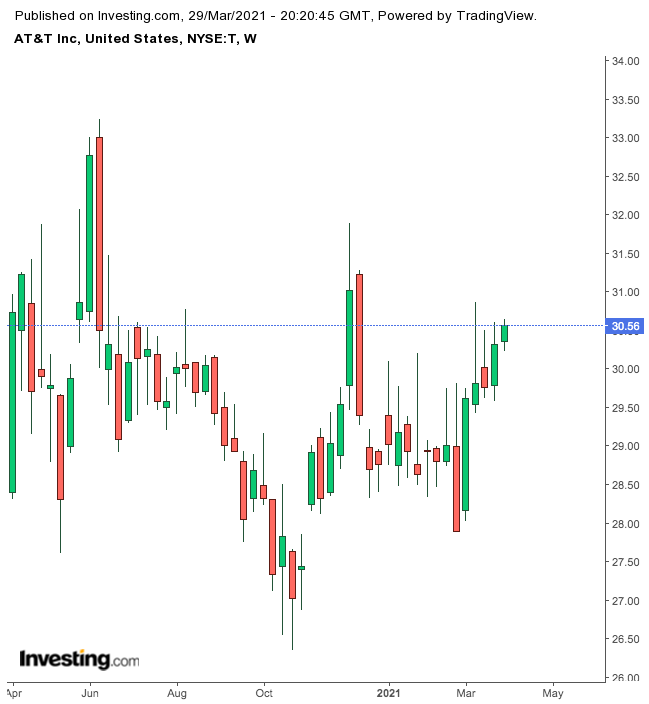 AT&T Weekly Chart.
John Stankey, the company's new CEO, believes AT&T's HBO bet will pay off over the long run and investors should remain confident about his turnaround efforts. Raymond James analysts, while upgrading the telecom giant's stock to outperform with a $32 price target, said in a recent note that the situation will continue to improve for the company over the next 12 months, making its stock a solid total return story.  
The note read in part:
"With HBO Max finally on the dominant streaming hardware platforms, we believe the streaming service will begin to see significant subscriber gains, and the stock should react well to these gains."
AT&T stock has gained about 9% during the past month, closing Monday at $30.57. It pays $0.52 a share quarterly, a dividend payout that translates into a 7% annual yield.
Bottom Line
Early success on its asset sales and increasing the subscriber base for its video-streaming business shows that CEO Stankey is succeeding at putting AT&T's house in order and unlocking some value for its shareholders. But, in our view, it is on a long road to recovery and it's tough to see its stock offering a huge upside potential after recent gains.
That said, AT&T remains a suitable candidate for investors who are looking to earn a steady income stream through its dividend.