The FAANG group of mega cap stocks produced hefty returns for investors during 2020. The group, whose members include Facebook (NASDAQ:), Amazon.com (NASDAQ:), Apple (NASDAQ:), Netflix (NASDAQ:) and Alphabet (NASDAQ:) benefited immensely from the COVID-19 pandemic as people sheltering in place used their devices to shop, work and entertain online.
During the past year alone, Facebook gained 35%, Amazon rose 78%, Apple was up 86%, Netflix saw a 61% boost, and Google's parent Alphabet is up 32%. As we enter 2021, investors are wondering if these tech titans, optimized for lockdown commerce, will bring similar or even better upside this year.
From this group of five stocks, we're analyzing Netflix today—a high-performer during the pandemic, it's now facing a unique competitive threat.
Stay-at-Home Appeal Diminishing?
Netflix has been one of the strongest equity performers of 2020. The company and its stock benefited from the stay-at-home environment, spurring demand for its streaming service. The stock surged about 90% off the low it hit on March 16, until mid-October.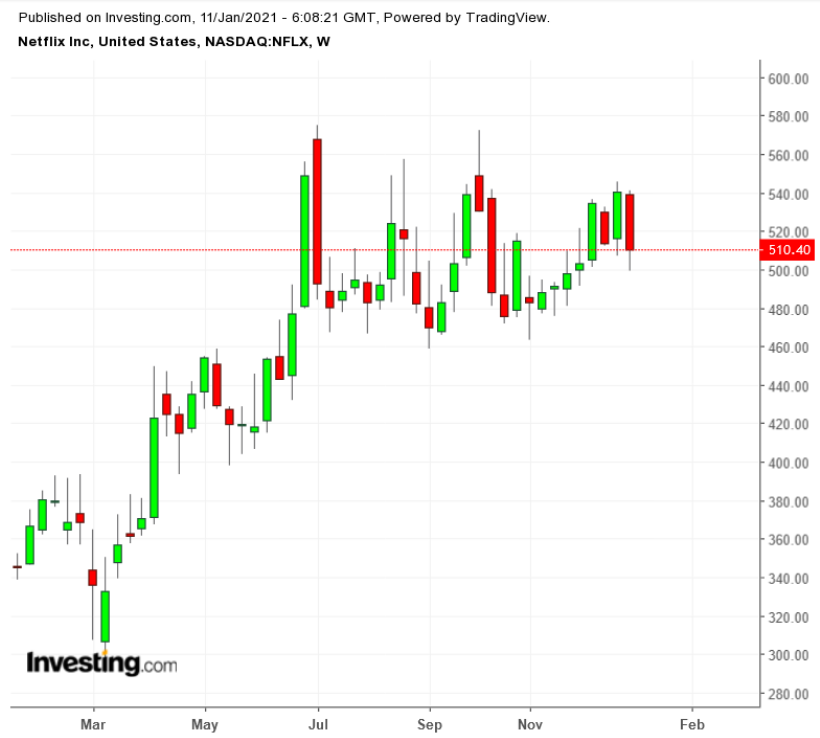 But, during the past three months, that rally has run out of steam, as the company's main rival Disney (NYSE:) gained considerable ground in the streaming battle.
Within a year of its launch, the DIS's streaming service, Disney+, now has more than 80 million paid subscribers. That's a significant jump from the 57.5 million it reported in the summer quarter. That compares with Netflix's 195 million subscribers as of September.
These successes by Disney+ came at the same time Netflix has been reporting  a slowdown in its subscriber growth. Netflix in October reported that it added 2.2 million subscribers in the third quarter on a net basis, short of its forecast in July of 2.5 million new subscriptions for the period.
But Disney+ isn't the only headache for Netflix.  AT&T's (NYSE:) WarnerMedia division is in the midst of a similar restructuring as it focuses on its new HBO Max streaming platform. As well, Comcast's (NASDAQ:) NBCUniversal is realigning its entertainment operations to give priority to its new Peacock streaming service.
Negative Cash Flows
Apart from rising competition, what makes Netflix more vulnerable among the FAANG group is the company's . Because the service spends a lot to develop its exclusive shows and capture international markets, it burns a lot of cash each quarter.
To improve its cash position, Netflix raised prices for its most popular plan during the last quarter, the second time the company has done so in as many years. The move could prove counterproductive in an environment where people are losing jobs and competition is heating up.  In the past, Netflix price hikes have led to a slowdown in subscriber growth, particularly in the more-mature U.S. market.
Benchmark analyst Matthew Harrigan last week raised similar concerns in his note, warning that subscriber growth might slow in 2021: 
"Netflix's trading correlation with other prominent and FAAMG names has now clearly broken down as 1) confidence in its streaming exceptionalism is fading somewhat even as 2) the stay-at-home trade may be "very 2020″ even with some concern over how U.K. and South African virus mutations could affect Covid-19 vaccine efficacy." 
His 12-month price target for Netflix stock is $412, about 20% below its current level.
Bottom Line
Netflix's stay-at-home appeal made it both one of the best mega caps and tech stocks in 2020. But as the competition heats up, the company needs to show that it continues to be the top streaming choice, and that it's well-positioned to defend its turf.
Investors seem to be taking a break from Netflix stock as they wait to see if that will happen.