The boom-and-bust cycles are not new for Tesla (NASDAQ:) investors. The electric car-maker is known for its high-velocity moves, and has become one of the most speculative mega-stocks.
That pattern is again on display after Tesla's stunning performance over the past 12 months. Its stock is in a bearish spell after reaching a record high of $900.40 on Jan. 27. It closed about 17% lower from that level on Wednesday. Yesterday, it lost another 8% on the day to closed at $682.22.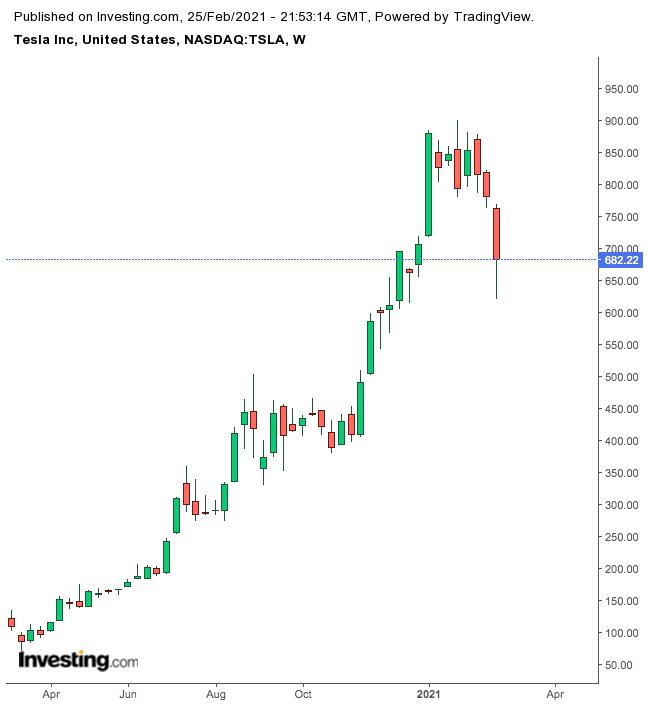 Tesla Weekly Chart.
That weakness comes after a period of meteoric rise in 2020 that sent it shares soaring over 700%. For investors on the sidelines, the big question is whether this weakness offers an opportunity to buy Tesla. Or, is it the beginning of a much deeper correction?
When you look at the broader picture, nothing has changed when it comes to Tesla's lead in the electric-vehicle market. The California-based electric car-maker is still the best bet to make in the EV's golden era that's just starting.
During the past year, Tesla almost met its 500,000 vehicle goal and the company joined the Index after five consecutive quarters of profit. These fantastic developments have set the stage for the car-maker's further expansion in China, Texas and Germany to ramp up output of its more mass-market models to meet rising global demand.
With this amazing backdrop for growth, however, comes the peculiar personality of its CEO, Elon Musk, who doesn't let a chance go by to divert investors' attention from Tesla's core business of making and selling cars.
Tesla's decline this week was fuelled, in part, by his hobby of moving the markets through his Twitter (NYSE:) handle. He has recently invested $1.5 billion of Tesla's cash in , which he believes has a bright future. Both Bitcoin and Tesla's shares began falling this week after his comments last weekend that the prices of Bitcoin and smaller rival "do seem high."
This is what Wedbush analyst Daniel Ives wrote in a note to clients:
"Tesla is an EV play entering the golden age of EVs and there is a lingering worry that the Bitcoin sideshow could overshadow the overall EV growth story playing out for Tesla in 2021 and beyond."
Excess Inventory 
Assuming Bitcoin is a short-term distraction with no direct impact on Tesla's competitive edge, there are other factors that are also playing a role in dampening investors' enthusiasm about its stock.
Tesla has cut the price of its various models 14 times in markets that include China, Japan and France this year, according to GLJ Research LLC founder Gordon Johnson, who has a sell rating on the stock. Johnson wrote this week in a note cited by Bloomberg news:
"When considering Tesla had excess inventory in the fourth quarter of 2020, and has never been able to sell out its production capacity, we see the company as currently demand constrained, rather than production constrained." 
With Musk's usual distractions, there are also growing concerns that the EV market won't be as easy a ride for Tesla as many bulls believe. Traditional automakers, like General Motors (NYSE:) and Ford (NYSE:) are going all in on the electrification race, while Apple (NASDAQ:) is actively looking for a partner in its EV ambitions. Speculation about the established automotive industry's role in an Apple car project has spread since Hyundai (OTC:) said last month that it was in talks with the iPhone-maker. 
In the startup space, Lucid, one of the most promising startups trying to follow Tesla's lead in EVs, announced a merger this week with Churchill Capital IV Corp (NYSE:), a special-purpose acquisition company. Run by Peter Rawlinson, the engineer behind Tesla's Model S, Lucid's first vehicle boasts better battery efficiency than peers, with car deliveries expected to start later this year.
Bottom Line
There are many factors that are stealing some shine off Tesla stock after a great year. The continuation of such a powerful run is highly unlikely when investors are shunning growth stocks in favor of cyclicals and when the competition is heating up in the EV market. We believe there will be a better entry point in the days ahead for those who want to play the Tesla trade and hold this stock in their long-term portfolios.