Reports Q4 2020 results on Wednesday, January 27, after the market closes
Revenue Expectation: $10.37 billion
EPS Expectation: $1.01
Tesla (NASDAQ:) has been a great growth story for investors who remained faithful to it despite the electric car-maker's turbulent past. If you held the stock during the past year, your investment multiplied about eight-fold. 
After this parabolic move, it has now become quite hard for analysts to justify the stock's current level with the company's earnings growth. When Tesla releases its latest earnings report on Wednesday, its founder and CEO Elon Musk will likely face questions on whether he is able to back up the stock's move with the company's future growth potential.
Tesla shares, however, are showing no sign of losing momentum in 2021. They are already up 21% year to date, compared with 's 1.6% gain in the same period. This divergence clearly shows that expectations are high going into next week's earnings report.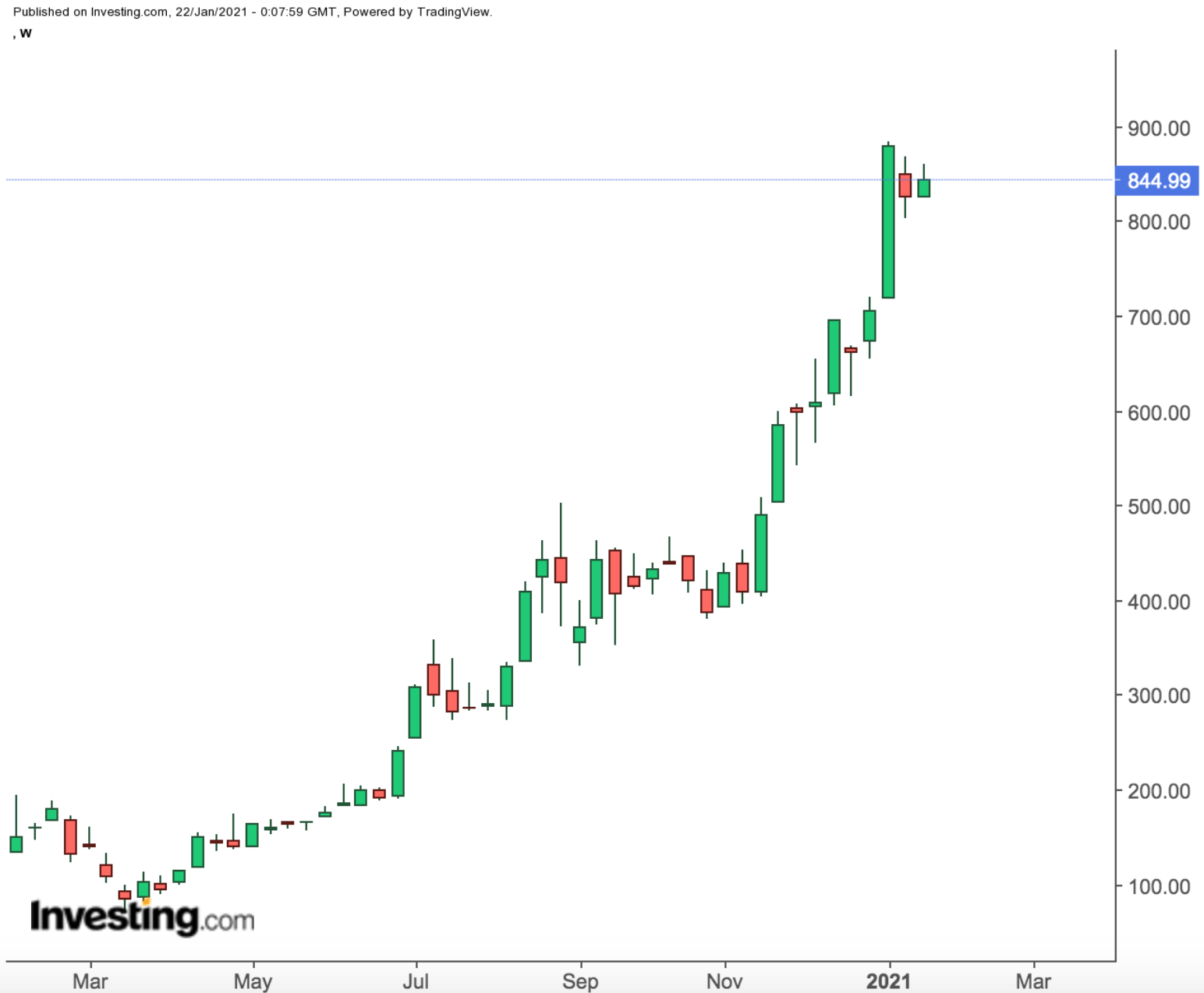 There is no doubt that Tesla's growth prospects have improved immensely during the past year. The California-based car-maker is no longer facing the manufacturing woes that bogged it down during much of 2019. Earlier this month it told investors that it has almost met its 500,000-vehicle-deliveries goal for 2020. The company handed over 180,570 vehicles in the year's final three months, the most for any quarter, but 450 vehicles shy of the half-million mark Musk set for the year. That was growth of 36% from the prior year.
With output ramped up and shares soaring, the company is no longer in a precarious cash position. It raised about 12-billion in share sales in 2020, taking advantage of its extremely rich valuation and without diluting existing investors too much. On the macro level, Joe Biden's election should mean US policy becomes more favorable toward electric vehicles.
Tesla Stock Bubble? 
That said, none of this justifies valuing Tesla at 27 times its expected revenues for 2020. For context: one of Tesla's biggest competitors, Volkswagen (DE:), trades on 0.3 times sales. Perhaps this mismatch is the reason many analysts fear Tesla stock reflects market conditions where retail investors, loaded with stimulus checks, are fuelling a bubble that could burst at anytime.
Even after several prominent analysts recently gave up their bearish calls on Tesla, the average share-price target among those that cover the company is still almost 50% below the current level. Only one-third of those who cover the stock recommend buying it, a percentage that hasn't varied much over the years, according to Bloomberg data. For these reasons, it's very important for Musk to keep Tesla profitable to show that he can consistently sell cars for more than they cost. 
Analysts, on average, expect the company to post a 29% surge in sales to reach more than $10 billion for the first time. But per-share profit may decline to $1.01 from $2.14 from the same period a year ago. Still, it would represent a sixth straight profit.
To keep momentum going, Musk also needs to show that his future expansion plans are moving forward. Tesla is building two new vehicle assembly facilities—one outside Berlin that could eventually assemble as many as 500,000 cars annually, and another in Texas that will make the brand's first pickup. Both are expected to start production later this year, joining its existing vehicle-assembly facilities in Fremont, California, and Shanghai.
Bottom Line
After Tesla's unprecedented run in 2020, investors are showing great faith in the company's ability to consistently beat expectations. If that happens, it will certainly justify a strong bull case for Tesla, but that has been built into the stock price. Any negative surprise, on the other hand, could help prove that Tesla is trading far beyond its true potential.