Now is a good time for long-term investors to take a hard look at their growth portfolios. Many high-flying tech stocks, after an incredible run last year, are currently struggling as investors favor cyclical companies whose shares have more upside as the prospects for reopening the economy grow brighter.
Among growth stocks, Tesla (NASDAQ:) is one of the most-watched names. Fueled by increasing demand for its electric cars, improving profitability, and the success of its operations in China, shares of the Palo Alto, California-based auto manufacturer gained more than 740% last year, making it the best performer on the .
Elon Musk, its founder and chief executive officer, became the richest person in the world in January, before Amazon's (NASDAQ:) Jeff Bezos reclaimed the title.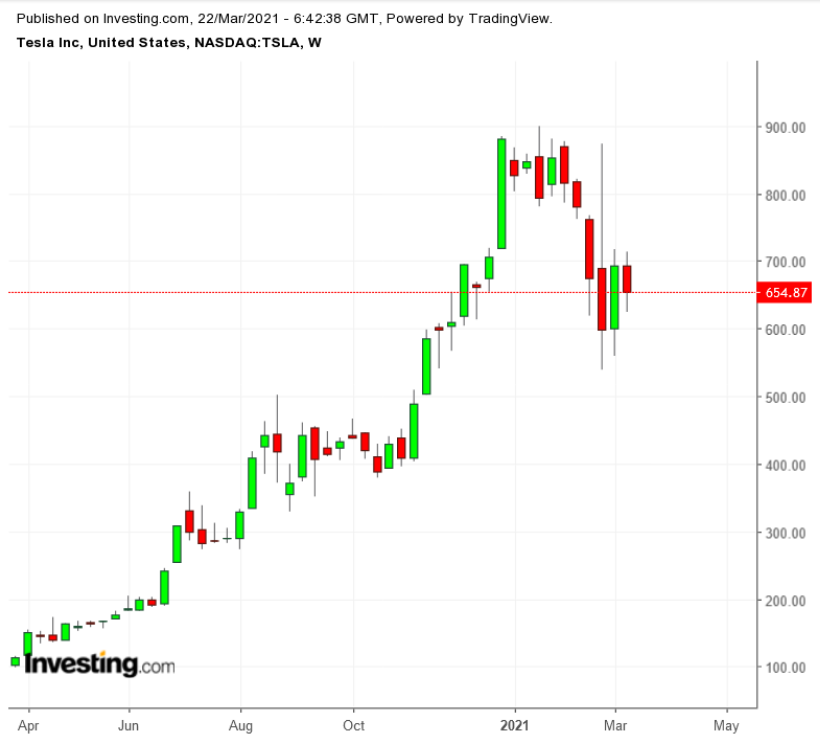 But so far this year, the performance of TSLA hasn't been impressive. The stock is down more than 7%. Perhaps worse, if someone bought this name on Jan. 26, when the stock was at its peak, closing at $883.09, the year-to-date losses are close to 30%.
Nevertheless, the stock has a history of boom-and-bust cycles. If you're a buy-and-hold investor, chances are you're still seeing quite a bit of profit on your position. During the past five years, Tesla stock is up more than 1300%. It closed on Friday at $654.87.
Even after this brief bearish spell, some of Tesla's most bullish analysts remain loyal. They continue to see strong gains ahead in coming years.
$3-Trillion Company
Among those who favor Tesla shares is Cathie Wood, whose ARL Invest Management holds a large stake in Tesla. According to the fund's latest note, TSLA could hit $3,000 by 2025, which would give the company a valuation of almost $3 trillion.
There's a 50% chance of Tesla achieving fully autonomous driving within five years, which could allow the company to scale its planned robotaxi service quickly, according to a note posted Friday on ARK's website. ARK is also bullish on Tesla's insurance business which collects highly detailed driving data. The unit could expand its offerings in other regions, benefiting the company from its better-than-average margins.
Of course, it's anybody's guess if Tesla stock will reach that level. But the general market consensus is that this is not a good time to buy Tesla shares. On Friday, a report surfaced that regulators in China plan to ban Tesla vehicles from military installations and housing compounds on concerns that the vehicles' on board cameras could be used to collect sensitive data for the company.
As well, Tesla is the least appreciated stock among the group of mega cap growth stocks, said a recent post on TheStreet.com, including Apple (NASDAQ:) and Microsoft (NASDAQ:), with only 38% approval on Wall Street. And when it comes to a price target, analysts are projecting an average loss of 14% on Tesla stock.
Along with this bearish tone, there are also growing concerns that the EV market won't be as easy a ride for Tesla as many of the stock's bulls believe. Traditional automakers, like Volkswagen AG (OTC:) and General Motors (NYSE:) are accelerating their EV efforts.
VW's stock received a major boost this month as some analysts turned bullish on electric vehicle ambitions. UBS Group analysts in a recent note praised VW's first mass-market model built off a dedicated EV platform, the ID.3 hatchback. The car is "the most credible EV effort by any legacy auto company so far," wrote Patrick Hummel, who raised his price target on the shares.
Bottom Line
There are many factors tarnishing some of the shine of Tesla stock after a standout year. The continuation of such a powerful run is highly unlikely when investors are shunning growth stocks in favor of cyclicals.
In addition, with competition heating up in the EV market, we'd urge caution. We believe there will be a better entry point in the days ahead for those who want to play the Tesla trade and hold this stock in their long-term portfolios.