For some retirees, technology is a no-go area due to the sector's volatile nature and its inability to provide cash flows in the shape of dividends. 
But the COVID-19 pandemic has proved that having some exposure to this vital segment of our economy is important, even for those who invest for their retirement. When lockdowns, curfews and stay-at-home orders negatively hit traditional companies' revenues, technology companies thrived as they offered connectivity and services that kept modern life going. 
That said, you can also find less volatile and more mature tech companies that pay growing dividends each year and fit well in any retirement portfolio. Let's take a look at three stocks that make a good case for long-term investments for retirees.
1. Microsoft 
For retirees, one of the most important factors to consider when picking a stock is the company's ability to pay dividends in both good and bad times. Microsoft (NASDAQ:) ticks both these boxes.
The stock has proven to be an excellent investment for both conservative and growth-seeking investors in recent years. During the past 10 years, Microsoft's per share dividend grew 14.30% per year. With an annual dividend yield of just under 1%, Microsoft pays a quarterly dividend of $0.56 per share. 
That yield may look meagre to many investors, but don't forget that Microsoft is still growing, while offering great upside potential, too. Including dividend payments, Microsoft has delivered 333% in total returns over the past five years.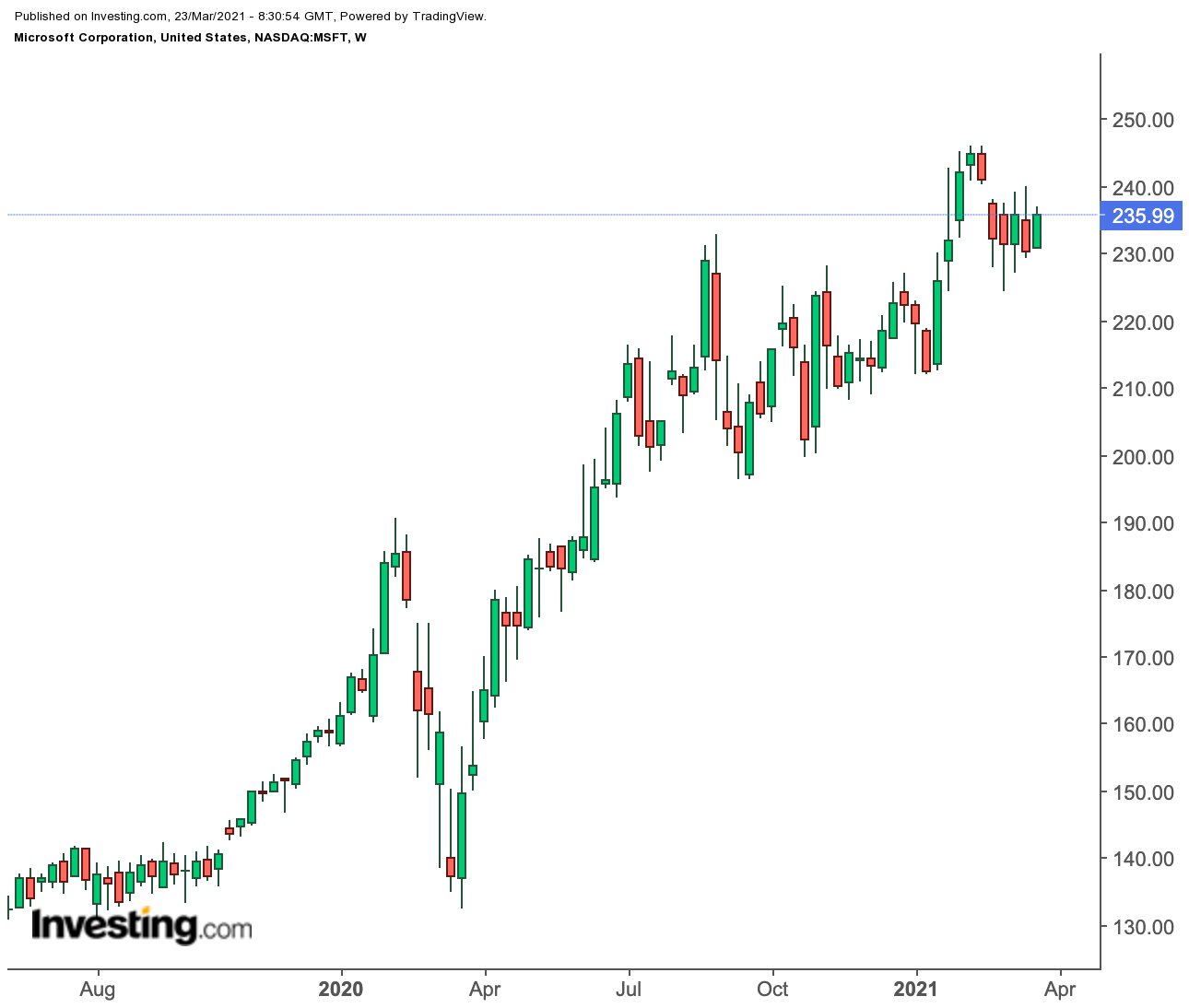 Going forward, there is a good possibility that this Washington-based company will keep boosting its payout as its growth momentum continues. During the pandemic, demand surged for its cloud-computing services, video gaming and computers, helping the company to make massive profit. 
If you are investing for retirement, you need to find companies like Microsoft to stash in your portfolio. These are the giants that have the power to defend their businesses and pay you for the rest of your life.
2. Apple 
Many investors view Apple Inc (NASDAQ:) as a technology stock with little income appeal. But the maker of iPhones is one of the most cash-rich companies in the world, allowing it for years to satisfy income-seeking investors.
Don't be disappointed by Apple's current tiny 0.68% dividend yield. Apple is offering a powerful combination to boost the total return for its investors in the shape of increasing dividends and a massive share buyback plan. Apple hiked its dividend by almost 10% or more in the past six years, except fiscal 2020, when it increased the payout by 6%. Apple currently pays $0.2 a share quarterly dividend.
Apple generated $3.28 in EPS for fiscal 2020. With a payout of $0.82 on an annual basis, this was 25% of its earnings, showing that it has plenty of room to hike its dividend each year.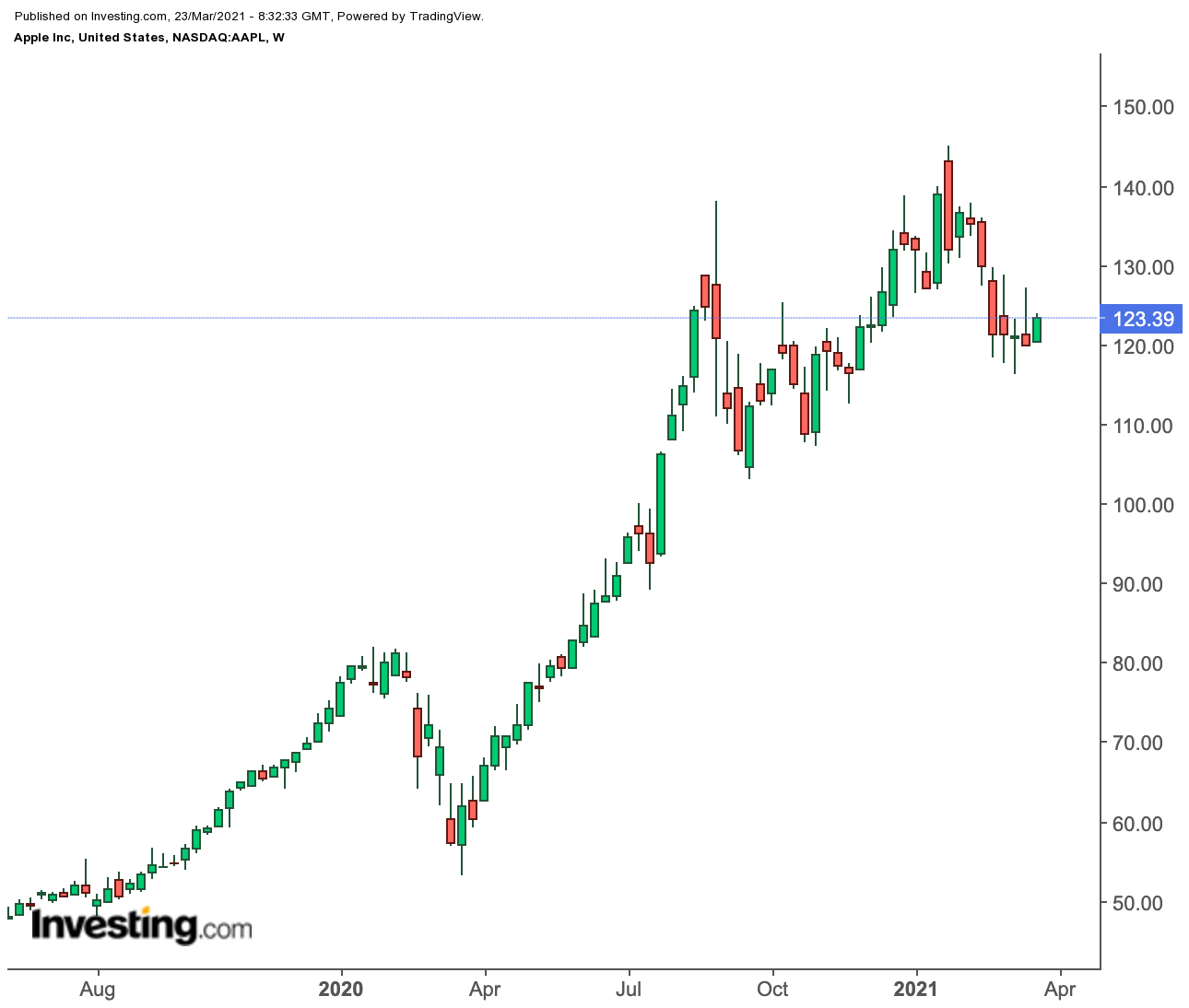 While Apple has been increasing its dividend, it has also been buying back its shares. With $196 billion in cash on hand, Apple is in an enviable position to further increase its share repurchase program in order to support its shares. 
Share buybacks is another way to reward long-term investors. As a company repurchases its stock, there will be fewer shares outstanding and a higher proportion of earnings being distributed among a smaller number of shareholders.
3. Texas Instruments
Another attractive option for retirees in the technology space is Texas Instruments Incorporated (NASDAQ:), a tech giant that produces electronic products, including chips that are used in many diversified industries.
Texas Instruments gets the biggest chunk of its sales from manufacturers of industrial equipment. It also produces semiconductors that go into everything from vehicles to home electronics and space hardware.
But the biggest attraction for long-term investors is the company's dividend program, which is growing each year. With the annual dividend yield of 2.32%, TI currently pays $1.08 a share quarterly, which has grown 23% per year during the past five years.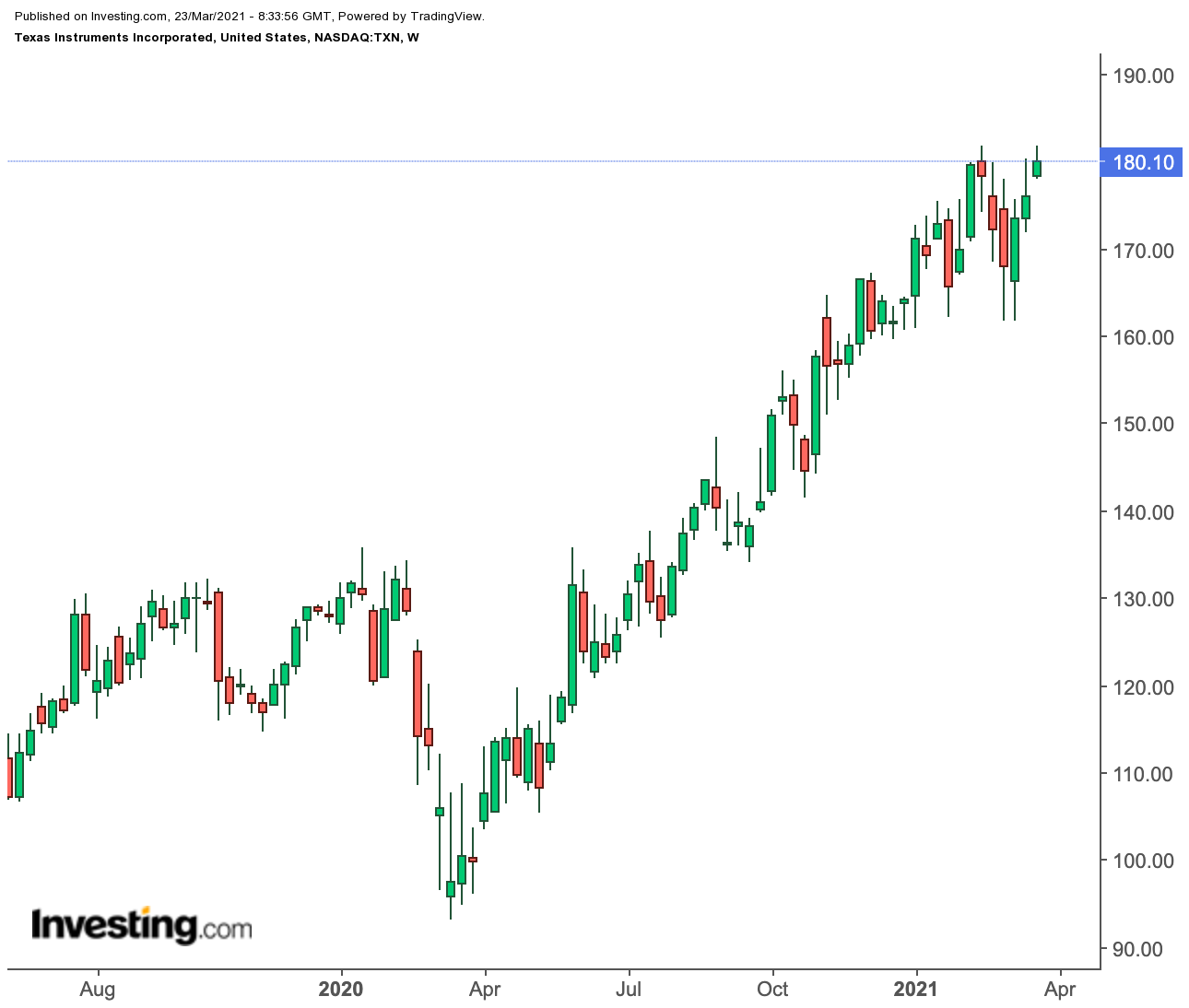 With the payout ratio of just over 60%, TI is in a comfortable position to hike its dividend going forward. In addition, the company's long-term growth prospects are bright with the amount of electronics being added to cars and machinery.