Reports Q4 2020 results on Tuesday, Jan. 19, after the market close

Revenue Expectation: $6.6 billion

EPS Expectation: $1.35
Netflix (NASDAQ:) delivered strong gains for investors last year. The streaming entertainment giant benefited immensely from the stay-at-home environment brought about by the global COVID-19 pandemic.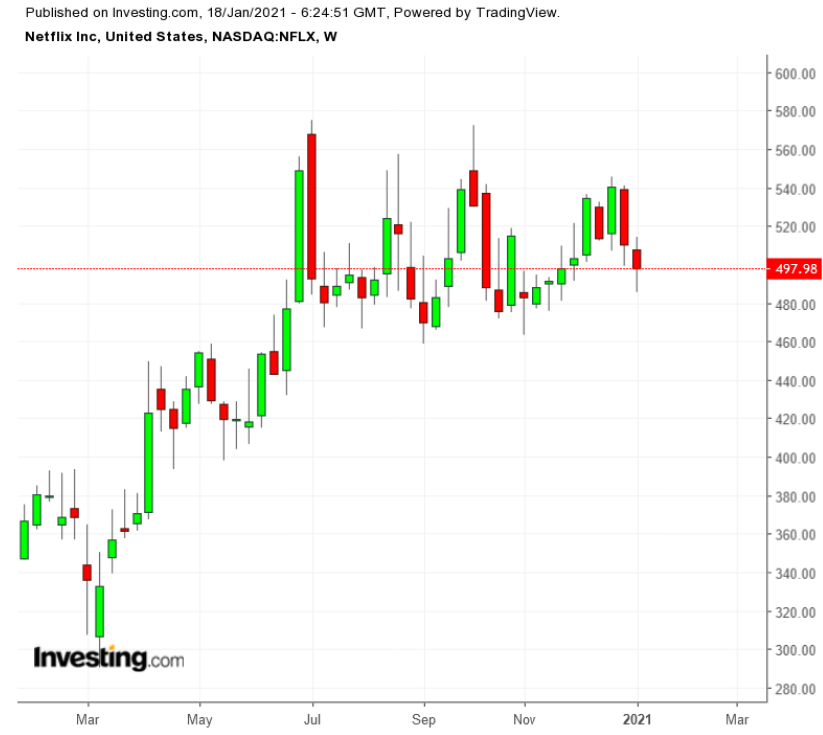 It attracted more subscribers as people who were locked down indulged in binge-watching. But that incredible demand for streaming content also attracted other large players, making the field more crowded and creating uncertainty about Netflix's future growth.
When the Los Gatos, California-based subscription entertainment service reports it fourth-quarter 2020 results tomorrow, investors will be looking for solid evidence that the company hasn't hit a roadblock in its explosive growth. And they'll want confirmation Netflix remains positioned to defend its dominance.
Still, despite its strong position in the market, it's unlikely that the company's explosive growth will continue forever. During the quarter that ended on Sept. 30, the paid streaming service added just 2.2 million new subscribers. 
That number was well short of the 3.32 million predicted by analysts, as well as the company's own more conservative projection. Netflix also predicted that it will sign up 6 million new subscribers during Q4, below the 6.54 million that Wall Street had estimated.
Though management had already warned that the pop in its subscriber base during the early days of the pandemic was not sustainable, and that growth on this metric would slow at some point, what's more threatening to its expansion is the simmering rivalry within this market segment.
The company's main competitor is Disney (NYSE:), which is gaining considerable ground with its Disney+ app streaming service. Disney+ has already added more than 80 million subscribers, within the first year of its launch. That compares to Netflix's 195 million subscribers as of September.
Netflix Underperformance
Global media research firm Nielsen in its "Tops of 2020" report said seven of last year's 10 most-streamed movies were watched on Disney+, which launched in November 2019.
Overall viewership underwent a slight shift, according to the market research firm, with Netflix taking up just 28% of streaming time—down from 31% in 2019—with Disney+ accounting for 6%.
But Disney+ isn't Netflix's only headache. AT&T's (NYSE:) WarnerMedia division is in the midst of a similar shift as it focuses on its new HBO Max streaming platform. As well, Comcast's (NASDAQ:) NBCUniversal is realigning its entertainment operations to give priority to its new Peacock streaming service.
The underperformanced of Netflix shares during the past three months, when compared to Disney stock, is a clear indicator of how quickly investor preferences have shifted.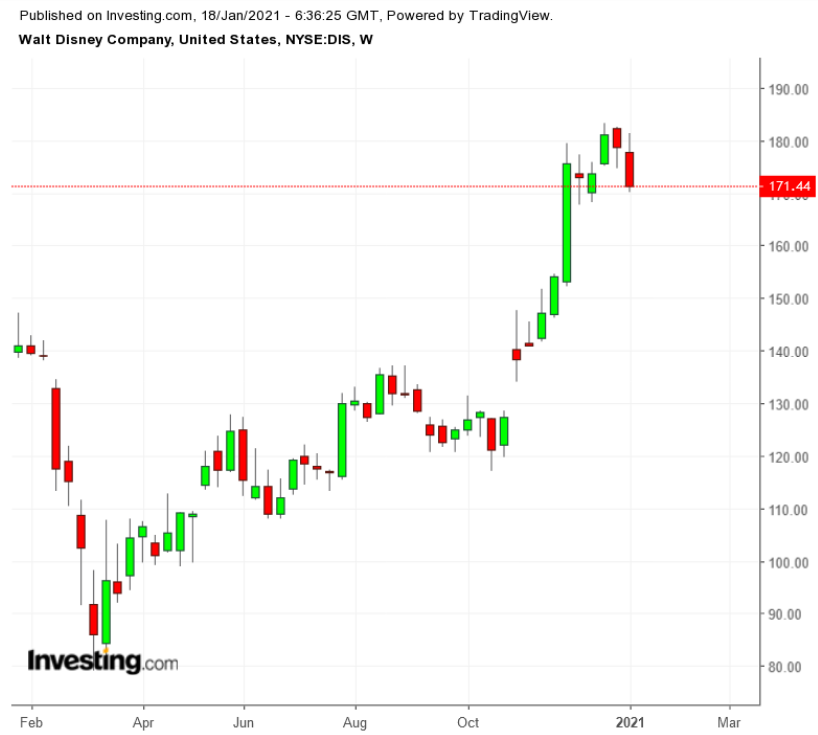 While Netflix stock fell about 8% during that period, Disney managed an impressive comeback after the March dip, surging 39%. Netflix stock closed on Friday at $497.98.
Apart from rising competition, what makes Netflix more vulnerable among the FAANG group is the company's tight cash position. Because the service spends a lot to develop its exclusive shows and capture international markets, it burns a lot of cash each quarter.
To improve its cash position, Netflix raised prices for its most popular plan during the , the second time the company has done so in as many years. The move could prove counterproductive in an environment where people are losing jobs and competition is heating up.  In the past, Netflix price hikes have led to a slowdown in subscriber growth, particularly in the more-mature U.S. market.
Bottom Line
Netflix's stay-at-home appeal produced hefty gains for investors in 2020, but as the competition heats up, some investors aren't too sure whether this explosive pace of growth will continue. That said, Netflix is still far ahead in its international reach and content depth—two areas where competitors need a lot of time to catch up.
Due to this strength, in our view, any post-earnings plunge in Netflix shares should be taken as a buying opportunity.