Dividend investing is a time-tested strategy that might appeal to many retail investors. The yield, particularly in the current period of record low interest rates, is important for many passive-income seekers, including retirees. Individuals can also reinvest those dividends to buy more shares and their portfolio will also benefit from the effects of compound interest.
We discussed dividends in previous articles (for example, , , , and ). Today, we extend the discussion by introducing two other funds.
1. Utilities Select Sector SPDR Fund
Current Price: $61.58
52-Week Range: $43.44 – $67.93
Dividend Yield: 3.19%
Expense Ratio: 0.12% per year
Broader markets have become volatile again. Therefore, in addition to dividend income, many retail investors are also seeking long-term stability. Given the regular need for water, electricity and gas, utilities are regarded as defensive shares.
Most countries regulate utilities, meaning they typically have modest but steady profits as well as high cash flows. Thus, utilities stocks tend to have juicy dividends.
The Utilities Select Sector SPDR® Fund (NYSE:) gives access to businesses from the utilities, independent power producers and renewable energy groups. Since its inception in December 1998, assets under management have grown to $11.74 billion.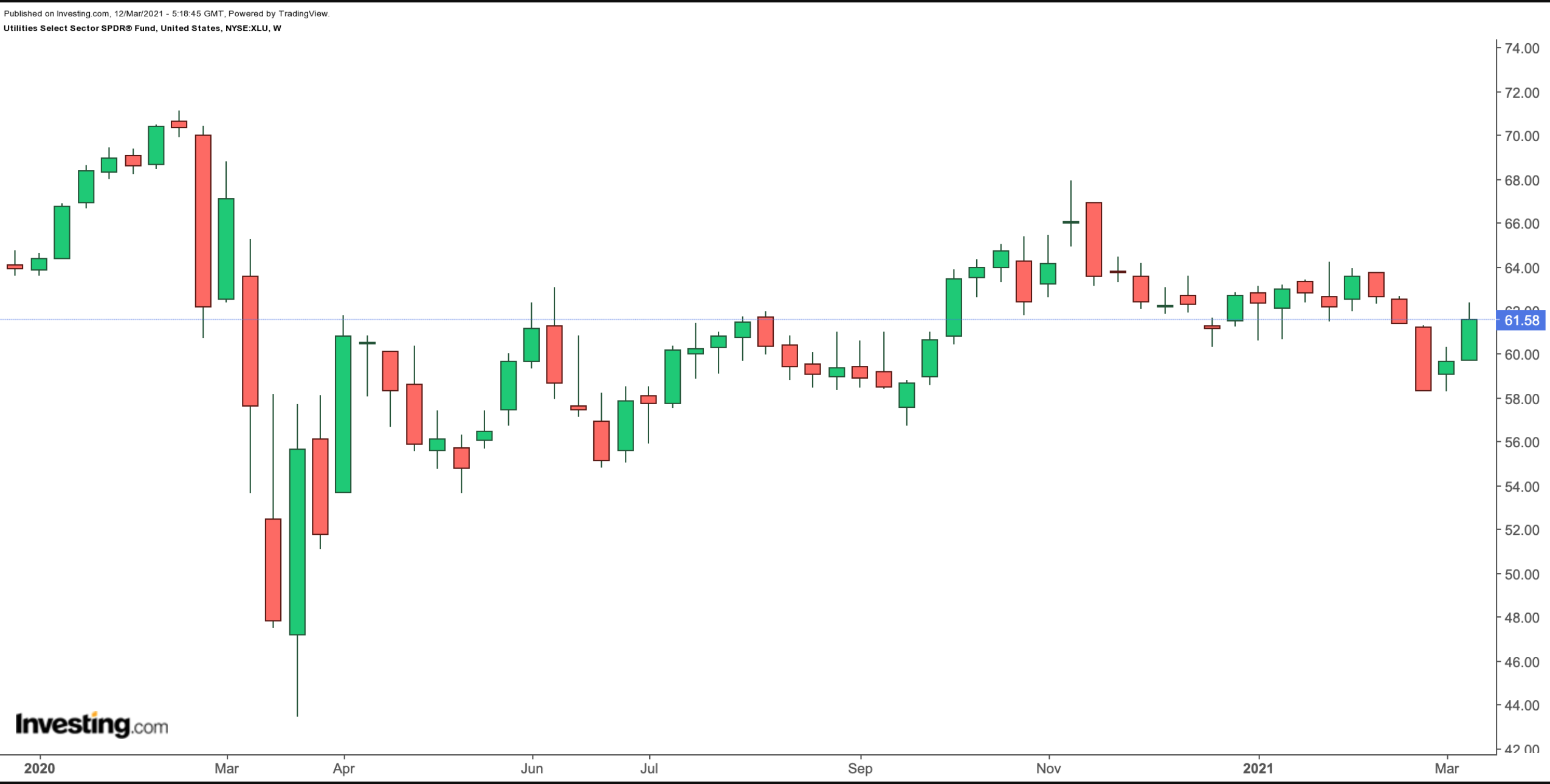 XLU, which includes 28 holdings, tracks the returns of the Utilities Select Sector Index. In terms of sub-sectors, Electric Utilities have the highest weighting with 63.56%. Next in line are Multi-Utilities (30.06%), Water Utilities (2.90%), Independent Power and Renewable Electricity Producers (2.14%) and Gas Utilities (1.34%).
Close to 65% of total fund is in the top 10 stocks. Dominion Energy (NYSE:), Exelon (NASDAQ:), American Electric Power (NASDAQ:), Sempra Energy (NYSE:) and Xcel Energy (NASDAQ:) lead the names in XLU.
Year-to-date, the ETF is down 1.5%. XLU's forward P/E and P/B ratios are 18.39 and 2.14, respectively. Long-term investors may consider buying the dips, especially if the fund moves below the $60 level.
2. Defiance Next Gen Connectivity ETF (FIVG)
Current price: $34.93
52-Week Range: $18.66 – $37.09
Dividend Yield: 1.18%
Expense Ratio: 0.3%
Our next choice comes from the tech space. Most investors regard technology shares as growth stocks. Put another way, they are not easily associated with dividends. Yet, there are many technology companies, especially mature ones, that also pay dividends. They have established business model, products and, hence, regular revenues and cash flows. These tech businesses offer the potential of both passive income and share price growth.
The Defiance 5G Next Gen Connectivity ETF (NYSE:) gives access to the "fifth generation" or 5G businesses at the forefront of this most recent cellular network standard. It provides exposure to businesses that are behind the growth of 5G technologies. Semiconductor businesses, cloud computing firms and telecommunications groups are among the stocks in the ETF.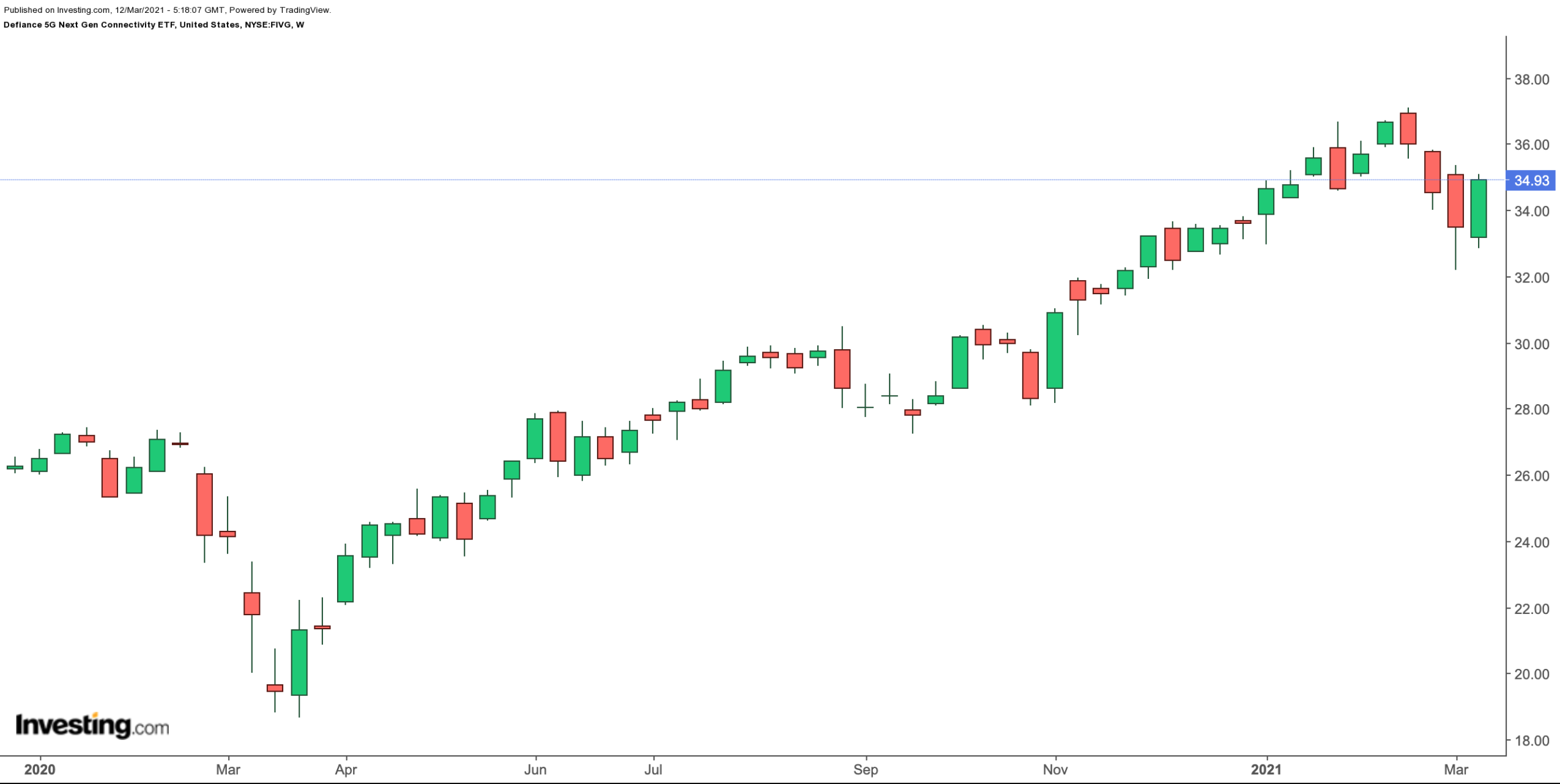 According to Verizon (NYSE:):
"The connectivity benefits of 5G are expected to make businesses more efficient and give consumers access to more information faster than ever before. Connected cars, smart communities, industrial IoT, immersive education—they all will rely on 5G networks."
By mid-decade, one third of the global population is expected to be covered by 5G networks.
Since its inception in March 2019, net assets have reached $1.1 billion. FIVG, which has close to 80 holdings, tracks the returns of the BlueStar Global 5G Communications Index. The components of the index are revised twice a year. NXP Semiconductors (NASDAQ:), Analog Devices (NASDAQ:), LM Ericsson (NASDAQ:), Qualcomm (NASDAQ:), Xilinx (NASDAQ:) and Keysight Technologies (NYSE:) are among the top names in the roster.
In the past 12 months, the fund has returned more than 45% and seen a record high in recent weeks. But so far in 2021, volatility has put pressure on many names in the fund. As a result, FIVG is up about 1.5%. Those investors betting on this next-generation wireless networking technology should keep the ETF on their radar. A further decline toward the $30 level would improve the risk/return profile.