Facebook (NASDAQ:) is in the news for all the wrong reasons these days. It's being cursed by its Australian users after it blocked news websites on its platform to fight against a proposed law that will force the social media giant and Google (NASDAQ:) to pay the nation's publishers for news content.
The surprising move by Facebook switched off the main news source for almost one in five Australians, including Facebook pages carrying public health advice on the coronavirus, warnings from the weather bureau and even the site of a children's hospital, according to Bloomberg.
The social media platform's 17 million users in Australia are now unable to share any news from Australian or international publishers. The move also deprives Facebook's 2.8 billion users globally to share articles from Australian publishers.
The legislation, still being debated in parliament, could ask digital media companies to pay news organizations for the news articles that are shared on their networks. Under a proposed law from the Australian Competition and Consumer Commission, both Google and Facebook would be required to negotiate with media publishers and compensate them for the content that appears on their sites. If approved and enacted in its current form, the Australian law will set a precedent for other global jurisdictions.
Alphabet's Google, on the other hand, took a more conciliatory route by starting to conclude payment agreements with publishers. It made public a three-year global agreement with Rupert Murdoch's News Corp (NASDAQ:) to pay for the publisher's news content, following several similar deals it has announced recently.
Facebook Shares Underperform
The public battle these social media giants are facing in Australia is in addition to multiple lawsuits that have been filed in the U.S. and the European Union as part of the push to curtail their vast empires and monopoly over the internet-search market and social media.
In December, the Federal Trade Commission and 46 states filed anti-trust lawsuits against the company, accusing it of buying and freezing out small startups to choke competition.
It's hard to foresee when and in what shape these legal challenges will start hurting Facebook business and its cash-generating capability, but it's quite obvious that FB is becoming a less desirable stock to own these days amid these controversies and negative publicity.
Its shares have massively underperformed other social media names, including Google, Twitter (NYSE:) and Snap (NYSE:) this year. Facebook is down 2% this year, while all three competitors have seen their share values surging between 20% and 35%.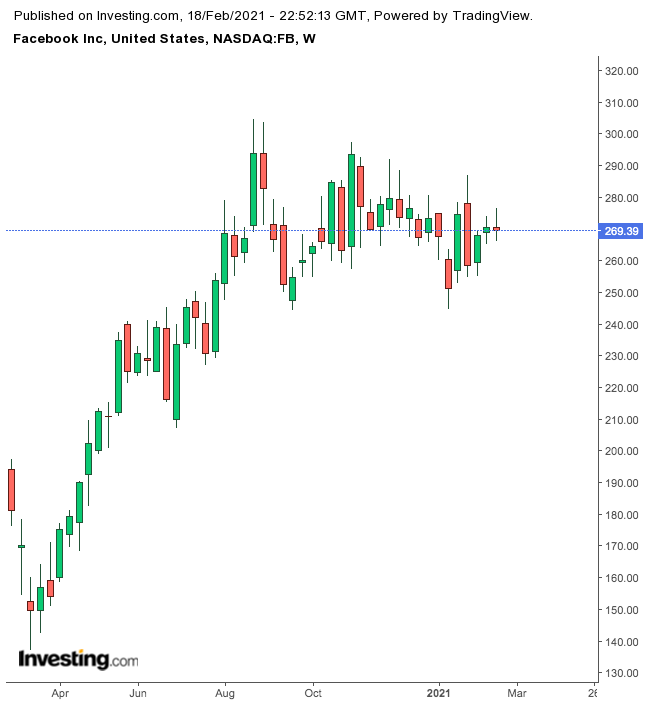 Facebook Weekly Chart.
So, is this a battle that Facebook is finding hard to win, and subsequently losing investors' faith?
That could be the case in the short-run, but even with these regulatory and political challenges, there is very strong evidence that Mark Zuckerberg's company and its digital ads are emerging strongly from the pandemic-fuelled slowdown. In the , Facebook posted record revenue and profit as online holiday shopping soared, increasing the use of the company's platforms during the pandemic.
BMO analysts in a recent note said:
"Anti-trust and political risk remain acute, but we see this better baked in after the recent pullback. While anti-trust proceedings against FB are now formal, we think the risk of material action in the next 12 months is relatively low."
While Facebook curtails its news feed business, investors have been closely watching the company's other moves to diversify its business.
Facebook's e-commerce tools, like Marketplace, could become large businesses in the long run. Instagram Shopping, Reels and Facebook Marketplace could be responsible for $3 billion of additional revenue for the company this year, according to a recent note from Morgan Stanley.
Bottom Line
Facebook stock is likely to underperform in the near term as the company fiercely fights to protect its domain from both political and regulatory challenges. That said, the company's more than 2 billion subscriber base, and its unique utility for small businesses continue to make its shares an attractive investment over the long run.