The new year hasn't provided a promising start for Facebook (NASDAQ:). The social media giant, mired in multiple controversies, is seeing its stock sink as its investment appeal diminishes after a robust rebound from the pandemic-induced plunge last March.
Facebook shares have fallen more than 8% this year, diverging from other mega tech stocks. Its shares closed yesterday at $245.64, about 18.5% lower than its August high.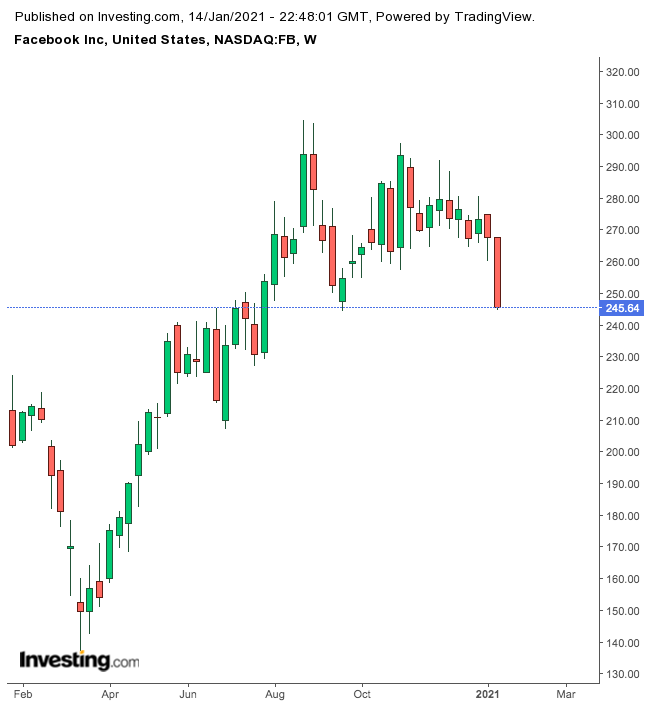 Facebook Weekly Chart.
The biggest risk keeping investors on the sidelines is related to multiple lawsuits the company is facing. Facebook was sued in December by U.S. anti-trust officials and a coalition of states that want to break up the company, terming its acquisitions of Instagram and WhatsApp unlawful. These deals, according to the government, were part of a campaign to illegally crush competition. 
The cases represent the biggest regulatory attack against Facebook in the company's history. They follow the U.S. Justice Department's October lawsuit against Alphabet's (NASDAQ:) (NASDAQ:). Together, the Google and Facebook actions mark the most significant monopoly cases filed in the U.S. since the Justice Department sued Microsoft (NASDAQ:) in 1998, according to Bloomberg. Unlike the Google case, the Facebook complaints seek a court order to break up the company.
Besides these regulatory hurdles, the platform is also at the centre of political turmoil in the U.S. after it decided to block the accounts of President Donald Trump and of white supremacists in the wake of mob attacks on Capitol Hill last week. The move, which other social media giants followed, has irked millions of Trump supporters who are accusing Facebook CEO Mark Zuckerberg of taking a side in this political battle. 
According to an analysis in the Wall Street Journal:
"The issues have consumed Facebook for much of the Trump administration and are likely to persist for the near future, as it navigates competing criticism from some that it does too little to curb problematic content and from others that its moderation efforts veer into censorship."
Change In Data Sharing Policies 
Right in the middle of this controversy, Facebook's WhatsApp began alerting its 2 billion users last week that if they want to keep using the popular messaging app, they have to accept new terms about its data-sharing policies. 
Since 2016, WhatsApp has shared certain data with Facebook. But users previously had a chance to opt out of this. But starting Feb. 8, users will be prompted in the app to accept the updated terms in order to continue using WhatsApp.
According to some media reports, the change has triggered a wave of downloads of privacy-focused messaging apps, including Signal and Telegram, as users looked for alternatives to Facebook-owned WhatsApp. Tesla's (NASDAQ:) CEO Elon Musk also recommended his followers use Signal.
Signal saw approximately 7.5 million installs globally through the Apple (NASDAQ:) App Store and Google Play store between Jan. 6 and Jan. 10, according to CNBC.com, citing Sensor Tower data. That's 43 times the number from the previous week. It is the highest weekly or even monthly install numbers for Signal in the app's history. Meanwhile, Telegram saw 5.6 million downloads globally from Wednesday through Sunday, according to Apptopia.
Impact On Facebook Business
For long-term investors, the primary question is: How damaging could these headwinds be for the company, which is already seeing a substantial slowdown in its sales growth during the pandemic?
Many analysts, who have studied the recent regulatory challenges believe FB's business model is strong enough and it's unlikely that these issues could damage the company's earnings potential.
"We believe Facebook's virtual ownership of the social graph, strong competitive moat, and focus on the user experience position it to become an enduring blue-chip company built for the long term," J.P. Morgan analyst Doug Anmuth said in a recent note.
Anmuth, who has a $330 price target for Facebook, added:
"Facebook is in rarefied air across the combination of scale, growth and profitability, as the company's massive reach and engagement continue to drive network effects, and its targeting abilities provide significant value to advertisers."
In a note, KeyBanc Capital Markets analyst Justin Patterson said a potential breakup of FB could take years given technical complexities, adding:
"Instead, we believe this will likely be resolved with another fine and additional scrutiny on future M&A."
Patterson has rated the stock overweight with a $340 price target.
Bottom Line
After the recent weakness, Facebook's multiple has become attractive and even lower than other companies, like Walmart (NYSE:) or Coca-Cola (NYSE:), suggesting that a fair amount of regulatory risk is already built into the stock. As this sell-off accelerates, we find FB stock becoming an attractive buy for 2021, given the platform's powerful ad appeal and its duoply status in the digital ad market with Google.