The shares of Advanced Micro Devices (NASDAQ:) have lost some of their shine this year. After massively outperforming competitors in 2020, the chip-maker is lagging.
Its stock is down 13% this year when the benchmark has eked out a 6% gain during the same period. This reversal is being taken by some investors as a sign that the past five-year rally that pushed AMD stock more than 3,000% higher has run its course.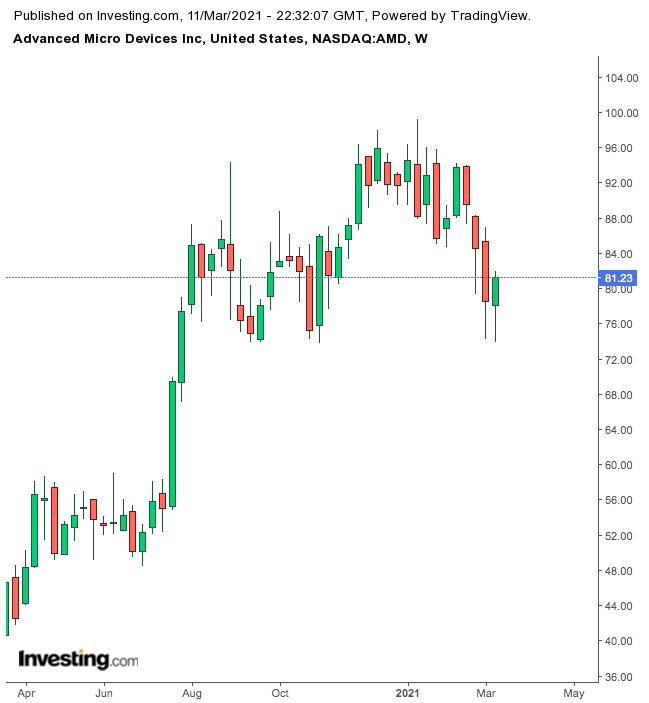 AMD Weekly Chart.
On the business side, there is nothing wrong with the California-based AMD. In January, the company gave yet another upbeat forecast, showing that it continues to gain market share by taking advantage of production delays at its main rival, Intel (NASDAQ:).
For the current quarter, revenue will be about $3.2 billion, plus or minus $100 million. That compares with an average analyst estimate of $2.73 billion. For 2021, the company projected sales growth of 37%, well ahead of Wall Street expectations.
In an interview with Bloomberg, Lisa Su, AMD's chief executive officer, didn't see any headwinds that could disrupt the chip-maker's growth trajectory:
"Overall demand has been high in 2020 and exceeded our plans. All of our businesses are firing on all cylinders."
After decades of lagging behind Intel, the world's largest chip-maker, AMD has been catching up in recent years, helped by advances at Taiwan Semiconductor Manufacturing (NYSE:), which makes chips on its behalf. That outsourcing strategy helped AMD at a time when Intel suffered a series of manufacturing setbacks, repeatedly falling behind in introducing new chips.
Too Far, Too Fast
In addition to competing with Intel in processors for personal computers and servers, AMD also supplies graphics chips, which some of the world's largest companies use in their gaming consoles, including Microsoft's (NASDAQ:) Xbox and Sony Corp's (NYSE:) PlayStation. The gaming market is booming during the pandemic, with children spending most of their time at homes. 
Despite these favorable market conditions, some analysts believe AMD's high-flying stock needs a breather, as most of the good news is already reflected in its price. 
Wells Fargo Securities analyst Aaron Rakers in a recent note downgraded AMD with a 12-month price target of $64, saying the stock has gone too far, too fast. In a note to clients titled, "Time for a Breather," Rakers added that AMD valuations look lofty and may not support a massive upside. AMD stock trades at about 50 times earnings this year, 40 times earnings next year. 
Another trend that investors watch while trading AMD stock is how its rival Intel is performing. When compared with AMD, Intel has gained more than 25% this year as the company sees strong demand for laptops through the first half of the year, and its new CEO Pat Gelsinger pledges to regain the company's lead in chip manufacturing.
Bottom Line
Despite the recent weakness in AMD stock, we still believe that the chip-maker will rebound and catch up to its peers in weeks to come. As per analysts' consensus price target, AMD stock could reach $103 a share in the next 12 months, a 27% upside potential from today's price as they expect the company will continues to gain market share when Intel is struggling to bring new products to the market.