This article was written exclusively for Investing.com
Wild December and January for the leader of the digital currency asset class
Meaningless price forecasts from analysts
Lost passwords and missing millions
Custody and gravity are both powerful forces
I'm a Bitcoin and digital currency fan, but I'm also a novice when it comes to this new asset class.
The global nature of the currencies appeals to my libertarian leanings. If governments did a reasonable job managing funds and the money supply, there would be no reason for the cryptos. Sadly, they do not, and the situation is getting worse. As the US deficit swells to the $30 trillion level and stimulus keeps coming, the argument favoring the digital currency revolution becomes compelling.
But I'm also now in my sixth decade, so can officially say I am an old-school kind of guy. Technology continues to perplex me at times. And though I consider myself young at heart, my mind isn't the same as it was decades ago. One sign of this: I tend to forget passwords soon after I set them up and enter them on a website.
So I had to smile in sympathy the other day when I read about newly minted Bitcoin millionaires losing access to their newly minted—and steadily rising—profits because of precisely the same problem: a lapse in memory that caused them to forget their crypto wallet passwords.
Here are are a few simple things to know about Bitcoin and precautions to help avoid those and other risks.
Wild December and January for the leader of the digital currency asset class
When other asset prices fell in March 2020, retreated to a low of $4,210 per token. The price was almost one-fifth the level at the late 2017 high when the asset class's market cap reached over $800 billion. In 2019, Bitcoin rose to a lower peak of $13,915.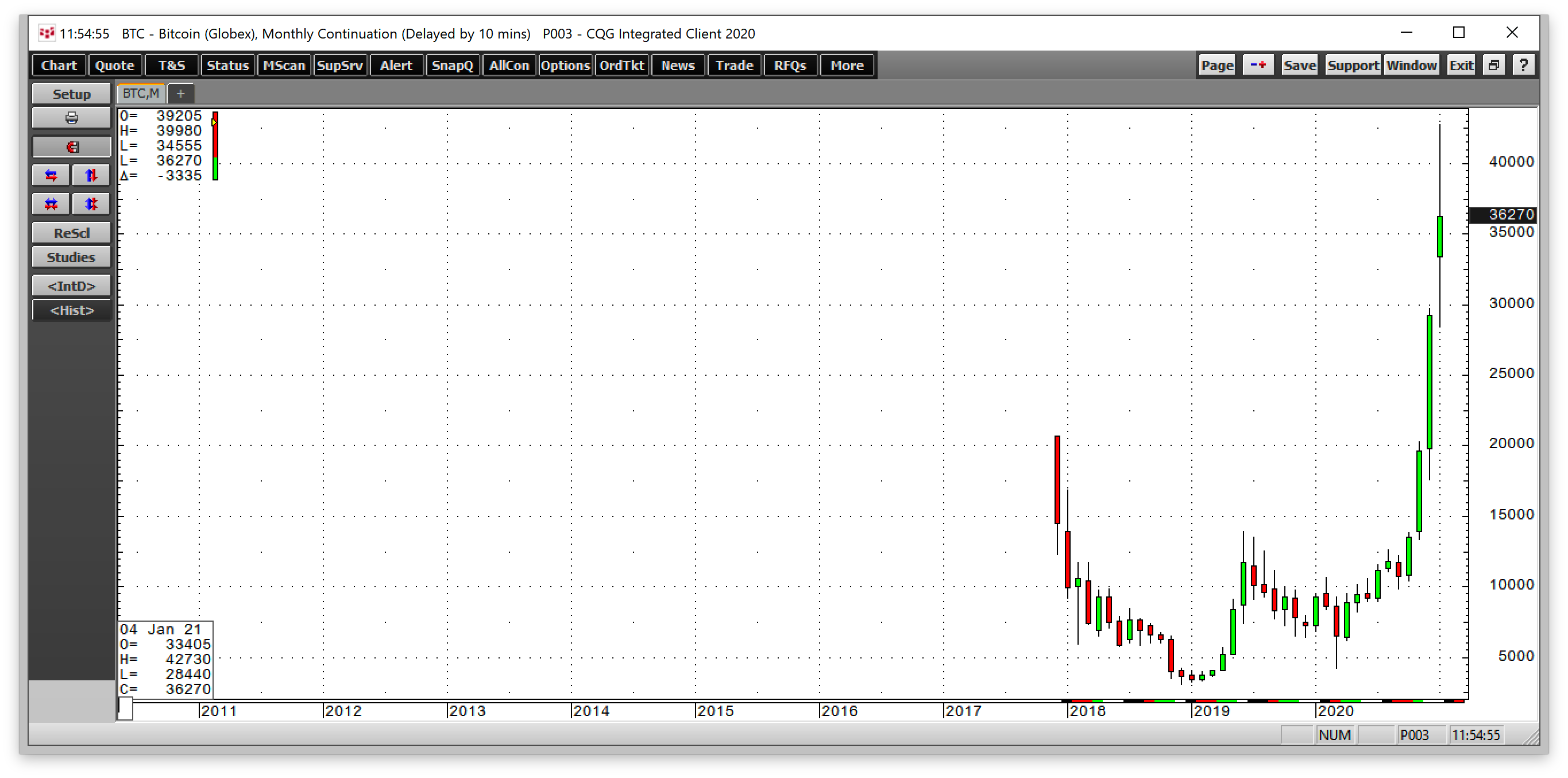 Source: CQG
As the monthly chart of highlights, the price moved above the 2019 high in November.
The technical break to the upside lit an explosive match under the cryptocurrency. At the beginning of 2021, the price reached the $42,730 level and was trading at over $36,000 per token at the end of last week. The asset class's market cap was near the $1 trillion level.
Meaningless price forecasts from analysts
Everyone loves a bull market. Now, many pundits are writing that Bitcoin is the new gold and that investors are fleeing the yellow metal for the obscure digital tokens.
Bitcoin has had plenty of detractors over the years. Warren Buffett once called Bitcoin "rat poison squared" in 2018. His partner Charlie Munger said it is "worthless artificial gold" the same year. Jamie Dimon, the CEO of JP Morgan Chase, called Bitcoin a "fraud" in 2017. So far, they've all been wrong.
Meanwhile, the cryptoasset frenzy has even hit the global investment bank run by Mr. Dimon. At the beginning of 2021, an analyst from JP Morgan Chase said that Bitcoin has the potential to reach $146,000.
I find that statement as suspect as the ones made in 2017. It seems like the $146,000 level was picked out of the air. Analysts have models that compare the digital currency's market cap to other competing assets, which validate their predictions. I pay no attention to those calls and consider them, as Mr. Munger would say, worthless.
Markets tend to go a lot higher than anyone believes possible during bullish periods and far lower than even the most committed bear thinks during price carnage. If you have any doubt, just look at the futures market, which moved to of negative $40.32 on April 20, 2020.
Lost passwords and missing millions
There are many reports of lost millions, if not billions, from people who simply forget their digital keys or passwords for their Bitcoin or other crypto wallets. A piece on PCGAMER recounts a computer programmers' loss of 7,002 Bitcoins worth around a quarter-of-a-billion dollars because he forgot his password. If a programmer faces this problem, what chances does a crypto neophyte like me have?
An article in the New York Times last week estimates that of 18.5 million Bitcoins, 20% are lost in stranded wallets. There are retrieval methods when we lose passwords for a bank, investment, or other types of accounts. With Bitcoins in private wallets however, those who lose the keys wind up as the bigggest losers.
When I did a Google search for the question, "what happens if I lost my Bitcoin private key,' the answer is: "If you forget your private key, there's no way to regain access."
Custody and gravity are both powerful forces
So, if you choose to invest in Bitcoin, or another cryptocurrency for that matter, and opt to store it in a private wallet, write down your key and keep it in a secure place. Make copies and put those in a safe.
Alternatively, some online exchanges can store the cryptos, but there are risks. Coinbase is an exchange that keeps almost 99% of its assets in offline cold storage that can't be accessed or hacked. Other online exchanges offer similar storage services. For the digital currency market to mature, custody is the critical issue. In the meantime, cryptonews provides valuable suggestions for storing cryptocurrencies safely.
Keep records of your digital currency savings and store them safely. Custody remains the leading issue for me and many others, whether you tend to forget passwords or not. Saving cryptoassets on your computer increases the risk of a hack. An old-school mindset in this digital currency world is a disability.
As for investing in Bitcoin and the other digital currencies, it's difficult to make a call on which direction any of them will head next. One thing for sure, expect volatility.
The takeaway is that digital currencies are markets. And like all markets, risk rises during parabolic moves.
Whether Bitcoin reaches a high at $42,730, or the current explosive rally will find a peak at double, triple, quadruple that level or more, gravity will eventually cause a massive correction. Guard against losing access to those tokens, but also have an exit plan for price risk.