The article was written exclusively for Investing.com
It has been a busy two weeks for earning—companies like Netflix (NASDAQ:), Apple (NASDAQ:), Advanced Micro Devices (NASDAQ:), and Facebook (NASDAQ:) all reporting results. There may be a common theme that the majority of these companies share. Despite posting excellent results, they have struggled to advance.
There is another thing they also all have in common, they were all big winners in 2020 and part of the stay-at-home trade, now that trade may be nearing the end of its life cycle. In some cases, the conference calls revealed tougher comparables may make 2021 a more challenging year. It may also mean that the multiple expansion these stocks have enjoyed due to accelerating growth leads to a period of stagnation or contraction.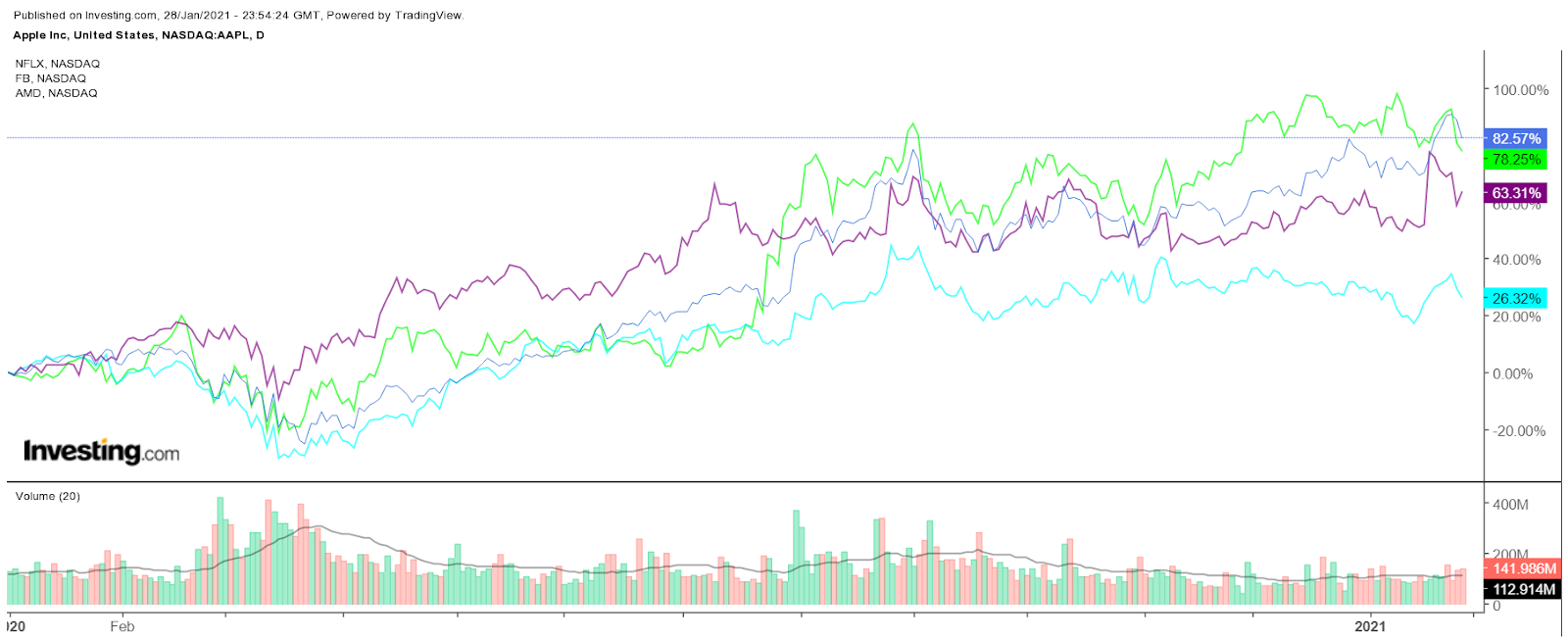 Tough Comps
Following their much better than expected earnings and revenue, both and fell, much to some investors' surprise. But the conference calls revealed the reasons for this underperformance. Apple noted that year-over-year growth in its Wearables, Home, and Accessories category will decelerate compared to the fiscal first quarter. It also noted its services business will face difficult comparables when it reports its March quarter. On the other hand, Facebook indicated that investors could see stable or moderate advertising revenue growth in the first half of the year, followed by weaker growth rates in the second half.
More plainly said, don't be surprised if growth going forward does not live up to the immense expectations that have been priced into the stocks.
No Margin Expansion
AMD also a massive beat and gave equally strong guidance; still, the shares have fallen about 8%. But despite the strong demand for its chips, the company didn't generate any margin improvement versus the same period a year ago. The lack of margin improvement in an environment where the company delivers strong revenue growth may suggest they cannot garner higher prices for their chips. It could also mean future earnings estimates need to be adjusted lower.  
Even Netflix fell victim to this trend, with the stock surging by nearly 20% the day after blow-out results. With net subscriber additions that were much higher than expected and noting a positive outlook on free cash flow. But since January 20, the stock has given back nearly all of its gains, falling by as much as 9%, and was down by as much as 13.5%.  
Is The Tide Going Out?
The market appears to be sending a message that the better than expected results are not enough to push these stocks to higher prices.
In fact, this is the second quarter in a row this has happened. All four stocks have failed to see a meaningful advance since early September.
The exact message the market is sending isn't clear. Still, it appears to point to the notion that the companies aren't as likely to see the significant revenue and earnings growth they benefitted from at the start of the pandemic. That might translate to slower growth rates down the line, and if that is the case, it may be hard for investors to justify these stocks' current valuations. 
For example, Apple trades for around 30 times fiscal 2023 earnings estimates of $4.67. That is the highest PE multiple going back to the year 2007. It is also nearly double the average PE ratio of 15 over that time.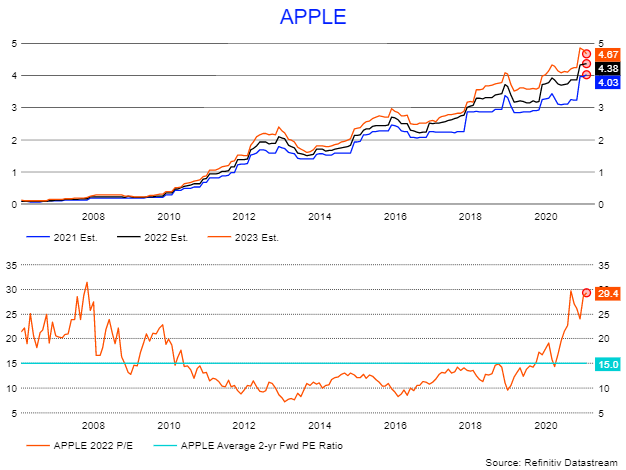 Apple P/E
The recent slump in some of these big technology stocks may be a signal from the market that there is a shift taking place. And that shift may mean tougher comps, lower multiples, and perhaps lower prices. 
Disclaimer: Michael Kramer and the clients of Mott Capital Management own shares in Apple. Mott Capital Management, LLC is a registered investment adviser. Information presented is for educational purposes only and does not intend to make an offer or solicitation for the sale or purchase of any specific securities, investments, or investment strategies. Investments involve risk and, unless otherwise stated, are not guaranteed. Be sure to first consult with a qualified financial adviser and/or tax professional before implementing any strategy discussed herein. Upon request, the advisor will provide a list of all recommendations made during the past twelve months. Past performance is not indicative of future results.