This article was written exclusively for Investing.com
What is Dogecoin?
A friend recommended it years ago; I should have listened
Elon Musk lights a bullish Dogecoin fuse
One of over 8,400 tokens
Crypto paradise: Investing or trading, which is likelier to succeed?
It's hard to imagine that the cryptocurrency asset class has only been around for a little over a decade. The tokens that are striving to become technology's answer to money have traveled a volatile road.
The first significant speed bump came in 2014 when the Mount Gox Bitcoin exchange in Shibuya, Tokyo, Japan, went belly up. At the time of its bankruptcy, Mount Gox was handling over 70% of all transactions and was the world's leading cryptocurrency exchange. Computer hackers destroyed the exchange. Bitcoin had rallied to a high of nearly $1000 per token before the Mount Gox debacle and fell below $225 in 2015.
After the stumble, Bitcoin and other digital currencies made a comeback. When the CME and CBOE rolled out futures in late 2017, Bitcoin rose to over $20,000 per token before collapsing to a low of $3,120 in late 2018. At the high, the market cap of the asset class reached over $800 billion.
Many market analysts believed that the move to over the $20,000 level was nothing short of a brief bubble. Warren Buffett called Bitcoin "rat poison squared." Jamie Dimon, the CEO and Chairman of JP Morgan Chase called it a "fraud."
In March 2020, when the global pandemic triggered risk-off selling in markets, Bitcoin's price dropped to $4,210. By the end of last year, it had made a new high, closing at $29,220. So far in February, the price rose to nearly $50,000 and the market cap soared over the $1.4 trillion level for the first time.
Bitcoin's massive volatility and ascent may have grabbed the headlines but it also obscures the fact that over 8,400 digital tokens have come to market. is a token that has been around since late 2013.
What is Dogecoin?
Dogecoin began as a joke in 2013. Two engineers, Billy Markus from IBM and Jackson Palmer from Adobe, combined Bitcoin and Doge to create the Dogecoin. The engineers were surprised when people began using the Dogecoin as soon as it was released. Over one million unique visitors went to Dogecoin.com during the first month of operation. The doge meme features an image of a Shiba Inu dog with Comic Sans thought bubbles.
Dogecoin was derived from the open-source software project, . Meanwhile, Dogecoin does not limit the number of coins that the system can produce, which differentiates it from Bitcoin.
Dogecoin almost instantly exploded on Reddit, generating a market value of $8 million in 2013. It became a 'tipping' token for thanking or repaying people on the web for performing "good deeds" like sharing an idea or making a platform more accessible.
Dogecoin's popularity grew because of a lower barrier to entry than Bitcoin.
Dogecoin is a cryptocurrency with a long history, considering the asset class is a little over a decade old.
A friend recommended it years ago; I should have listened
When Dogecoin appeared on the scene, a friend suggested that I begin mining for the coins. He purchased lots of computer equipment and invested substantial monthly electric bills in the pursuit of collecting Dogecoin and Bitcoin. I thought he was crazy.
To me, the crypto tokens were nothing but a video game with a payoff in worthless rewards that only existed in the opaque cyberworld. I dismissed the suggestion immediately, thinking—leave the video games to the kids. I was dead wrong.
I thought it was crazy to collect worthless tokens in 2013 in those ancient days of the cryptocurrency world when Bitcoin traded to a high of just over $1000 per token. I could not wrap my hands around the price and value. My mistake was not to spend the time to understand the blockchain, the underlying philosophy, and embracing the technological shift.
In 2013 and 2014, Dogecoin traded to a high of $0.001806. That means that at the token's apex, $1000 would buy 553,700 Dogecoins.
As of Feb. 10, 2021, Dogecoin reached $0.070435 making that $1,000 investment worth almost $39,000. A $1000 in Bitcoin back then is now worth over $46,000.
Meanwhile, just as my interest was beginning to peak a bit, the Mt. Gox hack and bankruptcy in 2014 put the issue to sleep for me.
Elon Musk lights a bullish Dogecoin fuse
Elon Musk is the world's wealthiest person. He is an engineer, and his three companies, Tesla (NASDAQ:), SpaceX, and The Boring Company, could make him the first trillionaire in the future. Musk is outspoken, controversial, and considered by many to be a modern-day DaVinci and Thomas Edison wrapped into one.
Mr. Musk sees the irony in Dogecoin because it was made as a joke. He said it would be the most "entertaining and ironic outcome" if Doge becomes the currency of the earth in the future. He also said, "Fate loves irony."
Mr. Musk has been encouraging Dogecoin higher with periodic tweets. Since he has 25 million followers on Twitter, each time a tweet appears, Dogecoin rallies. On Feb. 4, he posted this tweet: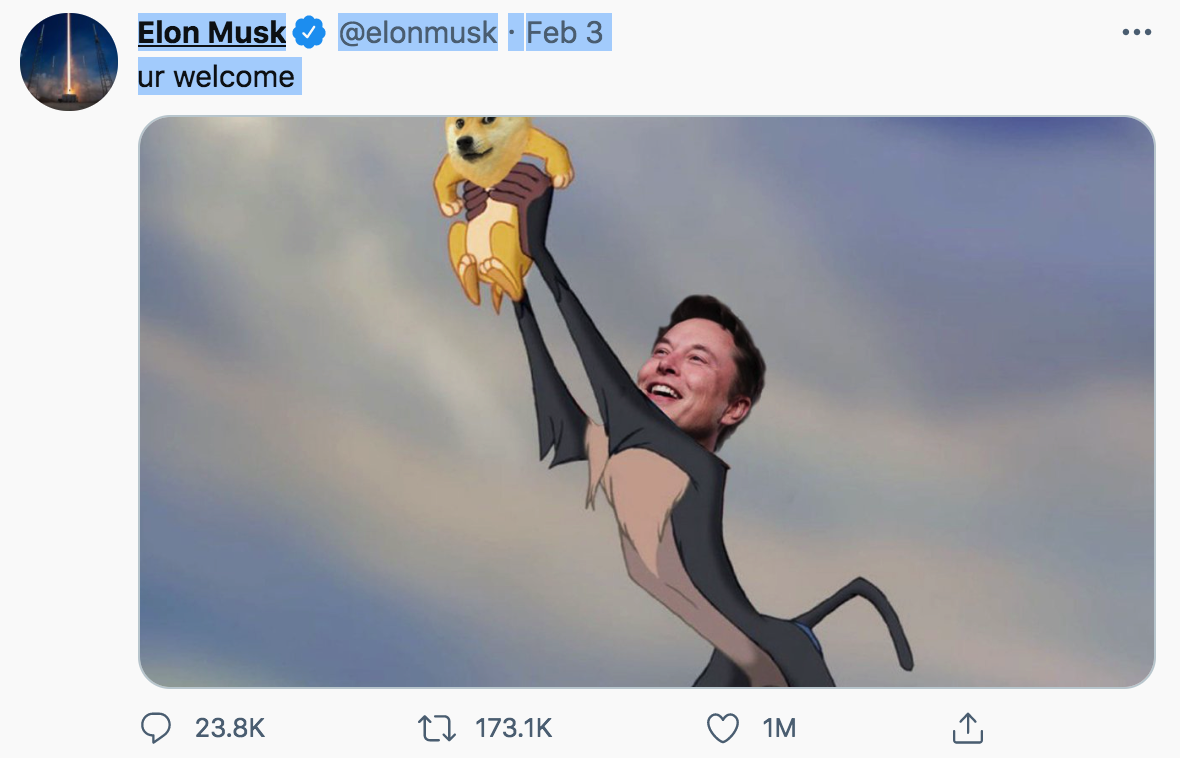 Elon is holding the Shiba Inu and extending to the sky as the price of the token rises.

The tweet that followed, (above), spoke for itself.
After years of trading well below one penny, Mr. Musk has fostered irony. His tweeting may be a joke, the token itself may have been born from a joke, but the cryptocurrency's appreciation is real.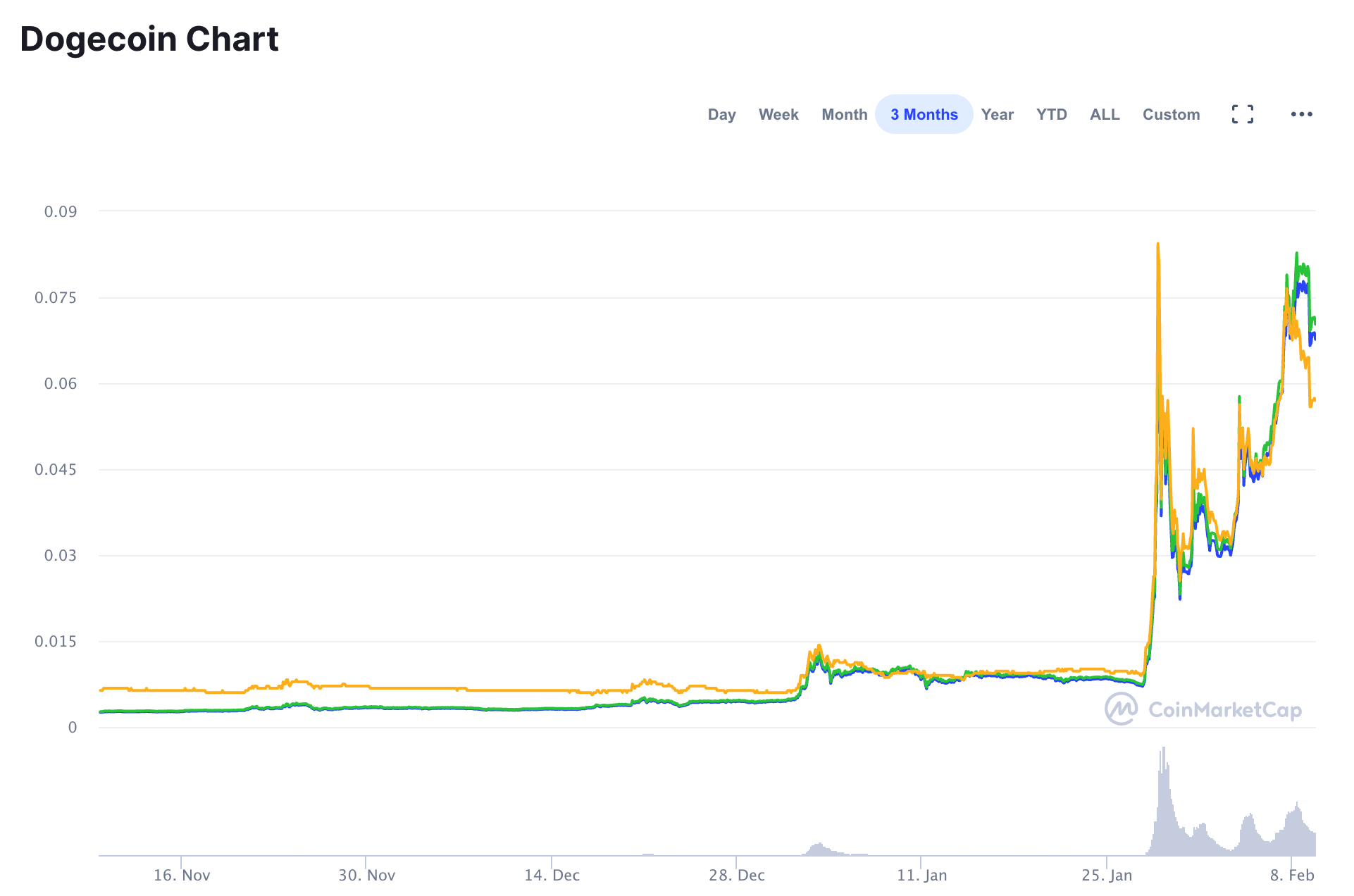 Source: coinmarketcap.com
The chart shows that Dogecoin closed 2020 at $0.004673 per token. On Feb. 10, it was ten times higher at $0.0732 after reaching a high of $0.082761 on Feb. 8.
One of over 8,400 tokens
According to CoinMarketCap, as of Feb.10, 8,418 cryptocurrencies were circulating in the asset class with an aggregate value of over $1.13 trillion.
Bitcoin continues to hold the dominant market share with a market cap of around $700 billion, or nearly 62% of the asset class. is second with almost $190 billion or 16.8%.
Out of the nearly 8,400 tokens, Dogecoin, Elon Musk's favorite joke, ranks in the top twenty, in tenth place as of Feb. 11 with a $9.51 billion market cap.

Source: Investing.com
The ironic token sits at the top of the asset class's heap occupying over 0.40% of the entire market cap.
Crypto paradise: Investing or trading, which is likelier to succeed?
Mr. Musk is not likely to continue his love affair with Dogecoin in private. The inventor and CEO with a net worth approaching $200 billion likely thinks it is even more ironic that each of his tweets pushes the cryptocurrency price higher. Therefore, it is not hard to be bullish on the prospects for the token.
This week, Elon told the world Tesla bought $1.5 billion of Bitcoin and will accept the crypto as payment for its EVs. The last leg up that took Bitcoin to over $47,750 was Musk-related. It may not be too long before a Musk-coin bursts onto the scene.
I have come around to accepting the digital currency revolution. I continue to wrestle with whether cryptos are investments or trading vehicles. For many, they are both.
I look forward to the introduction of options contracts on the leading currencies. Puts and calls on Bitcoin and Ethereum and ETF and ETN products will only increase the volumes and acceptance of the asset class, leading to growth in many other tokens.
Gary Gensler, the former Chairman of the CFTC under the Obama administration and new Chairman of the SEC under the Biden administration, taught a fintech course at MIT during the Trump administration. Gensler will work with the CFTC Chairman on regulations for the digital currency asset class. He is open-minded and understands the utility of the burgeoning asset class. He will need to walk a fine line when it comes to objections from government officials in the US and worldwide regarding control of the money supply. There are regulatory areas that require compromise.
Meanwhile, he is likely to support ETF products that would further the acceptance of cryptocurrencies. As the asset classes' market cap continues to rise, Dogecoin may not be such a joke over the coming years, but Elon Musk will continue to relish in its irony and is already boosting his net worth with his latest $1.5 billion investment in Bitcoin and the digital currency world.