Investors should brace for another volatile trading week in the US where large-cap technology stocks have been suffering losses on concerns that their values have gotten too high, especially when bond yields are surging, stoking inflationary fears.
The yield on the U.S. Treasury, which is a key measure for interest rates on consumer loans, rose above 1.6% on Thursday for the first time in about a year. All three major equity averages posted weekly losses on concerns that higher interest rates and inflation will diminish the appeal of stocks. 
The dropped 2.5% this week for its second negative week in a row. The 30-stock fell 1.8%, while the was the biggest loser, shedding 4.9% for the week. In this uncertain economic environment, here are three stocks we'll be keeping an eye on during the week:
1. Zoom Video
Zoom Video Communications (NASDAQ:) will report fourth quarter earnings for its fiscal 2021 year after the market closes on Monday, Mar. 1. Analysts are projecting $0.81 a share profit on sales of $910 million.
The video-communications platfrom leader has had a great year during the pandemic when stay-at-home requirements and remote-work trends boosted its sales significantly. Sales and profit have consistently beat estimates , and the company kept raising its guidance.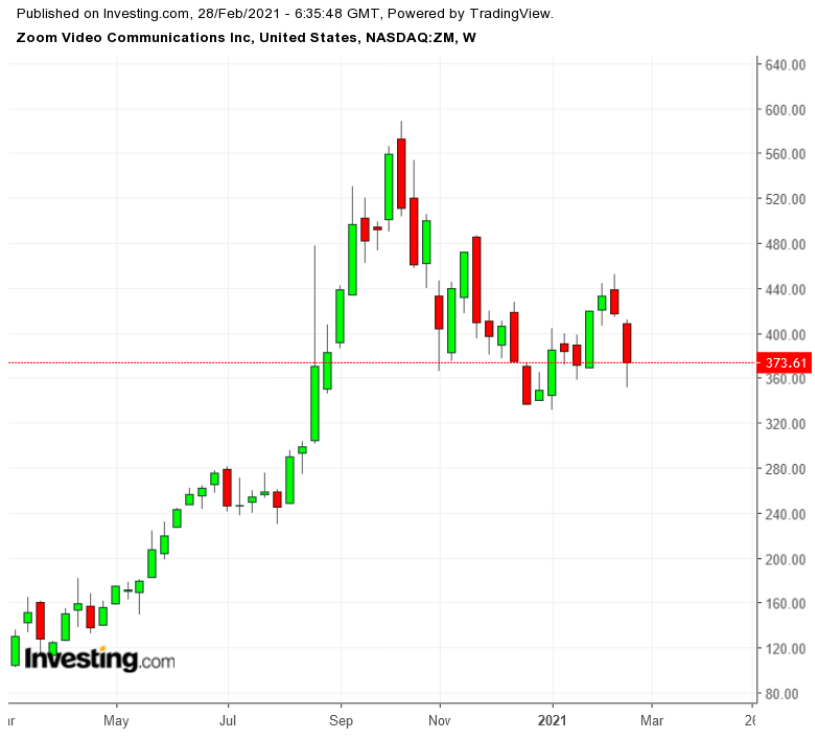 In November, Zoom said at the end of that quarter it  had 433,700 customers with more than 10 employees; of those companies 1,289 are contributing more than $100,000 in trailing 12-month revenue. Investors will be keen to know whether the San Jose, California-based company has been able to keep up with this strong momentum in 2021.
Trading at $373.61 as of Friday's close, Zoom's shares have jumped 241% during the past 12 months. The stock has fallen more than 30% from its record high of $588, reached in October, as the growth stock sell-off has accelerated. 
2. Target 
Big-box retailer, Target (NYSE:), will report fourth quarter earnings on Tuesday, Mar. 2, before the market opens. On average, analysts are expecting $27.4 billion in sales and $2.54 earnings per share. 
Target's third-quarter comparable sales, including e-commerce, jumped 20.7% from a year earlier, almost double analyst expectations, which indicates the retailer was not only gaining new customers but also retaining them.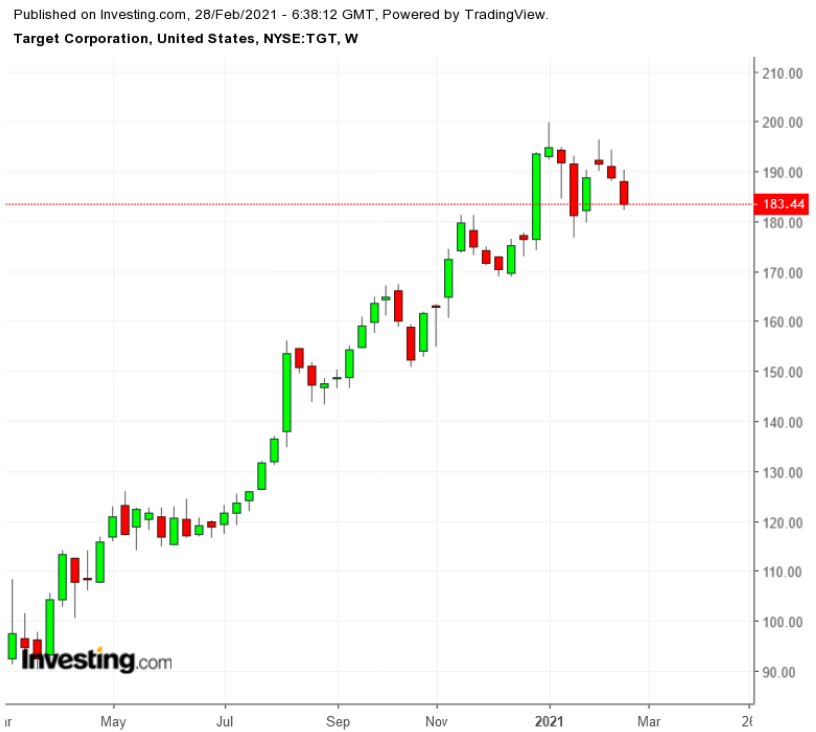 Chief Executive Officer Brian Cornell told analysts that Target is capturing market share as more shoppers use the company's website and in-store pickup options. The Minneapolis-based retailer is seeing growth in categories such as electronics, home decor, apparel, and food and beverages.
Target shares have gained about 4% this year, after surging about 80% in 2020. The stock closed at $183.44 on Friday.
3. Costco Wholesale
The retail sector will once again come under scrutiny on Thursday, Mar. 4 when Costco (NASDAQ:) reports its fiscal 2021 second quarter results after the close. Analysts are expecting $2.44 a share in profit on sales of $43.72 billion.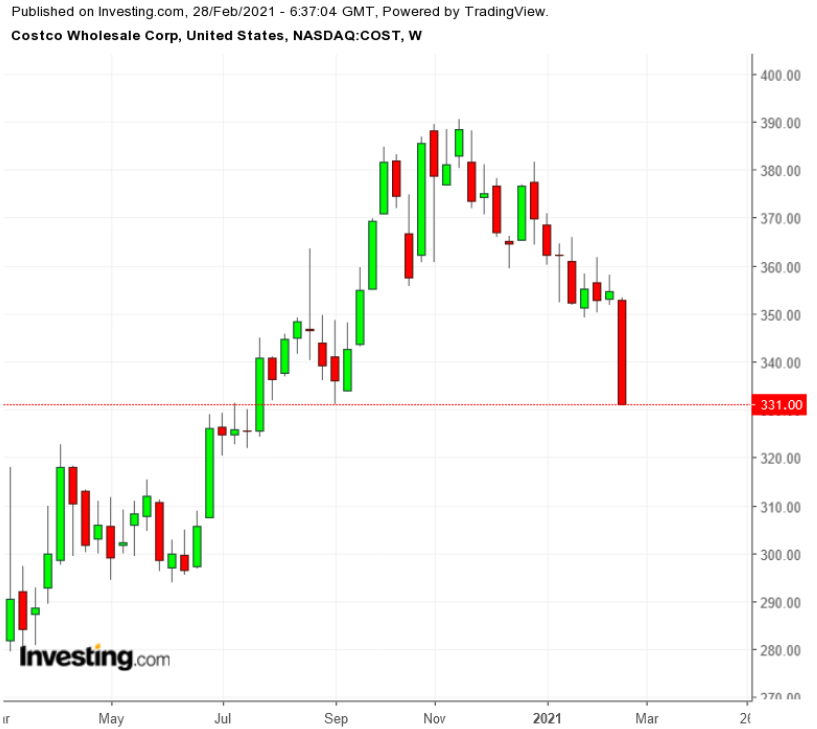 Costco, along with Target, has been one of the primary beneficiaries of pandemic-related consumer stockpiling as housebound shoppers continue to scoop up toilet paper, cereal and other everyday essentials while sheltering in place.
While that buying spree may soon be over as the vaccine rollout diminishes the infection risk, the latest commentary from the management will likely project a normalized sales pattern and some impact of increased consumer buying power due to the federal cash relief package distribution.
Those factors could perhaps provide some explanation for why Costco's stock has fallen more than 12% this year after a powerful rally in 2020. Shares closed on Friday at $331, after falling almost 1% for the day.