During the past week, investors pushed the to a new record high, which signals that the second-quarter could bring more gains, especially when the U.S. economy is reopening and jobs are coming back.
The broad stock market gauge capped its fourth consecutive quarterly advance last week, helped by continuing rebound in technology stocks. Investors will find another strong reason to stay bullish in the coming week after Friday's robust for March. 
U.S. employers added 916,000 jobs during the past month, exceeding the 660,000 gain that economists had projected. The March payrolls report validates expectations that the U.S. recovery is gaining additional momentum as the pace of vaccine rollouts escalates.
Amid these positive signs on the macro front, here are three stocks which we're following closely—two that will announce their latest earnings in the days ahead:
1. Tesla
Shares of electric automaker Tesla (NASDAQ:) may see some positive action in the week ahead, after the Palo Alto, California car manufacturer said on Friday that it more vehicles than expected in the first quarter.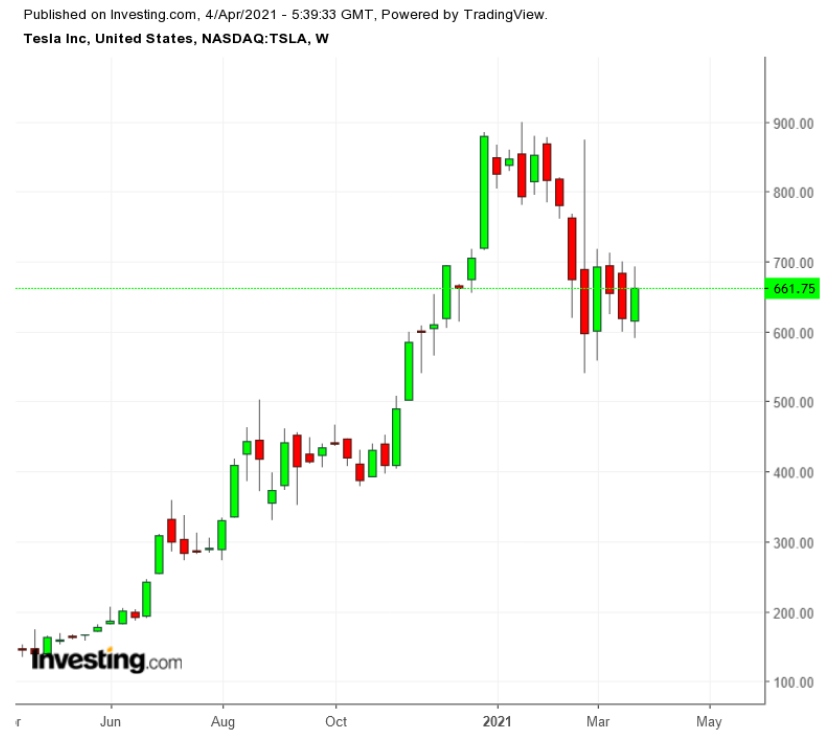 The EV maker delivered 184,800 cars worldwide in the first three months of the year, up from 180,570 in the fourth quarter, the company said in a statement Friday.
"We are encouraged by the strong reception of the Model Y in China and are quickly progressing to full production capacity."
The new Model S and Model X have also been "exceptionally well received," the company said, adding that it's in the early stages of ramping up production for both vehicles.
The quarterly delivery figure comes amid concern that global shortage of chips could hurt Tesla's production, especially when other manufacturers are facing similar problems. But Friday's data show the world's largest EV maker remains on track to meet delivery targets.  
The stock is down 6% this year after a powerful rally in 2020. Shares closed on Thursday at $661.75 after falling about 1%. 
2. Constellation Brands
The U.S.-based producer of Corona beer, Constellation Brands (NYSE:), will report its Q4 2021 earnings before the market opens on Thursday, Apr. 8.  Analysts are projecting earnings per share of $1.55 on sales of $1.86 billion.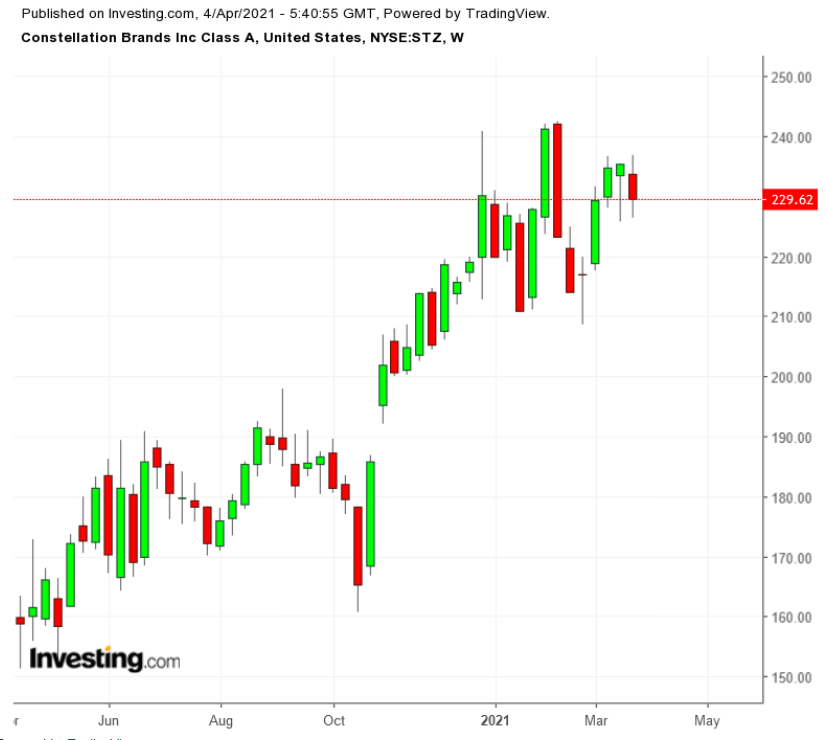 In the previous , Constellation reported a nearly 22% surge in sales and a 44% jump in earnings per share when compared with the same period a year ago.
Sales are growing as the Victor, New York-based wine, beer and spirits maker, succeeds in managing the difficult operating environment it encountered during the pandmemic by offsetting the decline in on-premise, restaurant and bar sales with off-premise, or retail, sales in its beer business. As CEO Bill Newlands told CNBC in January:
"We've got the brands that are in demand and one of the things that people do when they're buying for home is they stick with things that they know and they stick with things that they trust, and we have brands that people trust." 
That's held true since then as well. STZ shares are trading near a record high after surging about 75% during the past one year. They closed on Thursday at $229.62.
3. Levi Strauss
Apparel maker Levi Strauss & Co. (NYSE:), will report fiscal Q1 2021 earnings on Thursday as well, but after the market closes. Analysts on average are expecting $0.24 a share profit on $1.25 billion sales.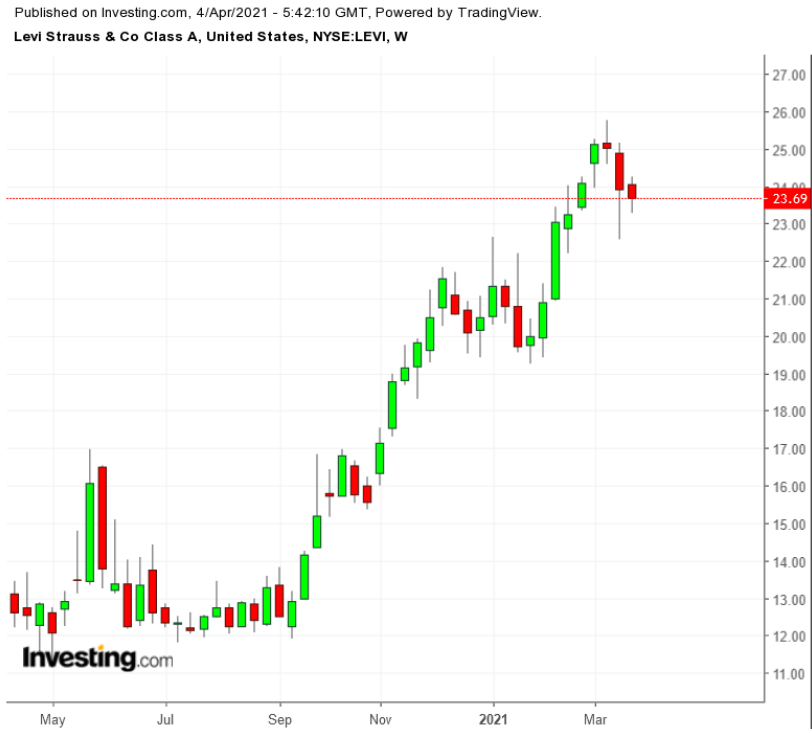 The San Francisco-based clothing manufacturer—best known for its iconic Levi's brand jeans—may continue to report in sales amid the COVID-19 pandemic, which forced the company to close retail locations in certain markets during the past quarter.
The pandemic, however, has accelerated the company's push to sell more through its own channels, focusing on digital sales while using its growing network of Levi's-branded physical stores—currently about 200 in the U.S.—to enhance the push. 
Levi's shares have recovered strongly during the past one year, surging more than 135% from their dip in March a year ago. The stock closed on Thursday at $23.69 after falling about 1%.