Stock markets in the U.S. are likely to start the new week on a positive note amid a decline in new COVID infections, increasing likelihood of a strong recovery in the second quarter, and hopes for a new stimulus package.
These positive developments fueled gains in some of the biggest stocks last week, equities in sectors whose fate is closely tied with the economic reopening, such as energy and financials. The optimism also prompted some banks to improve their economic forecasts. 
Goldman Sachs boosted its first quarter growth projections to 6%, while Morgan Stanley upped its reading to 7.5%, after seeing robust gains in for the month of January. 
So, while investors keep their focus on these macro indicators, here are three stocks which could see some price action as they release their latest earnings reports:
1. NVIDIA Corporation
The semiconductor giant,  NVIDIA Corporation (NASDAQ:) is scheduled to report its Q4 earnings on Wednesday, Feb. 24 after the market close. Analysts predict for the company with EPS of $2.8 on revenues of $4.82 billion.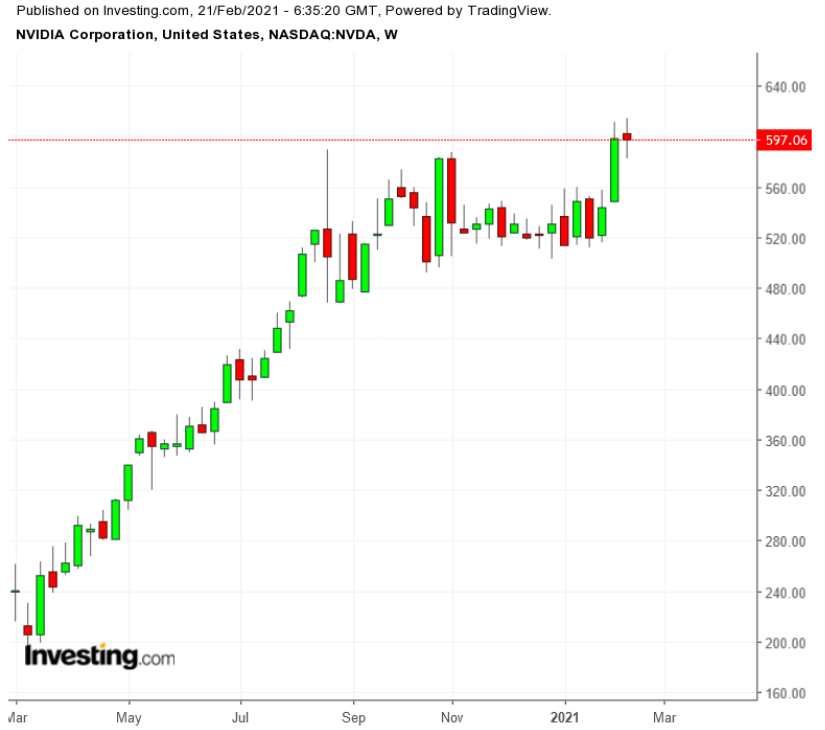 Shares of NVIDIA have had a great run during the past 12 months, fueled by surging demand for its chips used in data centers and gaming consoles. The stock closed at $597.06 on Friday, after rising 14% in 2021 and 88% during the past year.
The Santa Clara, California-based chipmaker is the biggest manufacturer of graphics chips used in personal computer gaming. Over the past few years, NVDA has successfully adapted its technology for the Artificial Intelligence market, creating a new multi-billion-dollar line of business.
In this earnings report, however, investors will be keen to know how the company is ramping up its production to counter the industry-wide shortages of chips. Many chip customers are struggling to meet the soaring demand for everything, including laptops, gaming consoles, and other gadgets which use chips.
2. Salesforce.com
Salesforce.com (NYSE:), which sells enterprise software and cloud-based services for customer relationship management to corporate clients, will be reporting its quarterly earnings on Thursday, Feb. 25, after the market closes.The software provider is forecast to report $5.67 billion in revenue and $0.7541 of earnings per share.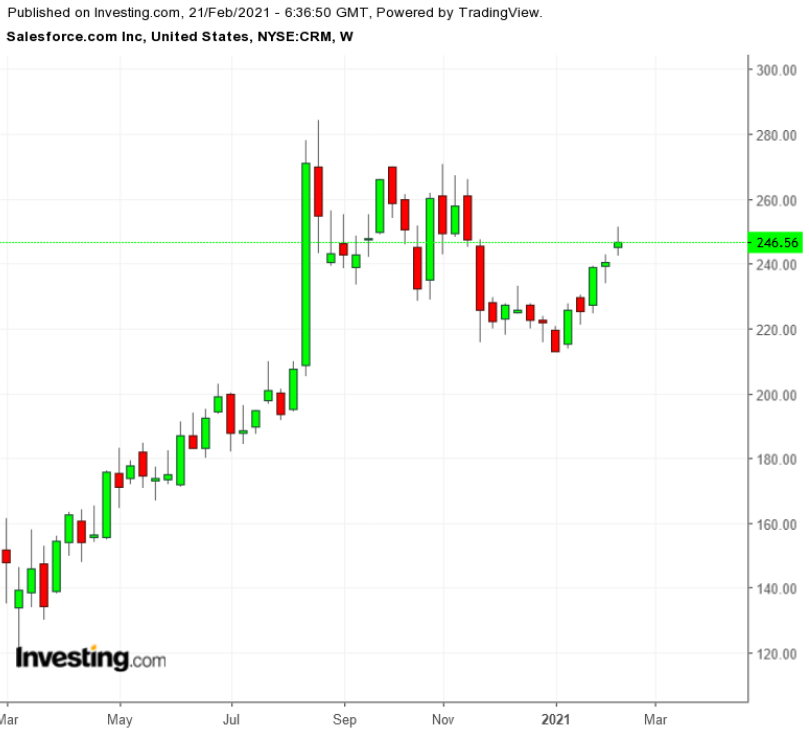 During the past quarter, Salesforce stock has fallen about 7%, underperforming the general market. It closed on Friday at $246.56.
Its next report will reflect the period during which the San-Francisco-based Salesforce announced the takeover of Slack Technologies (NYSE:) for $27.7 billion, giving the company a popular workplace-communications platform in one of the biggest technology deals of the past year.
Salesforce told investors in December that it projects revenue will grow about 17% in the just finished period. That will be the of year-over-year sales growth in 11 years for the software maker.
3. Best Buy
The big box electronics and technology chain Best Buy (NYSE:) will also release Q4 earnings on Thursday, Feb. 25 before the market opens. The retailer is expected to report $3.45 per share profit and $17.12 billion in revenue, according to analyst consensus.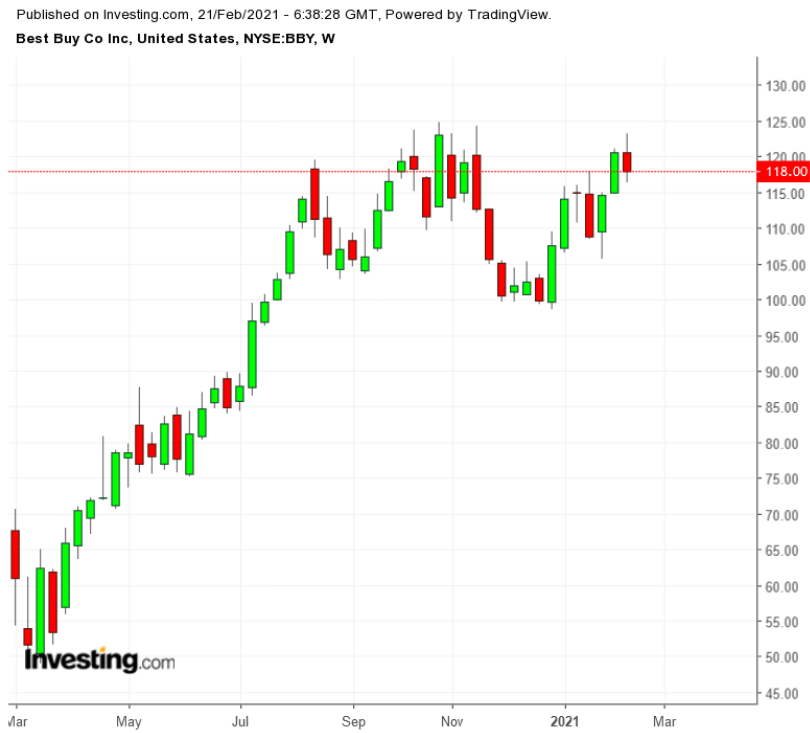 Shares have rallied about 30% during the past year, as Best Buy continues to benefit from Americans splurging on household upgrades during the ongoing work-from-home environment. The stock closed on Friday at $118.
Comparable sales, meaning from websites or stores operating for at least 12 months, rose 23% in the quarter ended Oct. 31. Much of the gains came from online orders, which nearly tripled in the U.S. in the last quarter.
In order to keep that momentum going, Best Buy needs to show that its e-commerce channels could make up for brick-and-mortar losses in the when infections surged, forcing many states to enforce lockdowns.