Ongoing coronavirus-related uncertainty, counterbalanced by optimism around the massive stimulus package proposed by President-elect Joe Biden who takes office in just a few days will characterize the mood during the coming week. At the same time, some of the largest U.S. companies begin reporting fourth quarter 2020 earnings.
On Thursday, Biden revealed the breakdown of his $1.9-trillion proposed package, which aims to help COVID-19 ravaged families and businesses until vaccines are widely distributed. The plan includes stimulus checks as well as unemployment support.
Several mega cap companies are scheduled to release their latest reports, at a time when investors need a solid signal that corporate America is coming out of a recession and that underlying demand remains strong. In a week likely packed with major announcements, we're focusing on these three stocks:
1. Netflix
The streaming entertainment giant Netflix (NASDAQ:) will report Q4 earnings on Tuesday, Jan. 19 after the market close. Analysts are projecting $1.32 a share profit on sales of $6.62 billion.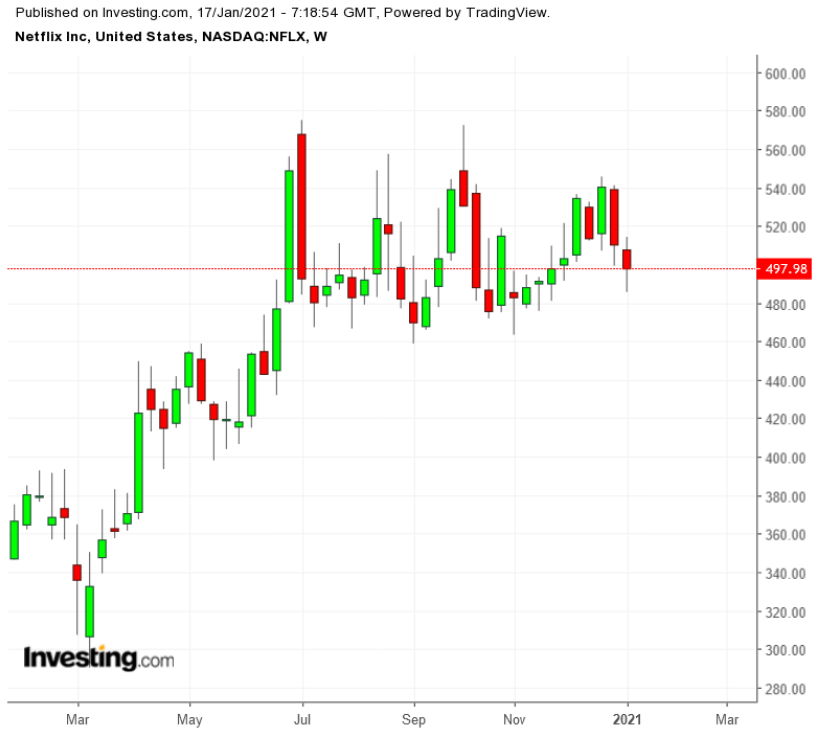 After rebounding strongly during the COVID-19 pandemic, Netflix stock is losing some steam as and competition in the streaming market heats up.
As of Friday's $497.98 close, Netflix's shares are down about 8% over the past three months, compared with the index's gains of about 8% over the same period. This coming week's earnings report will be crucial if the stock is to break this sluggish cycle and continue any upward move.
The Los Gatos, CA-based company has to show it's well positioned to at a time when Disney's (NYSE:) streaming service is receiving an overwhelming response from subscribers and additional competitors are slowly advancing.
2. Intel
Chipmaker Intel (NASDAQ:) is another tech giant set to release earnings this week. The company's Q4 report follows last week's announcement that it's bringing in a new CEO at a time when its leading position is under threat.
Intel said on Jan. 13 that Bob Swan will be replaced by VMware (NYSE:) CEO Pat Gelsinger, who will be returning to the company he left more than a decade ago.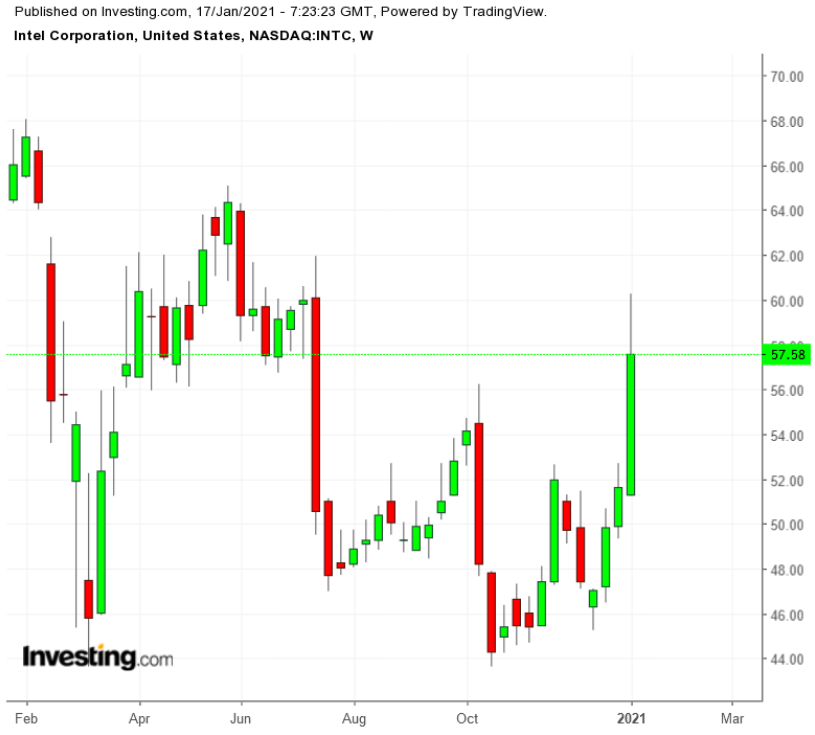 The Santa Clara, California-based company will report its latest quarterly earnings on Thursday, Jan. 21 after the close. The semiconductor giant is projected to report $1.1 a share profit on revenue of $17.46 billion, according to analyst consensus.
But will perhaps take a backseat as investors focus on the direction the new CEO will take to shepherd the company out of a crisis threatening its leadership of the chip industry. Intel has lagged in introducing newer and faster products and has lost some of its biggest customers, such as Apple (NASDAQ:), which has decided to build its own chips.
Intel shares, which closed at $57.58 on Friday, have underperformed in the current market rebound, when compared to other chip producers. The stock has hardly changed during the past year, even as the benchmark gained about 60% during the same period.
3. Schlumberger
and services giant Schlumberger (NYSE:) will report its fourth quarter earnings on Friday, Jan. 22, before the open. Analysts on average expect $0.17 a share profit on sales of $5.23 billion.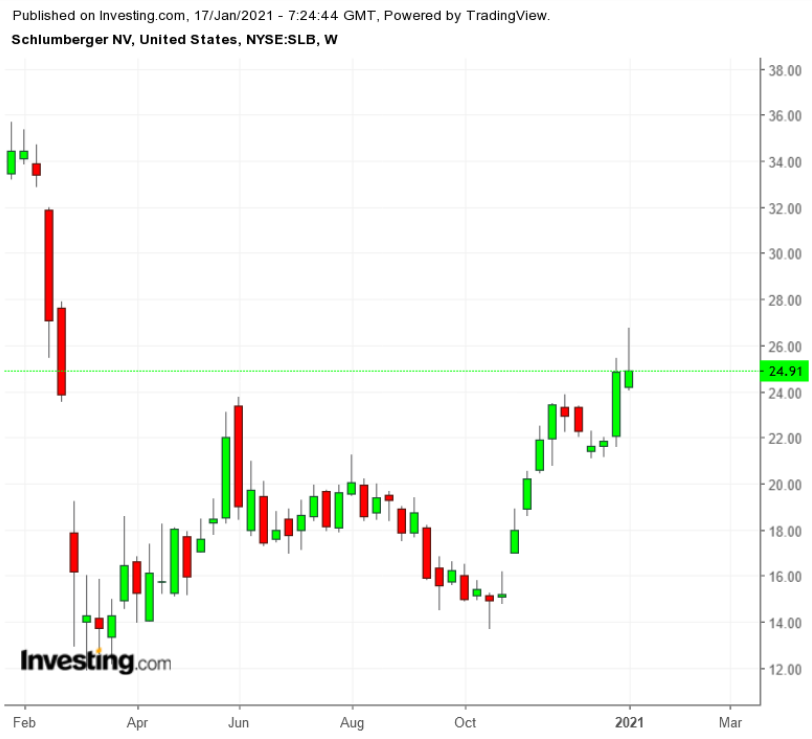 Schlumberger operates in more than 120 countries, supplying the oil and gas industry's most comprehensive range of products and services, from exploration through production. But its business has been in a since the pandemic hit the global economy, forcing major oil companies to cut back on spending in order to preserve cash.
Despite this uncertain outlook for oil markets, SLB shares have gained more than 50% in value during the past three months on hopes that successful deployment of vaccines will kick start the global economy this year. The stock closed on Friday at $24.91, sharply up from about $14 a share in October.
The company's future guidance could provide some insight into the extent of recovery taking place in energy markets.