Investor focus will likely remain on rising bond yields which have recently become a major signal for equity trading. The action in the bond market, where the longer maturities have surged to pre-pandemic levels, has some investors worried that inflation is on the rise, which may force the US central bank to start hiking interest rates earlier than promised.
As bond rates move higher amid early signs of an economic recovery, investors are selling riskier growth stocks and moving their funds to cyclical equities, which lagged in last year's rally.
That rotation trade has put the under pressure in recent weeks. The tech-heavy index remains down 7% from its high about a month ago. With this macro picture in mind, here are three stocks we're monitoring in the coming week.
1. GameStop
GameStop (NYSE:), the bricks-and-mortar video game retailer favored by Reddit 'rebels,' will be releasing its fourth-quarter earnings report on Tuesday, Mar. 23, after the market close. Analysts, on average, are expecting $1.35 a share profit on sales of $2.21 billion.
The latest earnings report will come after the mall retailer said this month that it had picked Chewy (NYSE:) founder and activist investor Ryan Cohen to lead its e-commerce push.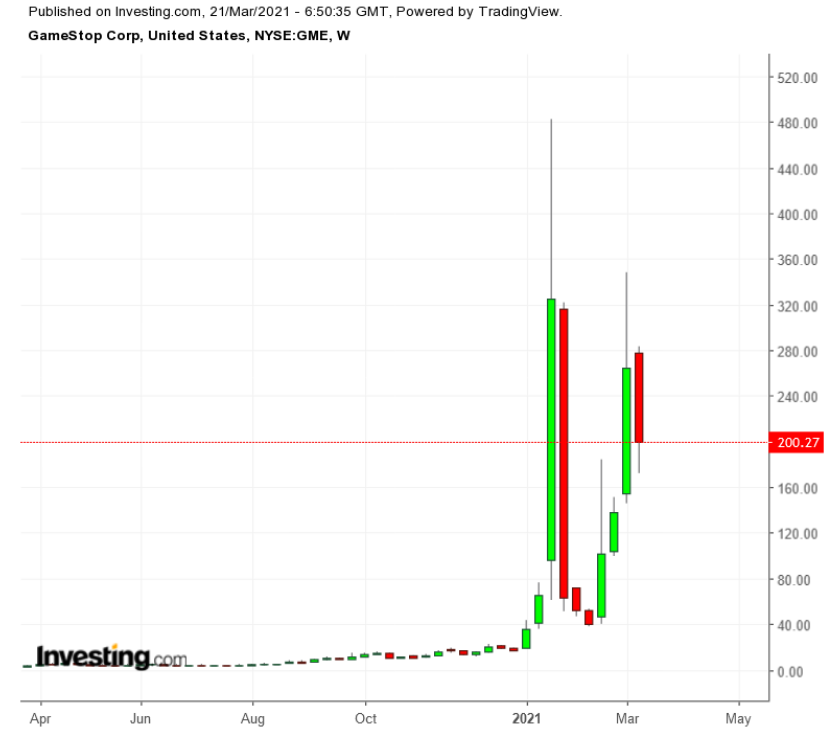 While forming a strategic planning and capital allocation committee, headed by Cohen, the Texas-based company says the new setup will identify actions that can transform the company into a technology business and help create enduring value for shareholders.
Highly volatile GameStop shares are up about 1000% this year on speculation that the company is a great play, especially after the involvement of Cohen who has a track record of building e-commerce businesses. The stock closed at $200.27 on Friday.
2. Adobe Systems
Another stock that will come under investor scrutiny this coming week is Adobe Systems (NASDAQ:). The software manufacturer, whose product lineup includes Photoshop, will release its fiscal 2021, first quarter earnings on Tuesday, Mar. 23 after the close. Wall Street expects $2.79 EPS and $3.76 billion of revenue.
Adobe's during the pandmeic showed that the software maker's cloud-based creative tools are in great demand. Chief Executive Officer Shantanu Narayen has offered new creative software tools to clients to accelerate Adobe's revenue growth.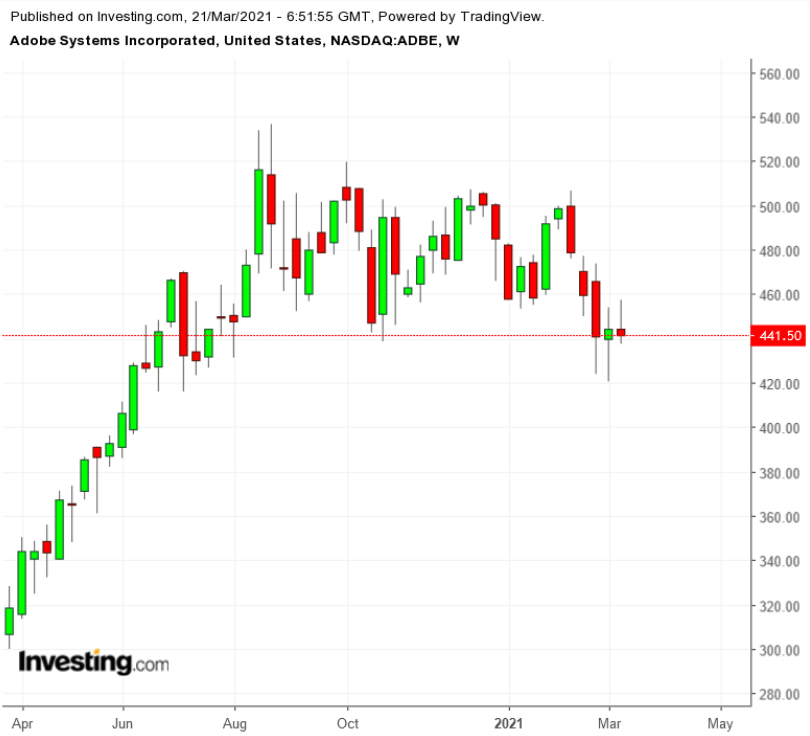 In October, the company introduced a version of its popular app, Illustrator, for Apple's (NASDAQ:) iPad. It's part of an effort to offer ADBE products on more devices being used by creative professionals and hobbyists. 
According to a report in Bloomberg:
"Sales of the company's marketing, advertising and analytics offerings haven't increased as anticipated this year, making it more important for Adobe to maintain its grip on the design software market."
Adobe shares have fallen 12% this year, underperforming the NASDAQ. The stock closed on Friday at $441.50 after rising 0.53%.
3. Visa
It could be another loss-making week for credit card giant Visa (NYSE:) after media reports said that the Justice Department has opened an investigation into its and possible anticompetitive practices.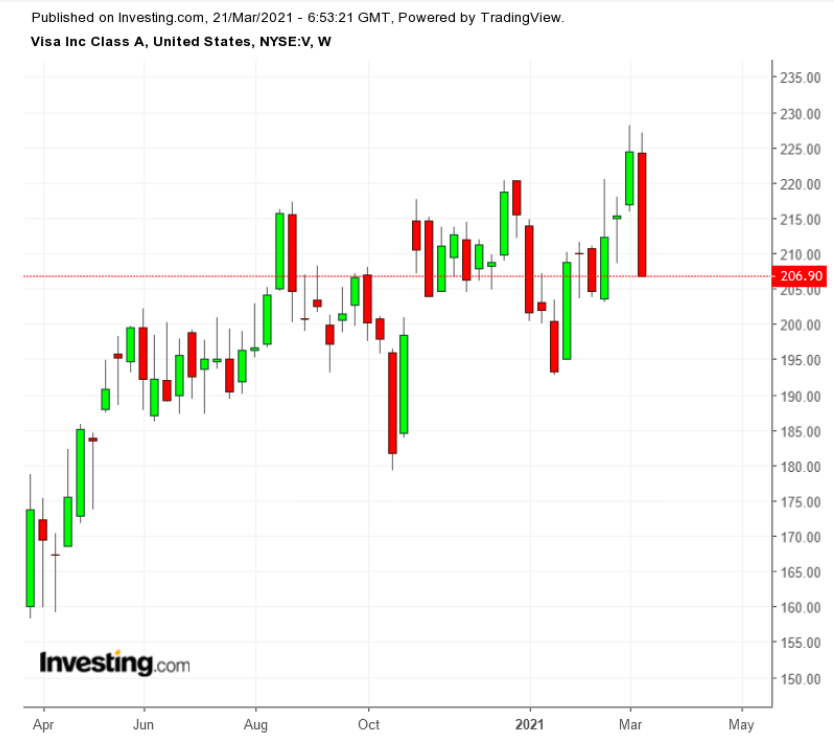 The company said Friday afternoon that investigators have started to collect information on Visa debit practices. The Wall Street Journal, which first reported the probe, said the DOJ is seeking to determine whether the largest card network in the U.S. has curbed merchants' capacity to route debit-card transactions over less-expensive networks.
Visa shares plunged 6% on Friday afternoon to close at $206.90.  Investigators will reportedly seek to determine if Visa's fee policies unlawfully give it unfair market dominance.