After this past week's peaceful inauguration of the US's new President, Joseph Biden, politics now moves to the background. For markets, the coming week will be all about corporate results and the financial health of America's publicly traded businesses amidst the still-raging COVID-19 pandemic.
With more than 450 companies reporting earnings in the coming week, the major focus will be on a diverse group of blue chip companies, including Boeing (NYSE:), Caterpillar (NYSE:), Starbucks (NASDAQ:), and some of the world's largest tech companies.
Our focus will be on the following three tech giants whose earnings for the September-December period could help clarify whether their latest share price gains are justified:
1. Apple
Apple (NASDAQ:), the maker of iPhones as well as computers and smart wearables, will report its fiscal 2021 first quarter results on Wednesday, Jan. 27, after the market close.
On average, analysts project the company will post $1.4 a share profit on sales of $102.31 billion. The quarter, which includes the year-end holiday sales period, is important for the company's growth momentum to keep accelerating.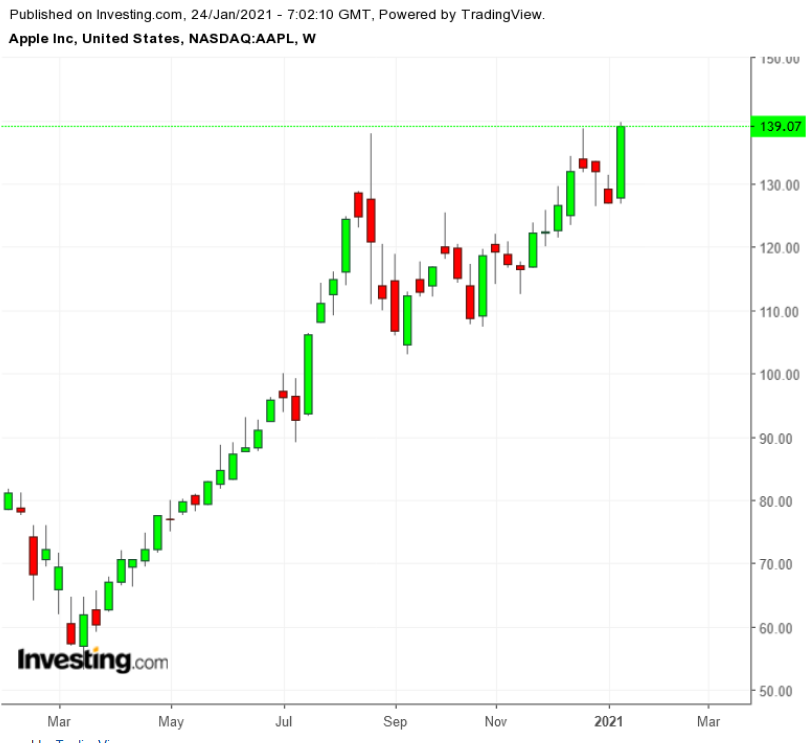 During the past 12 months, Apple shares have advanced 75%, far outpacing gains made by the tech-heavy Index, as demand for its newest,  iPhone 12 models remains strong.  AAPL closed on Friday at $139.07, trading near a record high with a market cap of $2.34 trillion.
Wall Street has grown increasingly bullish on Apple's prospects in the coming year. Analysts are projecting that a recovering economy will fuel even more demand for iPhones, wearables such as Airpods and services.
With this optimism already built into the stock, it's important for the company to provide a bullish forecast for the coming year.
2. Tesla 
Investors will also be closely watching Tesla (NASDAQ:) on Wednesday, when the electric carmaker reports Q4 results  after the market close. Analysts are expecting $1.01 a share profit on sales of $10.37 billion.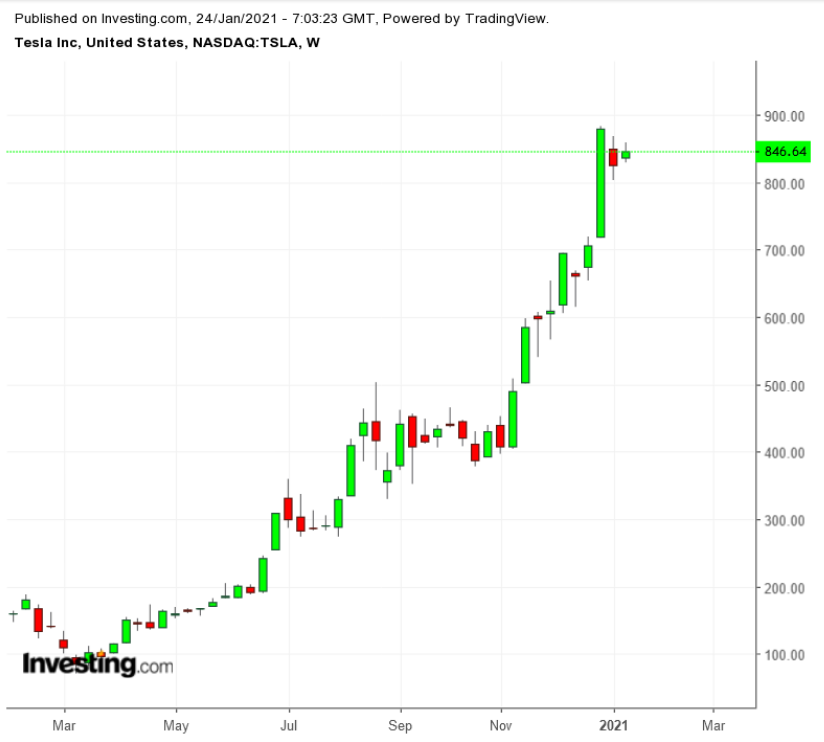 With a market capitalization of more than $802 billion after an 800% rally in 2020, the Palo Alto, California-based electric vehicle maker is in a unique position to take advantage of the soaring demand for electric cars as other manufacturers struggle during the pandemic.
Tesla is no longer facing the manufacturing woes that bogged it down during much of 2019. Earlier this month the company told investors that it has almost met its 500,000-vehicle-deliveries goal for 2020, representing a 36% jump in output from the prior year. 
The company's sales forecast for 2021 and the demand situation in China will be important details that investors will be keen to know. As Model Y production ramps up, China could account for more than 40% of Tesla's global deliveries by 2022, according to a Jan. 14 research report by Wedbush Securities Inc. They also forecast that Tesla would deliver more than 1 million vehicles next year. 
3. Advanced Micro Devices
Advanced Micro Devices (NASDAQ:) will report Q4 earnings on Tuesday, Jan. 26, after the market close. Analysts are projecting EPS of $0.47 on sales of $3.02 billion.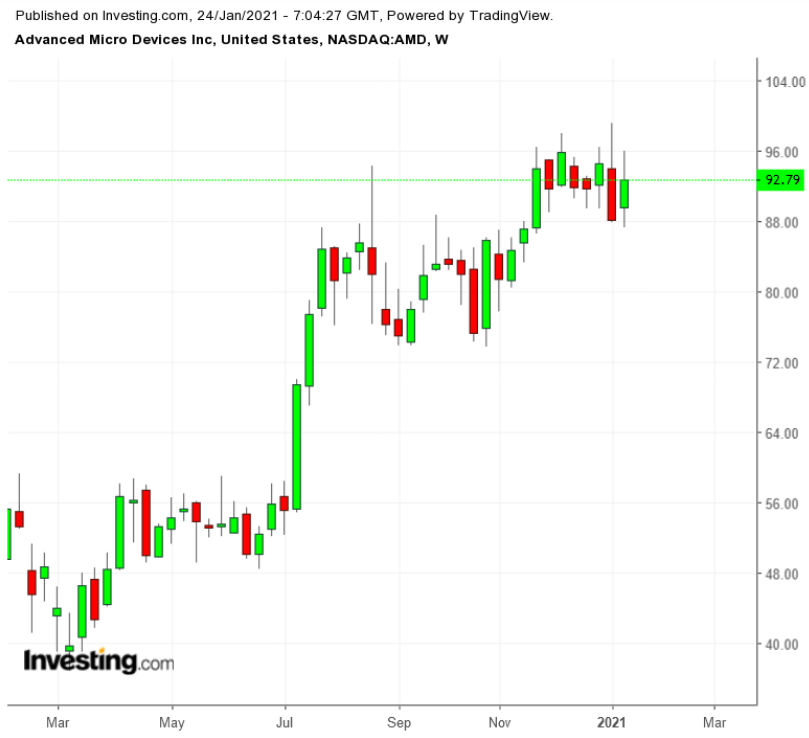 Shares of AMD have been on fire since March, when a broad-based market recovery in chip producers began. The stock has gained 78% in the past 12 months on strong demand for its products despite the devastating impact of the COVID-19 pandemic on the global economy.
AMD is quickly becoming a powerful player in the semiconductor industry, where competition is cutthroat. Santa Clara, Calif.-based AMD specializes in central-processing units and graphics chips, both at the heart of modern computers. 
Pandemic lockdowns have fueled the sale of laptops, as well as gaming systems such as Microsoft's (NASDAQ:) Xbox and Sony's (NYSE:) PlayStation, which use AMD chips. Investors will get the latest insight on the demand trend for these markets as the stay-at-home environment lingers.