Red-hot investment firm ARK Investment Management—led by well-known growth investor Cathie Wood—has gotten a lot of attention lately due to the buying frenzy in its suite of actively managed exchange-traded funds (ETFs).
All five of ARK Invest's main ETFs more than doubled in 2020, with the firm's ARK Genomic Revolution ETF (NYSE:) leading the pack, soaring 178% last year. The ARK Next Generation Internet ETF (NYSE:) (+154%) and the flagship ARK Innovation ETF (NYSE:) (+148%) were not too far behind.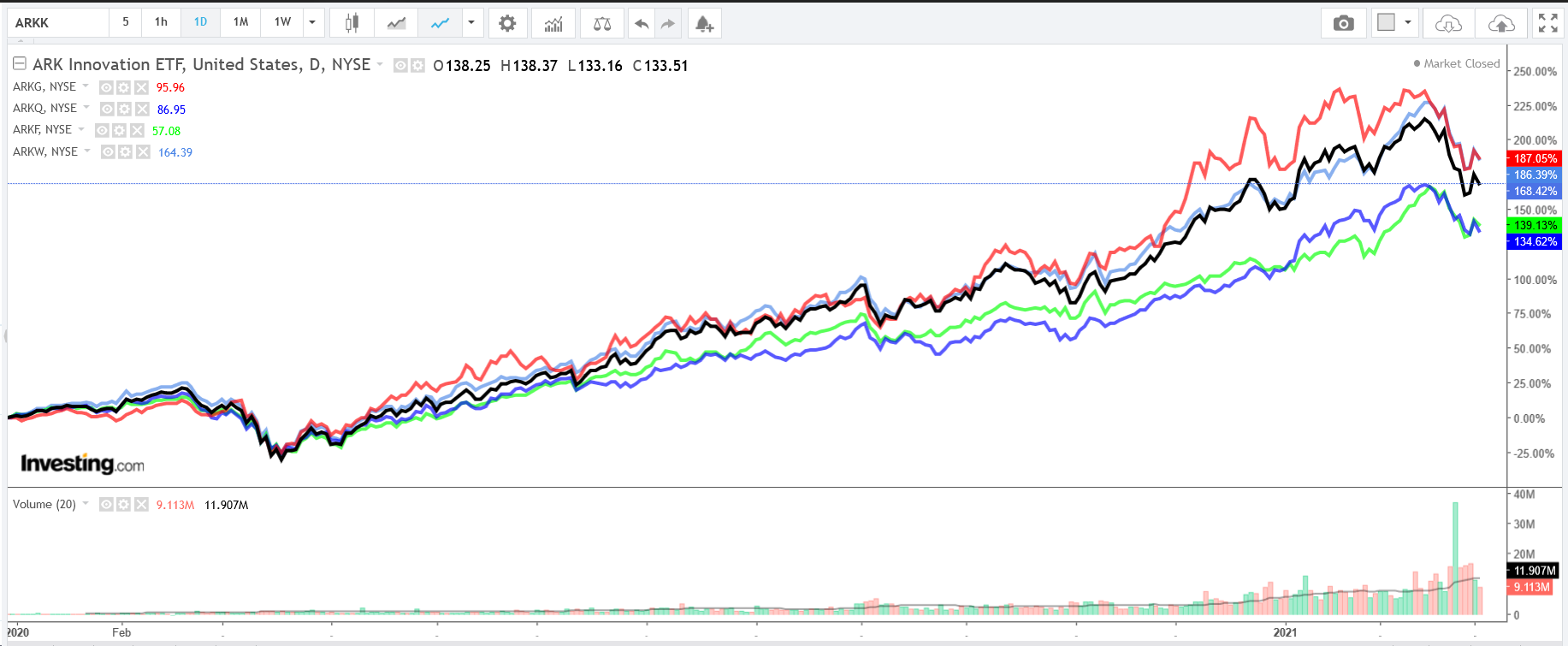 Despite enduring some recent turbulence—ARK suffered the largest net outflows in the firm's seven-year history on Feb. 23—the group of ETFs seem well positioned to continue their march higher thanks to big bets on some of the most innovative, disruptive, and exciting names in the market. 
Below we highlight three stocks which have been significant buys for ARK in recent weeks, considering the size and persistence of Wood's purchasing activity.
All numbers are updated as of ARK's Mar. 2 filing disclosure.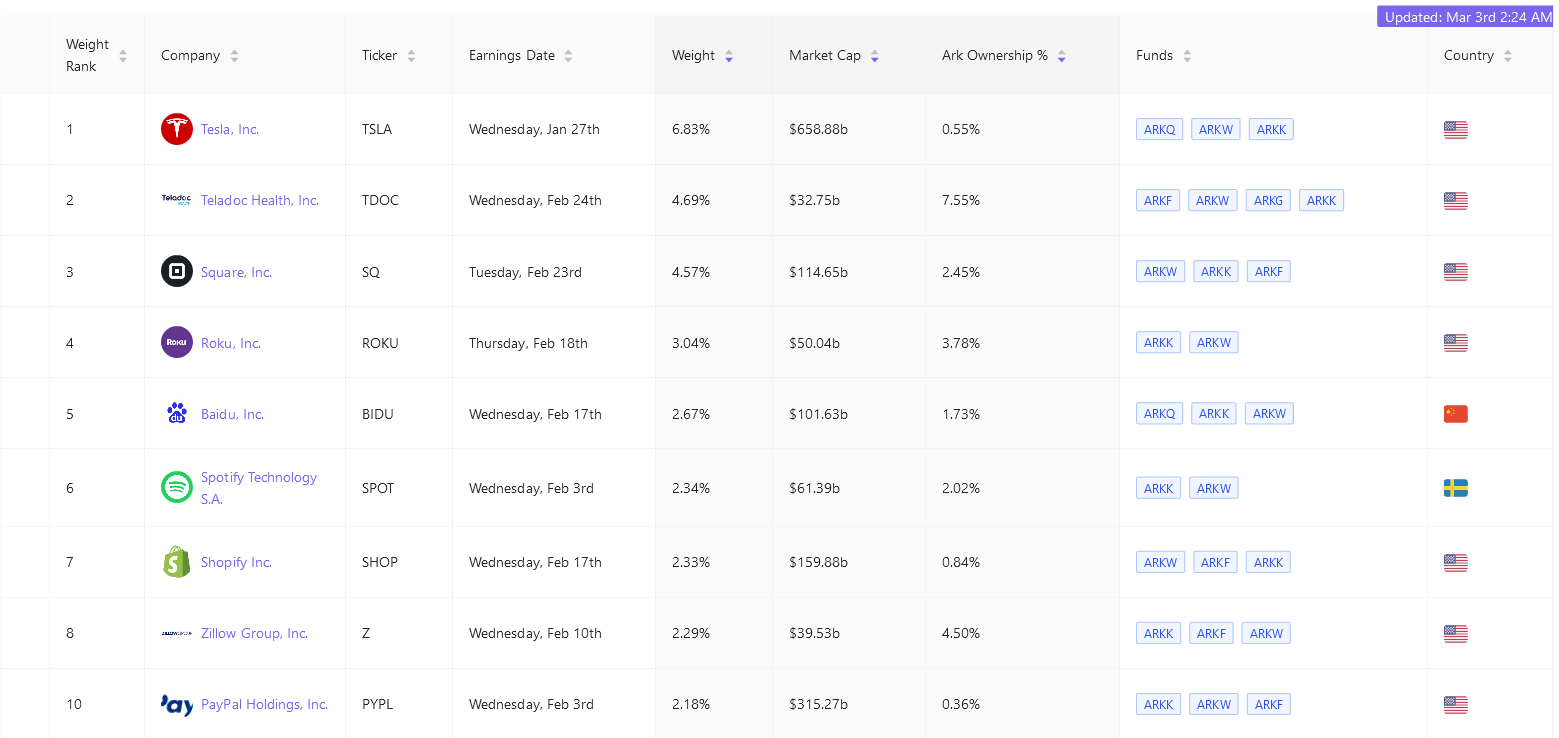 1. Teladoc 
ARK Ownership: 7.55% 
Funds: ARKK, ARKW, ARKF, ARKG 
Weight: 4.69%
After scoring a remarkable gain of 140% in 2020, shares of Teladoc (NYSE:) shot up another 54% at one point early in 2021, before a sell-off in companies that rallied throughout the COVID-19 pandemic took some wind out of the high-flyer's sails. 
TDOC stock ended at $217.92 on Tuesday, nearly 30% below its all-time high of $308.00 notched on Feb. 16. At current valuations, the Purchase, New York-based telehealth pioneer has a market cap of $32.5 billion.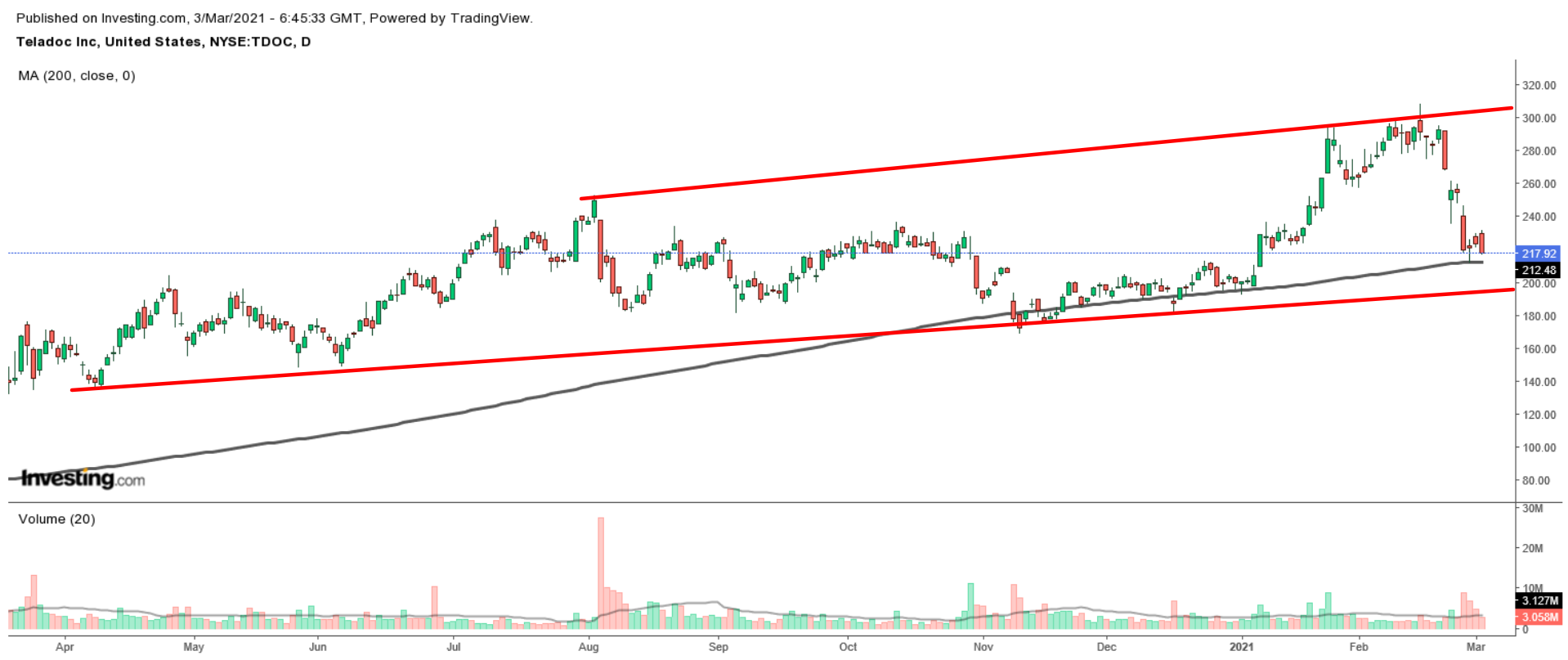 Two ARK exchange-traded funds bought nearly 200,000 shares of Teladoc on Mar. 1: ARKK purchased 111,041 shares, while ARKW bought an additional 88,691 shares. The buying activity comes after ARK Invest snapped up roughly 1.057 million TDOC shares in February.
The largest US telemedicine company is now ARK's second-largest holding overall, leap-frogging Square (NYSE:), and Roku (NASDAQ:) in recent days, and trailing only Tesla (NASDAQ:).
Teladoc fourth-quarter revenue of $378.9 million when it reported financial results on Feb. 24, surging 145% from the year-ago period thanks to soaring demand for its virtual healthcare platform amid the ongoing health crisis.
The company, which uses telephone and video-conferencing software to provide on-demand remote medical care, logged 2.96 million total visits in Q4, an increase of 139% from the same quarter last year. 
Visits related to non-infectious diseases like back pain, blood pressure, anxiety, and depression rose to 75% of total visit volume, up from 50% in the previous year period. 
Even though the company's 2021 revenue and membership guidance failed to impress investors, we believe Teladoc is well-positioned to remain the leader in the fast-growing telehealth services space.
2. Unity Software
ARK Ownership: 2.05%
Funds: ARKK, ARKW
Weight: 1.15%
Unity Software (NYSE:), which provides tools for creating videogames, has seen its stock endure some turbulence lately. After scoring a gain of 195% in 2020, shares of the company, which made their trading debut in mid-September, have fallen almost 30% so far in 2021. 
U stock—which settled at $108.10 last night—is currently trading about 38% below the all-time peak of $174.94 reached on Dec. 23, giving the video game software developer a market cap of $28.4 billion.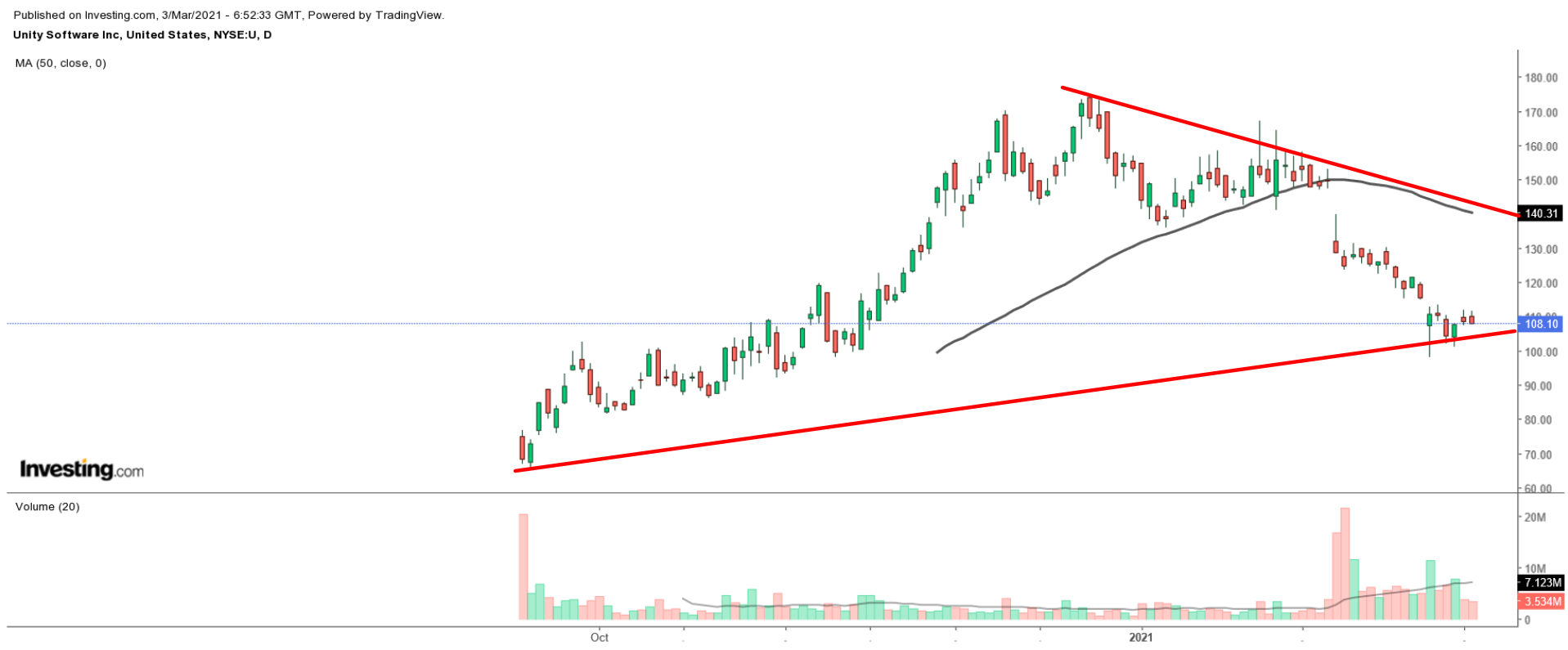 Cathie Wood's ARK fund went on a shopping spree as U shares tumbled in February, making no less than 13 purchases of the stock during the month. In total, she added 2.19 million shares to her portfolio, bringing ARK Innovation's stake in Unity to roughly 2%. It is currently the fund's 24th largest holding.
Unity blowout earnings and revenue in its second quarterly report as a public company on Feb. 5, but it provided sales guidance that came in well below expectations.
The San Francisco, California-based company lost an adjusted $0.10 per share in the last three months of 2020. Revenue grew 39% year-over-year to $220.3 million, reflecting growing demand for its video game development platform.
For full-year 2021, Unity expects revenue of about $960 million, which would represent growth of 24%, slowing considerably from a 43% sales increase in 2020.
Unity Software's stock still looks attractive, thanks in large part to the strong demand it has seen for its video game and digital content creation platform.
3. DraftKings
ARK Ownership: 0.51%
Funds: ARKW, ARKF 
Weight: 0.26%
DraftKings' (NASDAQ:) shares have had a remarkable run over the last 12 months as stay-at-home measures aimed at reducing the spread of the coronavirus outbreak fueled a boom in online sports betting.
The stock of the Boston, Massachusetts-based sportsbook operator has soared by a whopping 311% since going public through a special purpose acquisition company (SPAC) on Apr. 24.
DKNG touched a new record high of $70.03 yesterday, before closing the session at $68.58, earning the sports betting platform a valuation of roughly $25.2 billion.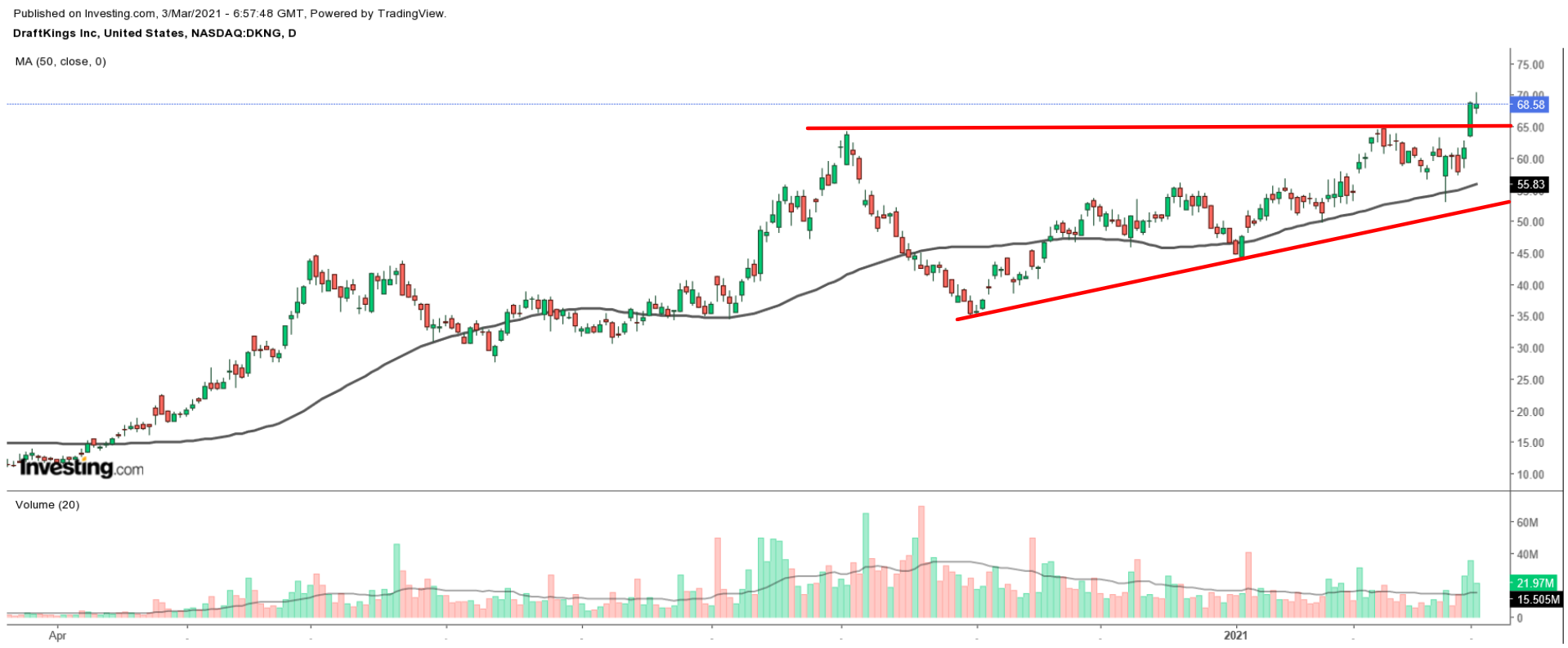 The ARK Fintech Innovation ETF (NYSE:) purchased 173,800 DKNG shares to start off the new month on Monday. In February, ARK's combined ETFs bought a total of 1.566 million shares of the sports betting company. It is now ARK's 84th largest holding, with the name likely to move further up the list in the months ahead.
DraftKings blockbuster fourth quarter financial results on Feb. 26, as Americans flocked to its sports-betting platform after more states legalized online sports gambling.
The company said revenue jumped 146% from the year-ago period to $322 million, blowing past consensus estimates for sales of $233.2 million. 
In a sign of how well its key business performed, average monthly unique paying customers jumped 44% year-over-year to 1.5 million, while average revenue per monthly unique payer rose 55% to $65.
The upbeat results prompted the company to boost its 2021 revenue target to about $950 million, up from its previous forecast of $800 million.
All in all, the company looks set to continue to deliver on its key priorities, which include entering new states at the earliest opportunity, investing in product and technology to create new offerings, and acquiring and retaining customers.