Cybersecurity stocks started the year strong before a general sell-off in tech shares battered the sector's main ETFs—First Trust NASDAQ Cybersecurity ETF (NASDAQ:) and ETFMG Prime Cyber Security ETF (NYSE:)—leaving them 12% and 16%, respectively, below their all-time highs.
Despite the recent pullback, there are more than a few attractive names in the group enjoying accelerated earnings and revenue growth thanks to booming demand for cloud-based security solutions.
Here are two to consider amid the ongoing sector sell-off.
1. CrowdStrike
Percentage Below ATH: 30.1%
Crowdstrike Holdings' (NASDAQ:) stock has had a remarkable run over the last 12 months. At one point, shares of the Sunnyvale, California-based cybersecurity specialist rose almost 700% off a 52-week low of $31.95 set last March. Its ascent has slowed down in recent weeks though—it is down nearly 20% this year.
CRWD ended Tuesday's session at $175.10, roughly 30% below its all-time high of $250.42 touched on Feb. 16, giving the tech company a market cap of $39.2 billion.
We believe the recent sell-off offers a nice entry point, considering the strong demand the endpoint security leader has seen for its Falcon cloud-based cybersecurity platform.
CrowdStrike, which counts nearly half of the Fortune 100 companies as clients, said it had a total of 9,896 customers as of the end of its most recent quarter, up 82% from the year-ago period.
CrowdStrike reported a massive beat on and revenue when it released fiscal fourth quarter financial results in mid-March, benefitting from increased enterprise cybersecurity spending.
Revenue in the three-months ended Jan. 31, 2021 grew 74% year-over-year to $264.9 million, easily beating expectations for sales of $250.5 million. Even more impressive, CrowdStrike said annual recurring revenue (ARR) surged 75% from the year-ago period to top the $1 billion mark for the first time ever.
CEO George Kurtz stated on the earnings call that this makes CrowdStrike:
"the third-fastest cloud-native software-as-a-service (SaaS) company reported to reach $1 billion in ARR following fellow pioneers Salesforce.com (NYSE:) and Zoom Video Communications (NASDAQ:)."
Looking ahead, CrowdStrike's guidance for its fiscal first quarter made clear that the cybersecurity firm does not expect any slowdown in the coming months, with revenue forecast to grow by 62% in the next quarter to $289.1 million.
2. Zscaler
Percentage Below ATH: 27.7%
Zscaler Inc. (NASDAQ:) is the world's largest provider of cloud-based web security gateways that inspect customers' data traffic for various cyber threats and malware.
The San Jose, California-based company has quickly transitioned into one of the leading go-to names in the cybersecurity space thanks to its Zero Trust Exchange platform, which lets organizations provide secure access to internal applications and services from remote locations.
After enjoying year-to-date gains of as much as 270% through early February, Zscaler stock has endured some turbulence lately as the recent sector-wide sell-off took some wind out of the high-flyer's sails.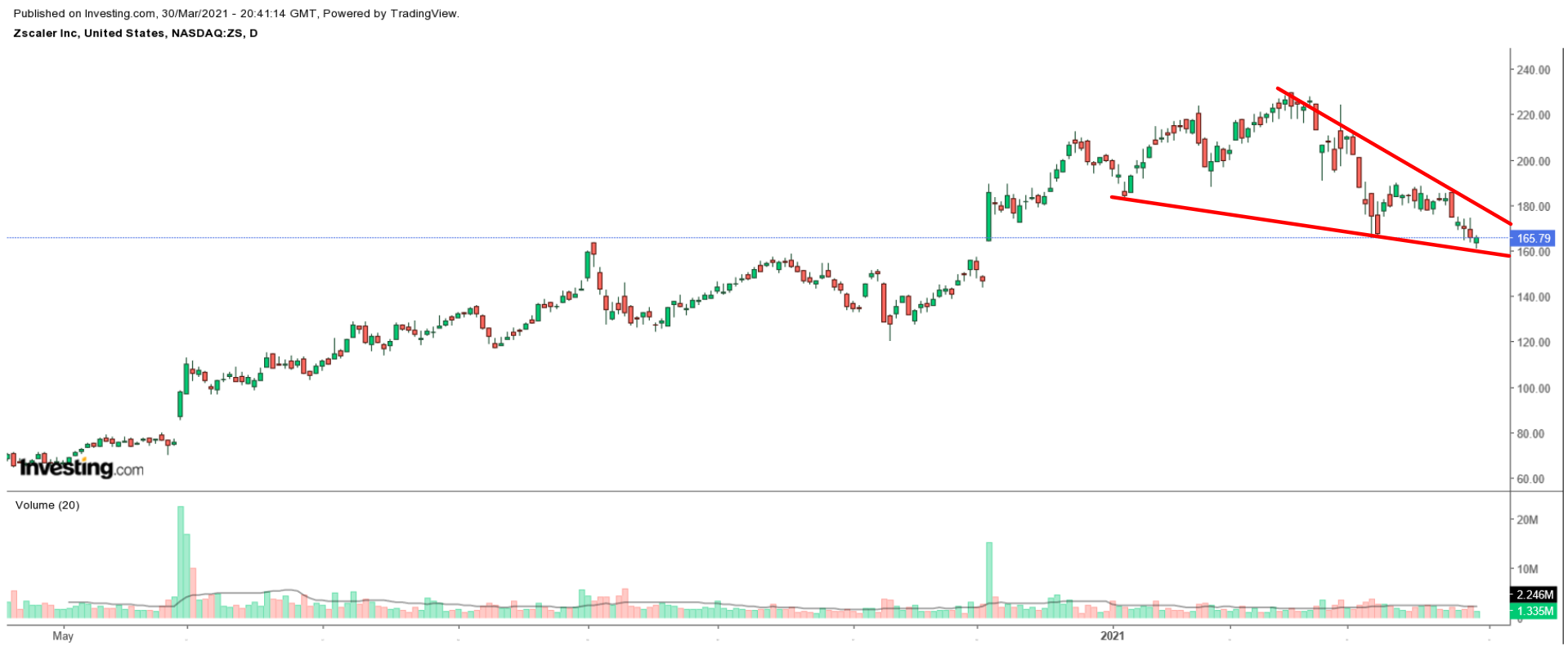 ZS shares—which closed at $165.89 yesterday—are now about 28% below their record high of $229.64 reached on Feb. 16, even though the information security specialist reported second quarter  which blew past consensus estimates last month.
The solid results were driven by rapid growth in revenue and calculated billings—a key sales metric—which grew 55% and 71%, respectively, from the same period a year earlier.
The cybersecurity firm's third quarter sales guidance also came in above expectations, with revenue forecast to total $163 million. If confirmed, it would mark a year-over-year growth rate of 47.5%.
The company announced in its fiscal Q2 earnings that it had more than 5,000 customers, including more than 150 customers from Fortune 500 companies.
Despite the recent pullback, Zscaler, which has a market cap of $22.9 billion, still looks like a good bet going forward, considering the ongoing surge in demand for cloud security.