Stocks on Wall Street fell sharply on Friday, with the major averages suffering their worst week since October, as heightened speculative trading by retail investors shook the market.
The posted a weekly loss of 3.5%, while the and the both dropped around 3.3% over the same timeframe.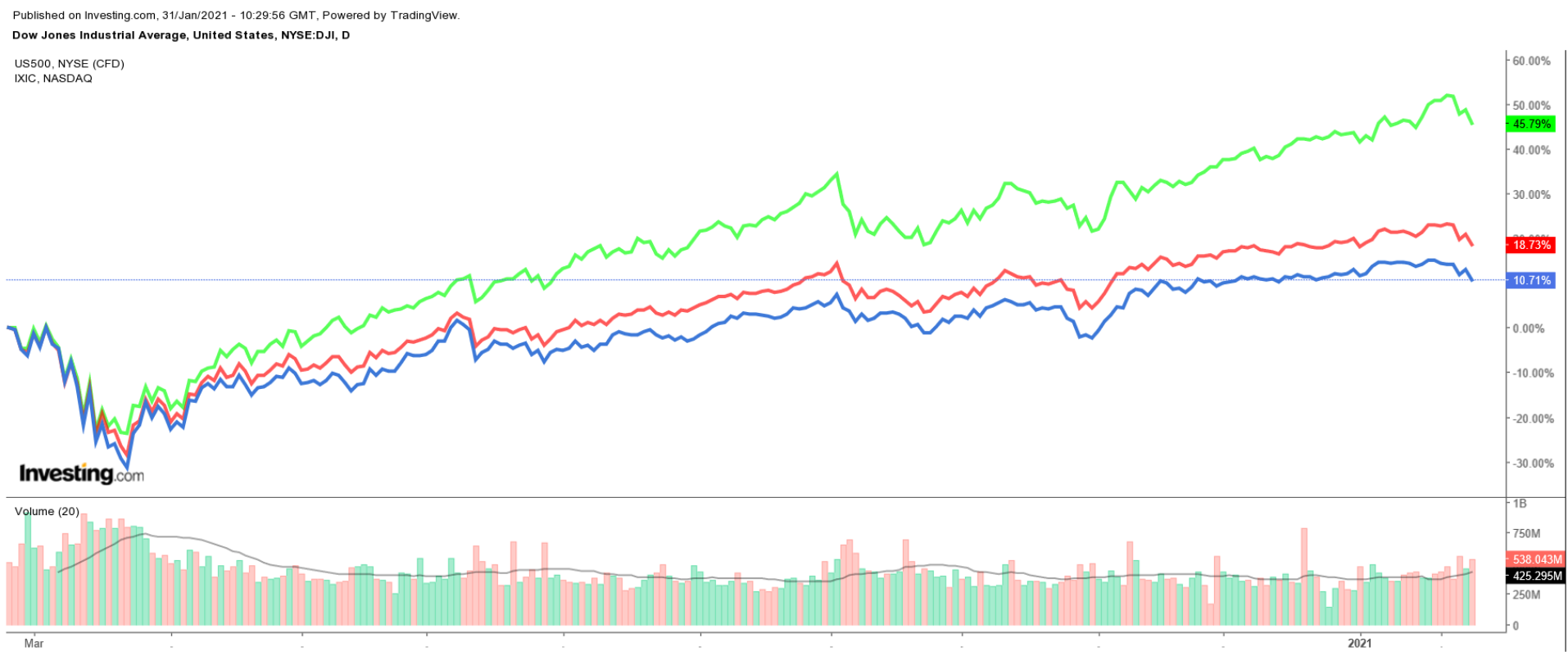 Between another heavy batch of high-profile earnings reports, as well as key economic data, the week ahead is expected to be a busy one on Wall Street. 
Regardless of which direction the market goes, below we highlight one stock likely to be in demand in the coming days and another which could see further downside. 
Remember though, our timeframe is just for the upcoming week. 
Stock To Buy: Penn National Gaming 
Penn National Gaming (NASDAQ:) has been one of the top performers in the booming sports-betting space in recent months, with shares jumping around 92% since the start of November.
The Wyomissing, Pennsylvania-based company, which operates 41 casinos and racetracks in 19 states across the country, made headlines last year when it struck a deal to acquire a 36% stake in Barstool Sports—the popular sports media empire run by high-profile founder Dave Portnoy—for $163 million.
PENN stock, which has outperformed other notable names in the sector since the start of the year, such as DraftKings (NASDAQ:) and Caesars (NASDAQ:) Entertainment, ended at $103.72 on Friday, not far from their record high of $111.00 reached on Jan. 25. At current levels, it has a market cap of $16.6 billion.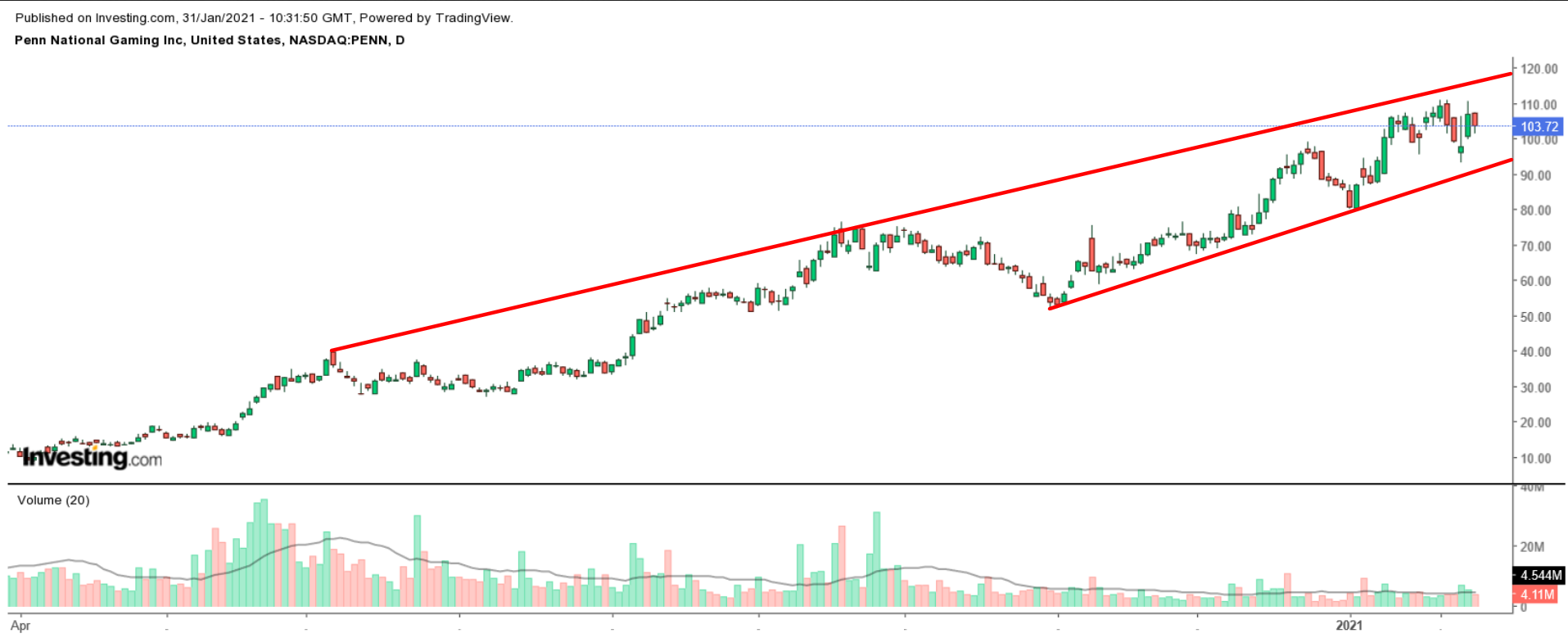 Penn, which beat expectations for its in late October, is next projected to report financial results on Thursday, Feb. 4 before the open.
Consensus estimates call for the casino and sports-betting company to post earnings of $0.26 per share in the fourth quarter. That would mark a significant improvement from a loss per share of $0.80 in the year-ago period. 
Revenue, meanwhile, is expected to clock in at $1.09 billion, benefitting from targeted cost-saving efforts as well as the expansion of legal gambling and online sports-betting across many states in the U.S., such as Pennsylvania, New Jersey, Maryland, and Michigan.
As such, investors will be keen to hear further details on the success of its Barstool Sportsbook mobile app, which went live in the state of Michigan earlier this month. Barstool, which has about 65 million unique monthly visitors, plans to next launch its sports-betting app in Illinois and Indiana.
Despite the monstrous run-up, we expect Penn's stock to continue its remarkable performance thanks to its emerging status as one of the leading names in the fast-growing online sports gambling market.
Stock To Dump: Apple 
After shares dropped more than 5% last week, Apple (NASDAQ:) looks set to remain under pressure in the coming days, as it continues to deal with the ongoing fallout of a trio of negative factors plaguing the stock.
AAPL shares ended Friday's session at $131.96, roughly 9% below their all-time high of $145.03 reached on Jan. 25. With a market cap of $2.30 trillion, Apple is the most valuable company trading on the U.S. stock exchange.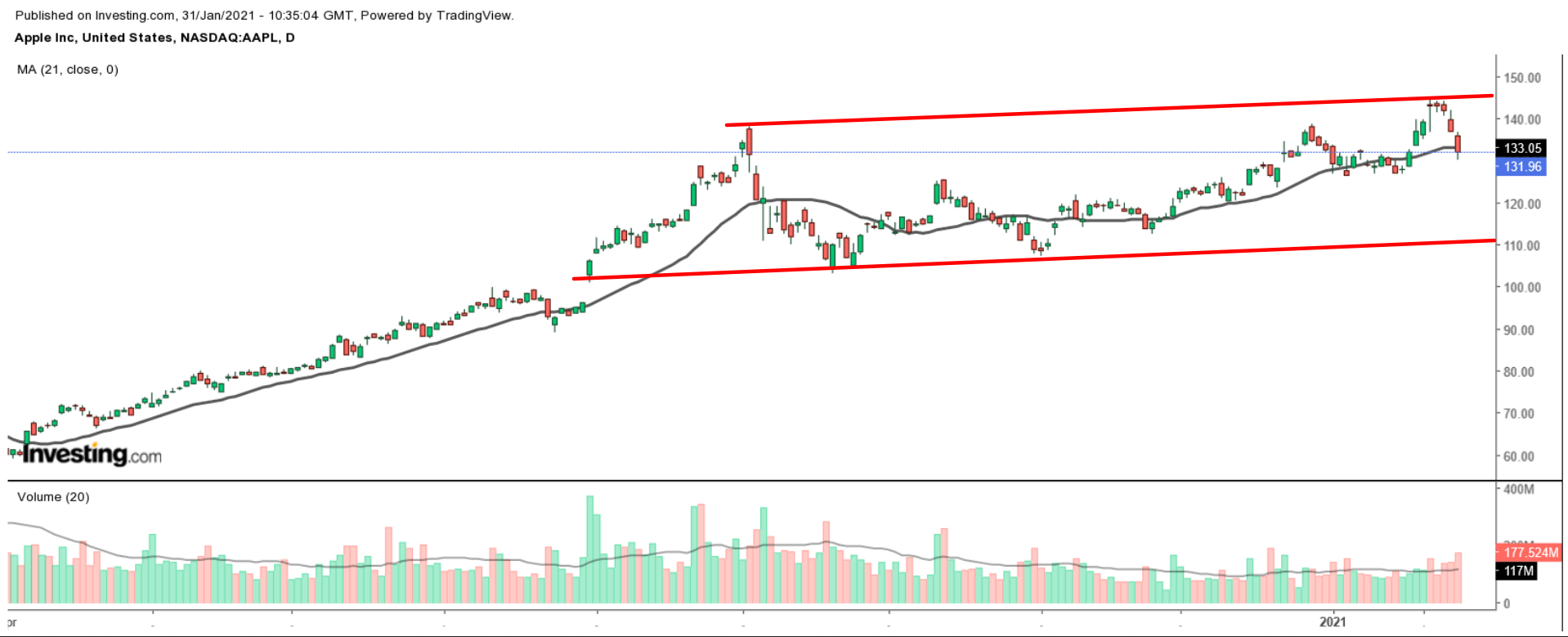 Sentiment on the name took a hit last week amid speculation major hedge funds opted to sell their profitable positions in mega-cap market darlings to raise cash and cover massive losses elsewhere resulting from the spike in volatility caused by the Reddit-induced short-squeezes currently taking Wall Street by storm.
The Cupertino, California-based tech and consumer electronics conglomerate was one of the top performers of 2020, gaining more than 80% amid strong demand for its lineup of new iPhone 12 models and as the COVID-19 pandemic led to soaring demand for its subscription services.
Another cause for concern: Apple reversed lower last week despite releasing its in its history, which saw it hit more than $100 billion in quarterly sales for the first time ever.
Finally, Apple's chart technicals are signaling more selling pressure ahead after AAPL shares closed below their key 21-day moving average for the first time since Jan. 15 on Friday.