After another volatilve session on Friday, stocks on Wall Street declined, pressured by U.S. President Donald Trump's positive test for COVID-19 which spooked investors and added to mounting uncertainties surrounding the looming November election.
Despite the day's losses, both the and notched their first weekly gains in five weeks, respectively. The Dow climbed 1.9% on the week while the S&P 500 advanced 1.5% over the same timeframe. The meanwhile enjoyed its second straight weekly gain, rising 1.5%.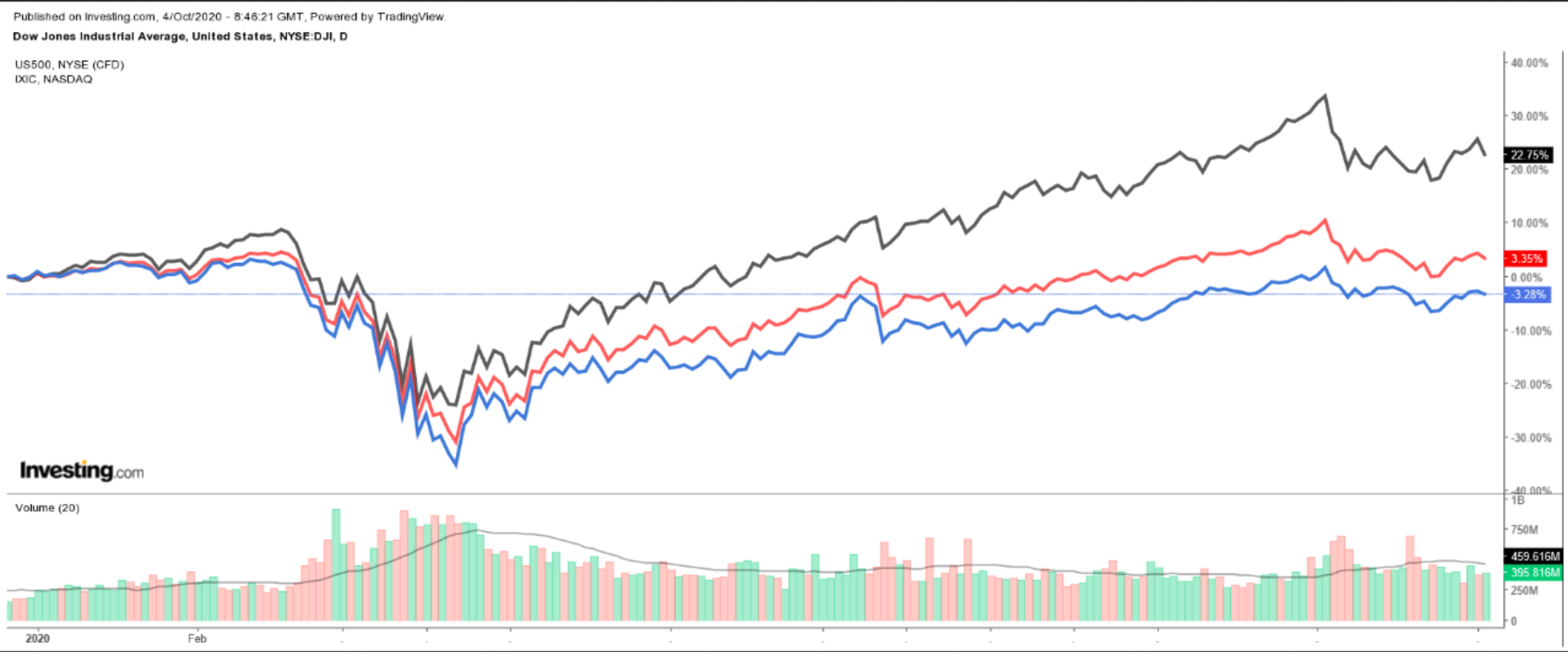 Looking to the week ahead, we'll highlight one stock which has proven it can successfully navigate the current market whipsaw and one likely to see further losses in the coming days.
Stock To Buy: Domino's Pizza
Domino's Pizza (NYSE:) has been a standout performer in the restaurant sector in recent months, as restrictive stay-at-home measures aimed at curbing the spread of the coronavirus outbreak have boosted demand for its pizza deliveries.
Year-to-date, shares of the Ann Arbor, Michigan-based pizza chain have gained 47.6%, compared to the S&P 500's 3.6% increase over the same period.
The stock, which has significantly outperformed rivals such as Papa John's (NASDAQ:) and Pizza Hut-parent Yum! Brands (NYSE:) since the start of the year, ended Friday at an all-time high, $433.78 per share, giving it a market cap of roughly $17 billion.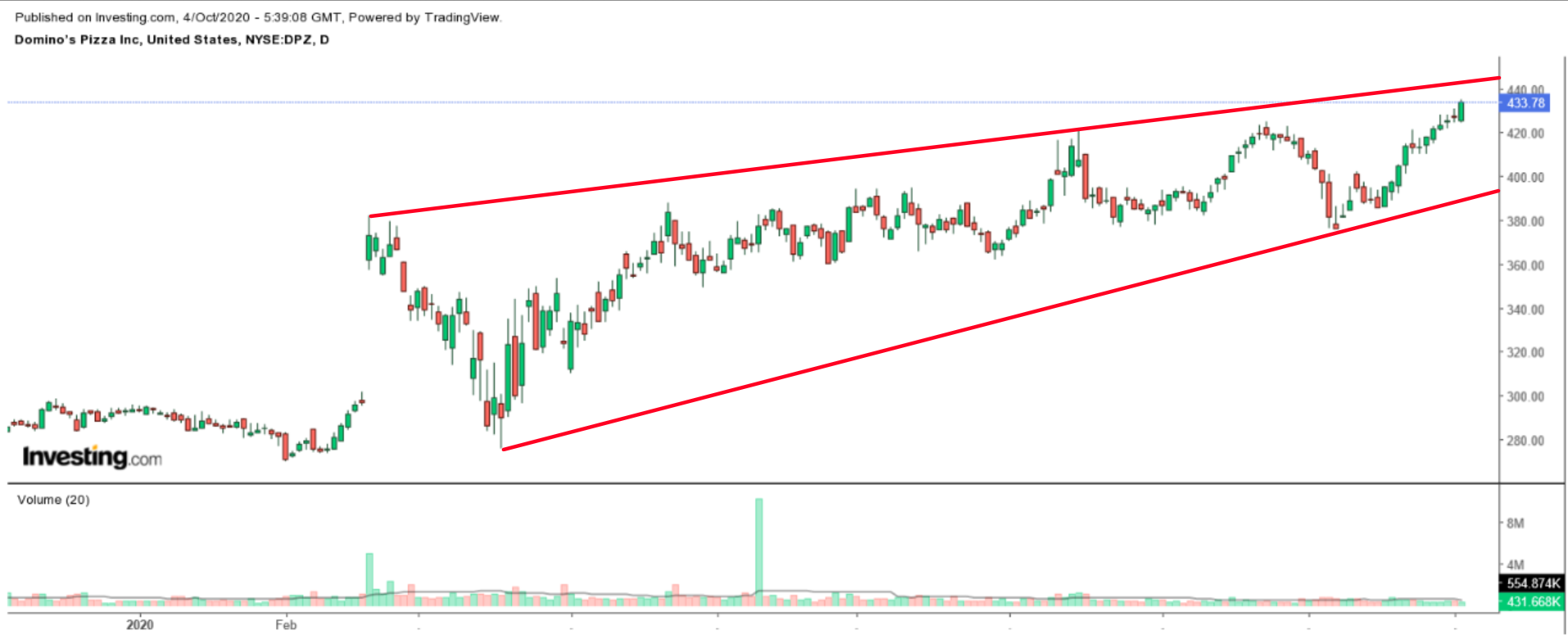 Domino's, which blew past earnings and revenue estimates in the , is projected to report third quarter results on Thursday, October 8 before the opening bell.
Consensus estimates call for the pizza chain to post earnings of $2.76 per share, rising nearly 35% from EPS of $2.05 in the same quarter a year earlier. Revenue is forecast to increase 16% year-over-year to $949.1 million, as more consumers ordered home delivery and takeout amid the ongoing coronavirus pandemic.
Beyond EPS and revenue, investors will pay close attention to growth in Domino's same-store sales, which soared by 16.1% in the previous quarter, easily beating forecasts for a 13.1% gain.
We expect Domino's to once again post an impressive quarter. Its robust digital ordering infrastructure and delivery service make it one of the best bets right now in the restaurant space.
Stock To Sell: Citigroup
Citigroup (NYSE:) stock has been on the back foot for much of 2020 as the negative impact of the coronavirus-induced economic slowdown and near record-low interest rates combined to hammer its key businesses.
Shares of the third-largest banking institution in the United States—which closed at $43.66 on Friday—have lost 45.3% so far this year, making it one of the worst performing financial sector companies of 2020.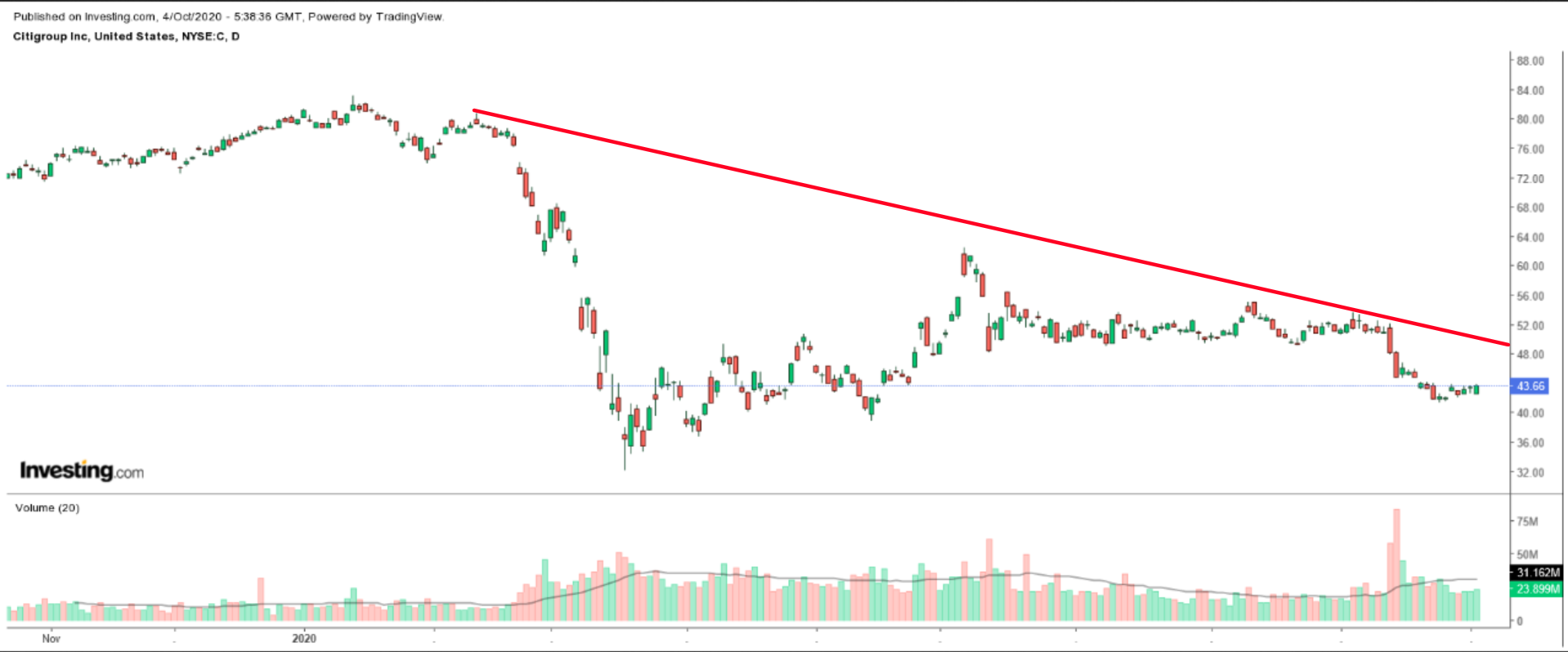 Citigroup will kick off the third-quarter bank earnings season, along with JPMorgan Chase & Co (NYSE:), when it reports its latest results on Tuesday, October 13 before the market opens.
Consensus calls for earnings of $0.86 per share, plunging 58% from EPS of $2.07 in the year-ago period. Revenue is forecast to clock in at $17.1 billion, declining roughly 8% from sales of $18.5 billion in the a year earlier.
Despite an expected surge in trading revenue, Citi's financial results are once again likely to take a hit from a sharp slowdown in its consumer banking business. According to Fed data, consumer loans at large U.S. banks in the third quarter were down nearly 3% from a year earlier.
Taking all this into consideration, Citigroup shares look set to remain under pressure in the coming days as investors position themselves for a weak earnings report later this month.