Stocks on Wall Street plunged on Friday, as investors continued to sell tech shares that have rallied throughout the COVID-19 pandemic and rotate into cyclical stocks likely to benefit from the economy reopening.
The posted a weekly loss of 4.9% suffering its second negative week in a row, while the fell 2.5%. The fared better with a drop of 1.8%.
The US meanwhile rose to a one-year high above 1.6% at one point on Thursday, before retreating on Friday to end at around 1.41%.
The coming week is expected to be a busy one on Wall Street between another batch of high-profile earnings reports and more important economic data.
Regardless of which direction the market goes, below we highlight one stock likely to be in demand in the coming days and another which could see further downside.
Remember though, our timeframe is just for the upcoming week.
Stock To Buy: Airbnb
Airbnb (NASDAQ:) shares—which just scored their biggest weekly gain since the company's initial public offering in December— have been on a tear so far in 2021, rising about 39% year-to-date. By comparison, the S&P 500 is up just 2% over the same timeframe.
ABNB stock has more than tripled since it IPOed at $68. Shares closed at $206.35 on Friday, not far from their record peak of $219.88 reached on Feb. 11. At current levels, the San Francisco, California-based online vacation-rental booking platform has a market cap of around $123 billion.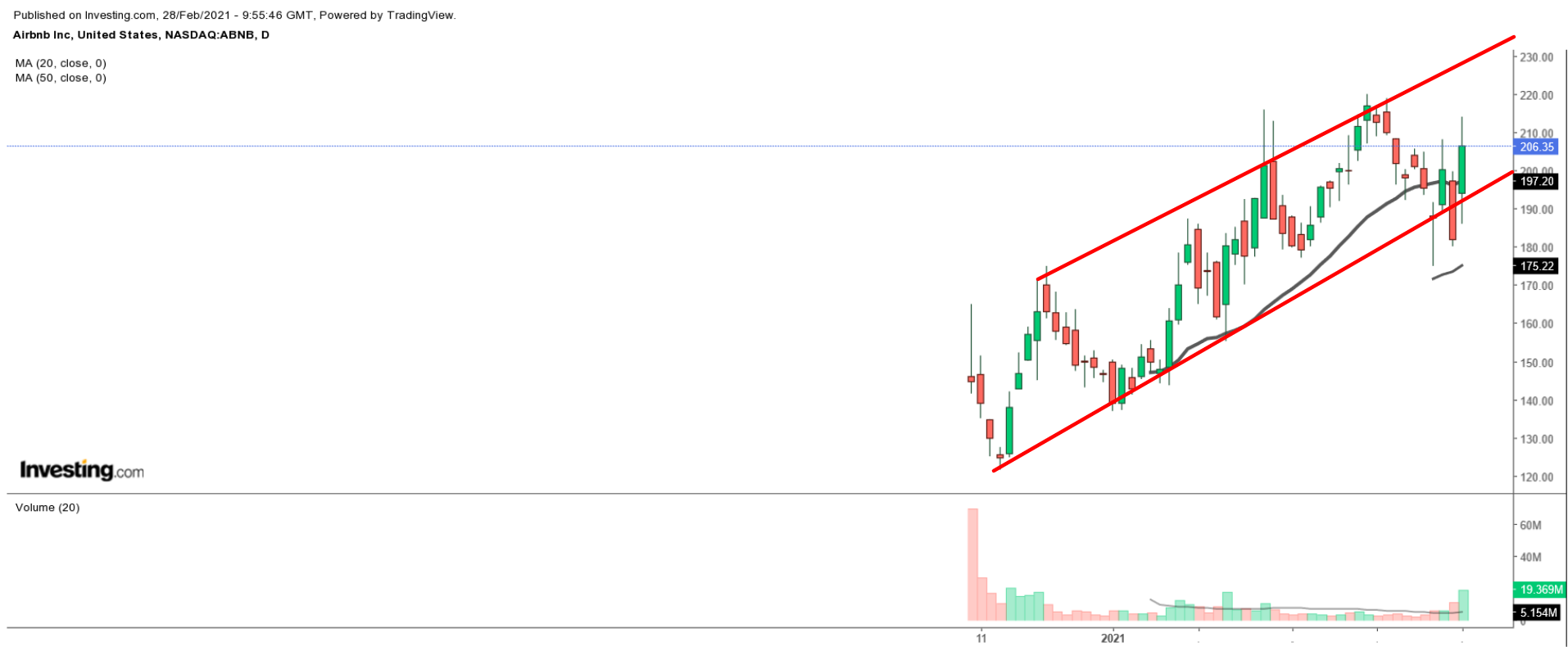 We anticipate the positive trend in ABNB to continue in the week ahead, with the stock extending its march towards fresh all-time highs thanks to its growing status as one of the best names to own in the pandemic-stricken travel industry.
In its first as a public company, released last week, Airbnb posted a fourth-quarter net loss of $3.89 billion, largely attributed to one-time charges related to its IPO late last year.
Revenue meanwhile clocked in at $859.3 million, higher than the estimated $747 million, but still down 22% from the year-ago period. Key metrics, such as bookings and room-night growth, also came in above expectations.
Despite the mixed top-and-bottom line figures, Airbnb's Q4 holiday-season financial results still held up much better than other online travel companies, such as Booking Holdings (NASDAQ:) and Expedia (NASDAQ:), which saw Q4 sales tumble 63% and 67% respectively from the same period a year earlier.
"Our performance showed that Airbnb is resilient and inherently adaptable," Chief Executive Brian Chesky said in the earnings release on Feb. 25.
"Travel is coming back, and we are laser-focused on preparing for the rebound."
While Airbnb did not offer guidance for the quarters ahead, the company remains well-positioned to capitalize on the expected recovery in the travel industry thanks to pent-up demand and the growing work-from-anywhere trend.
Stock To Dump: DoorDash
DoorDash (NYSE:) shares, which debuted on the New York Stock Exchange in December, look set to remain on the back foot in the week ahead, as investors increasingly turn away from companies benefiting from the "stay-at-home" trade in anticipation of a broader economic reopening.
DASH ended Friday's session at $169.49, roughly 34% below its all-time high of $256.09 touched on Jan. 27, earning the food delivery business a valuation of $53.8 billion.
The Palo Alto, California-based company reported last week which raised the alarm that it may just be a pure pandemic play which may have just gone public at its peak.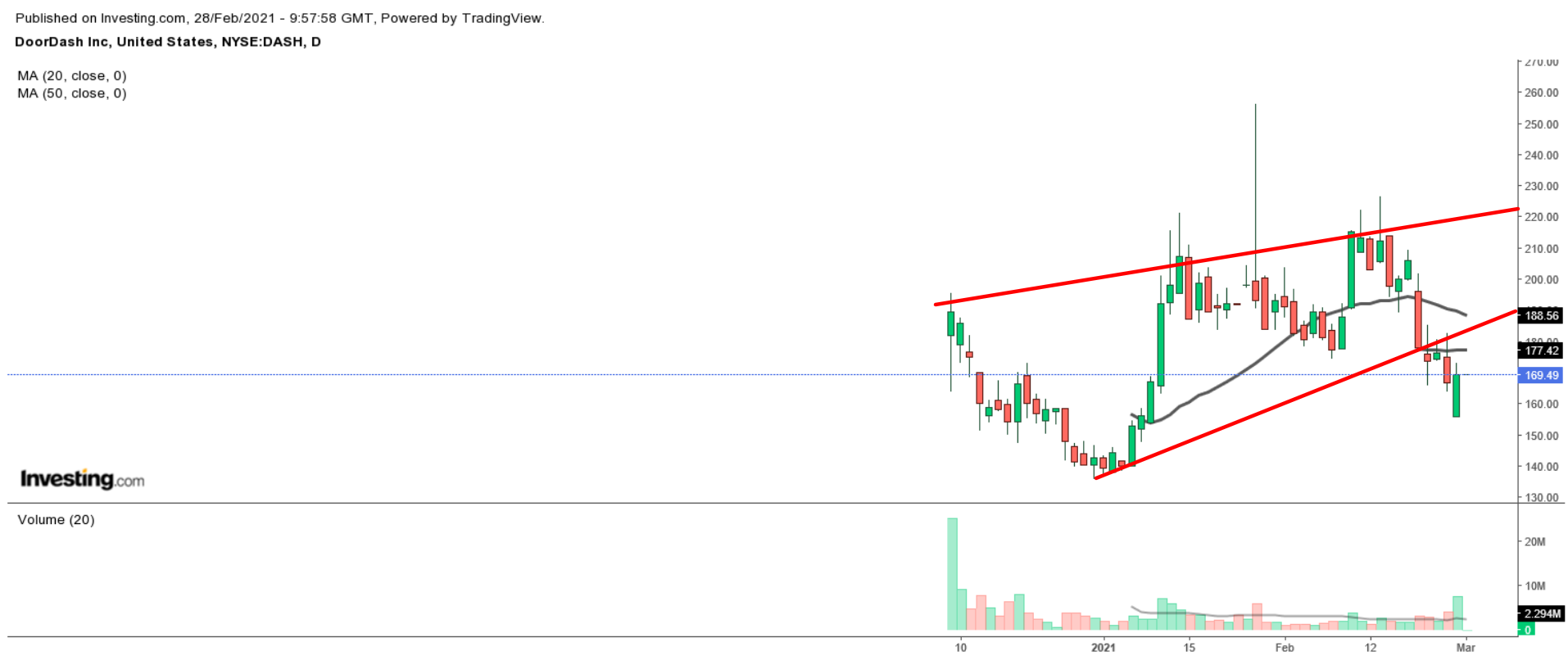 DoorDash said in its first release as a public company that net losses more than doubled from the same period last year to $312 million, although that was mostly due to costs associated with its IPO last year. Revenue meanwhile surged 226% from the year-ago period to $970 million.
While the food delivery service saw booming demand in Q4, it warned that some of the tailwinds it has enjoyed from in-person dining restrictions across the U.S. will fade and turn into headwinds as vaccination counts grow and lockdowns ease across the country.
"We hope markets will begin to open up soon. As that happens, we expect declines in consumer engagement and average order values, though the precise amount remains unclear," the company said in the earnings release.
DoorDash provided a gloomy forecast for 2021, with the midpoint of its guidance putting marketplace gross order value (GOV) growth—a key sales metric—at 27.7%. That represents a sharp slowdown from growth of 227% in marketplace GOV during Q4.
With the ongoing nationwide vaccine rollout expected to result in the reopening of some restaurant dining again soon, it seems that DoorDash may have already experienced its high-water mark.