Stocks on Wall Street extended their rally last week, with the climbing above the 4,000-level for the first time in history, amid ongoing optimism over the economic outlook.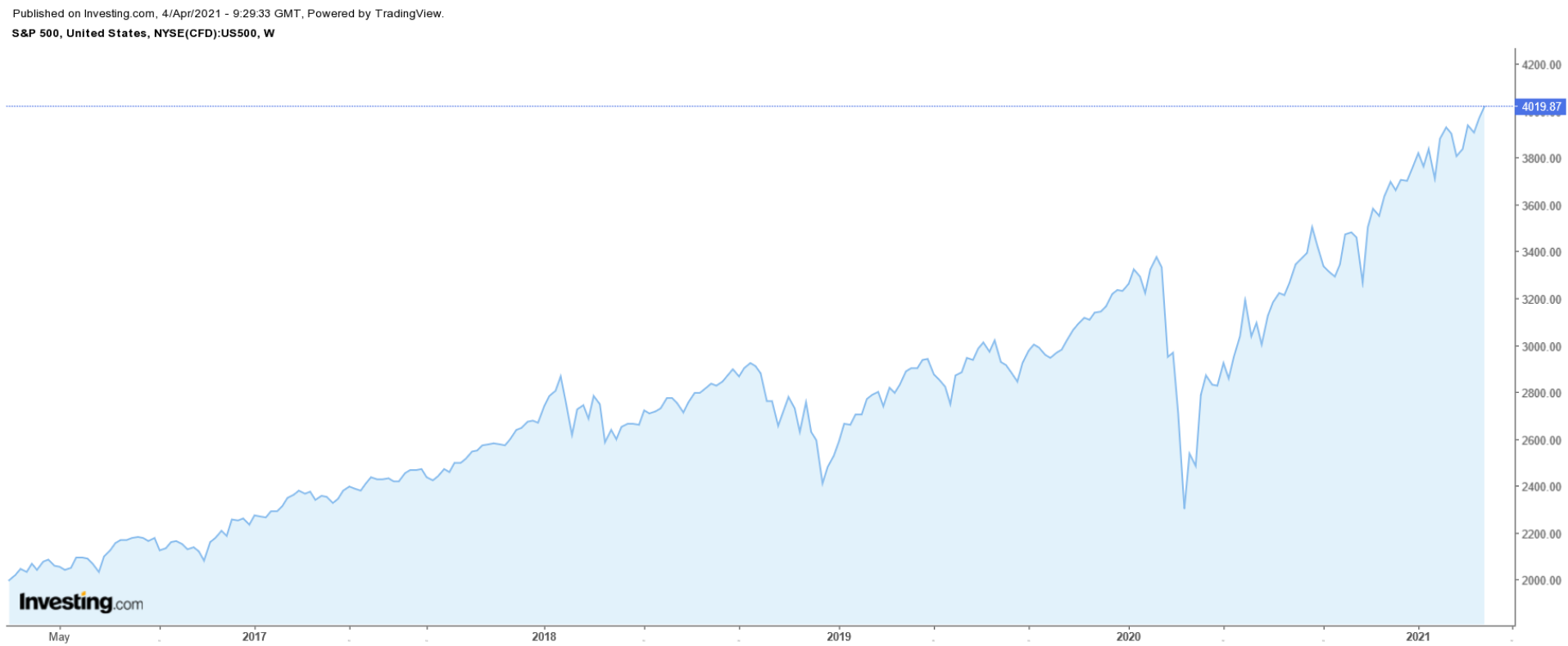 Between another batch of important economic data, as well as the release of the of the Federal Reserve's latest policy meeting, the week ahead is expected to be a busy one on Wall Street.
Regardless of the direction in which the market goes, we've highlighted one stock likely to be in demand, and another which could see further downside, below. 
Remember though, our timeframe is just for the upcoming week.
Stock To Buy: Tesla 
Tesla (NASDAQ:) shares are likely to enjoy increased buying activity in the week ahead after the Elon Musk-led electric car maker reported record first-quarter vehicle delivery figures over the weekend, yet again defying the skeptics and bears.
The EV pioneering company said on Friday it shipped 184,800 vehicles over the three months ending in March, up a whopping 109% from the same period last year, amid strong demand for its Model 3 and Model Y vehicles.
Consensus estimates called for deliveries of 168,000 vehicles.
The Q1 numbers represent a new record for the world's most valuable automaker. The previous high was notched in the fourth quarter of 2020, when Tesla delivered 180,570 vehicles. Additionally, the Palo Alto, California-based company said it produced 180,338 cars in the first three months of 2021.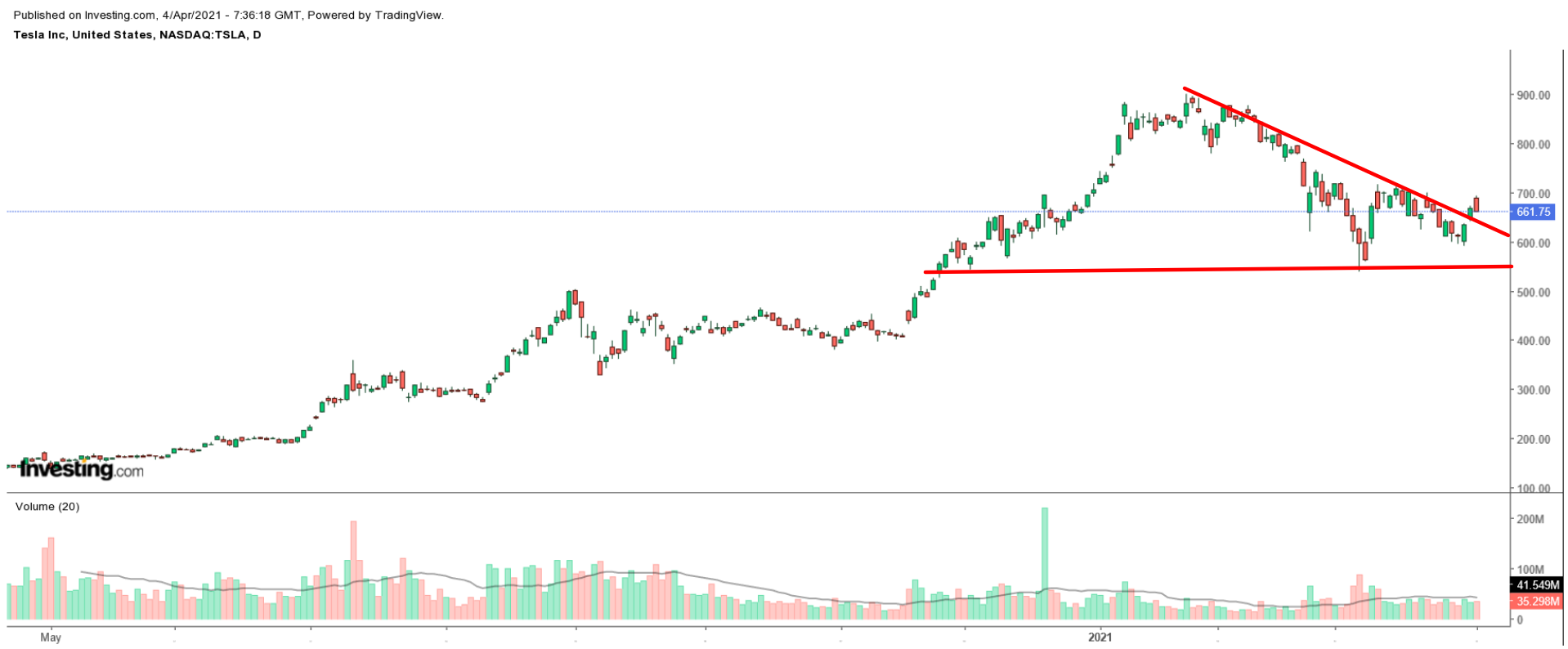 To add to those encouraging numbers, Apple (NASDAQ:) confirmed late last week that it plans to use Tesla batteries at its new renewable energy storage facility in California. The project, to which Tesla will supply 85 Megapack battery energy storage systems, bodes well for the future as it could indicate a warmer relationship between the two tech giants than previously thought.
TSLA shares ended Thursday's session at $661.75, roughly 26.5% below their all-time high of $900.13 touched on Jan. 25, giving the company a market cap of $635.1 billion.
The booming electric vehicle sector was one of the best-performing group of stocks over the last year, before an aggressive reset in valuations hit the industry in recent weeks. After scoring a gain of more than 740% in 2020, TSLA shares are down 6% so far this year.
Stock To Dump: AMC Entertainment
AMC Entertainment Holdings' (NYSE:) stock looks set to stay under pressure in the week ahead as investors continue to fret over the negative impact of several factors dogging the Leawood, Kansas-based movie-theater operator.
AMC stock ended Thursday's session at $9.36, more than 50% below its recent high of $20.32 touched on Jan. 27.
Despite the recent sell-off, AMC shares—which started the year at $2.12—are still up approximately 340% in 2021 thanks to their extreme popularity with young retail investors on Robinhood and Reddit's WallStreetBets forum.
At current valuations, AMC, which is the world's largest movie-theater chain, has a market cap of $4.5 billion.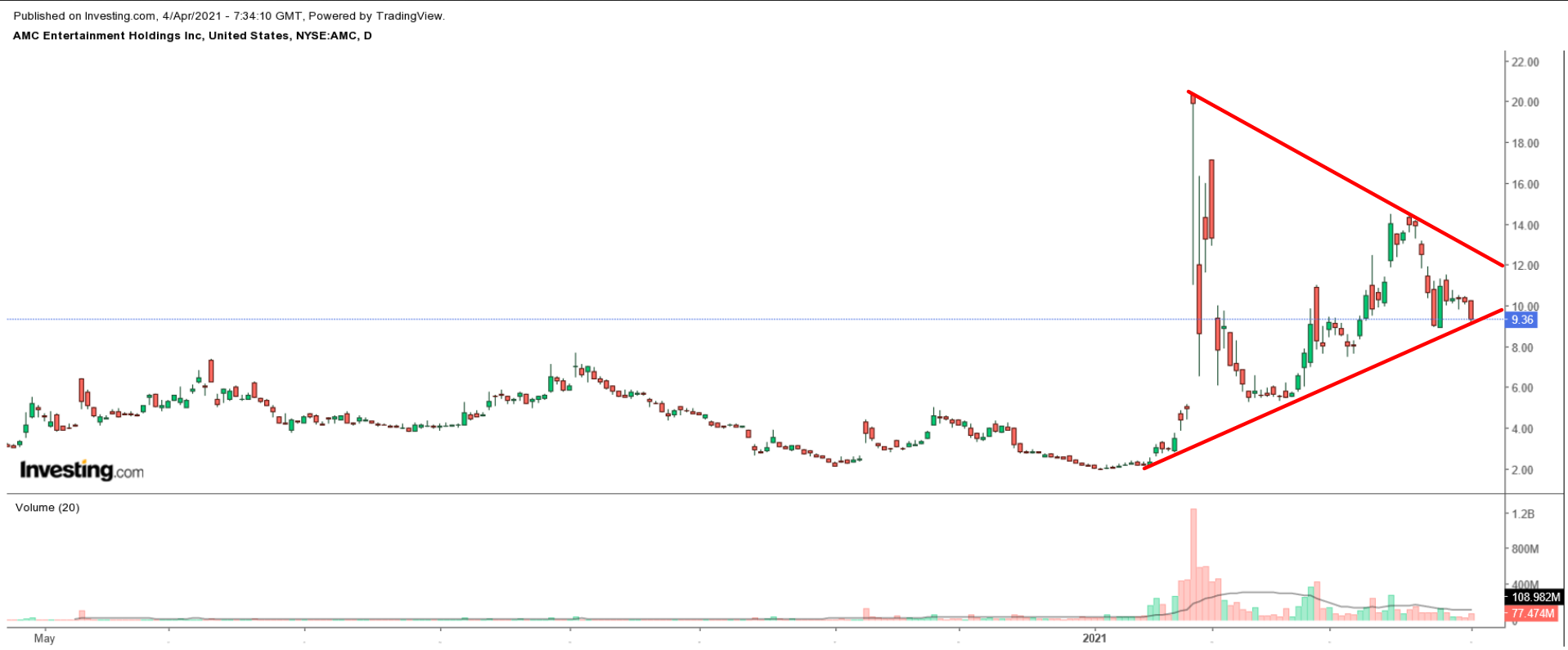 Sentiment on the meme stock took a hit last week following news that AMC plans to seek shareholder approval to authorize an additional 500 million new shares as it seeks to raise much-needed cash to reduce its crippling debt load and stave off bankruptcy.
AMC first announced plans to seek the additional stock authorization in late March, with shareholders set to vote on the measure at the company's annual meeting on May 4.
To make matters worse, several film studios, including Warner Bros. and Universal Pictures, announced recently that they plan to release many big-name movies this year straight to various streaming services, such as Walt Disney Company's (NYSE:) Disney+, and AT&T's (NYSE:) HBO Max.
The unprecedented move could mark a turning point for the movie theater industry. It could also crush AMC's chances of a successful turnaround in the months ahead.
Taking that into account, AMC stock could fall further in the coming days.