Stocks on Wall Street fell on Friday to close out a losing week, as the market weighed President-elect Joe Biden's $1.9 trillion stimulus proposal along with the start of Q4 earnings season.
The and posted weekly declines of 0.9% and 1.5%, respectively, to snap four-week winning streaks. The meanwhile lost 1.5% over the same period.
US stocks could face more volatility in the week ahead as Q4 earnings season shifts into high gear, with from some of the big-name US technology stocks, including Netflix (NASDAQ:), International Business Machines (NYSE:), and Intel  (NASDAQ:).
This week's agenda consists of other high-profile companies, such as Bank of America (NYSE:), Goldman Sachs (NYSE:), Procter & Gamble (NYSE:), UnitedHealth (NYSE:) and United Airlines (NASDAQ:) also releasing their latest quarterly results.
In addition, politics will stay in focus, with Joseph R. Biden set to be inaugurated as the 46th president of the United States on Wednesday.
Regardless of which direction the market takes, below we highlight one stock likely to be in demand in the coming days and another which could see fresh losses. 
Remember though, our timeframe is just for the week ahead. 
Stock To Buy: Palantir
After scoring a gain of nearly 9% through the first two weeks of 2021, shares of Palantir Technologies (NYSE:) look set to continue their march higher in the coming days as investors get increasingly bullish on the data analytics software provider.
The latest positive catalyst that underlines the soaring investor demand for the young tech company came on Friday, when it was reported that Cathie Wood's ARK Next Generation Internet ETF (NYSE:)—which in the past has made big bets on current market darlings such as Tesla (NASDAQ:) and Roku (NASDAQ:)—bought 497,100 PLTR shares.
That should help spark another surge in Palantir's stock price, which has already been a big winner since making its trading debut on Sept. 30.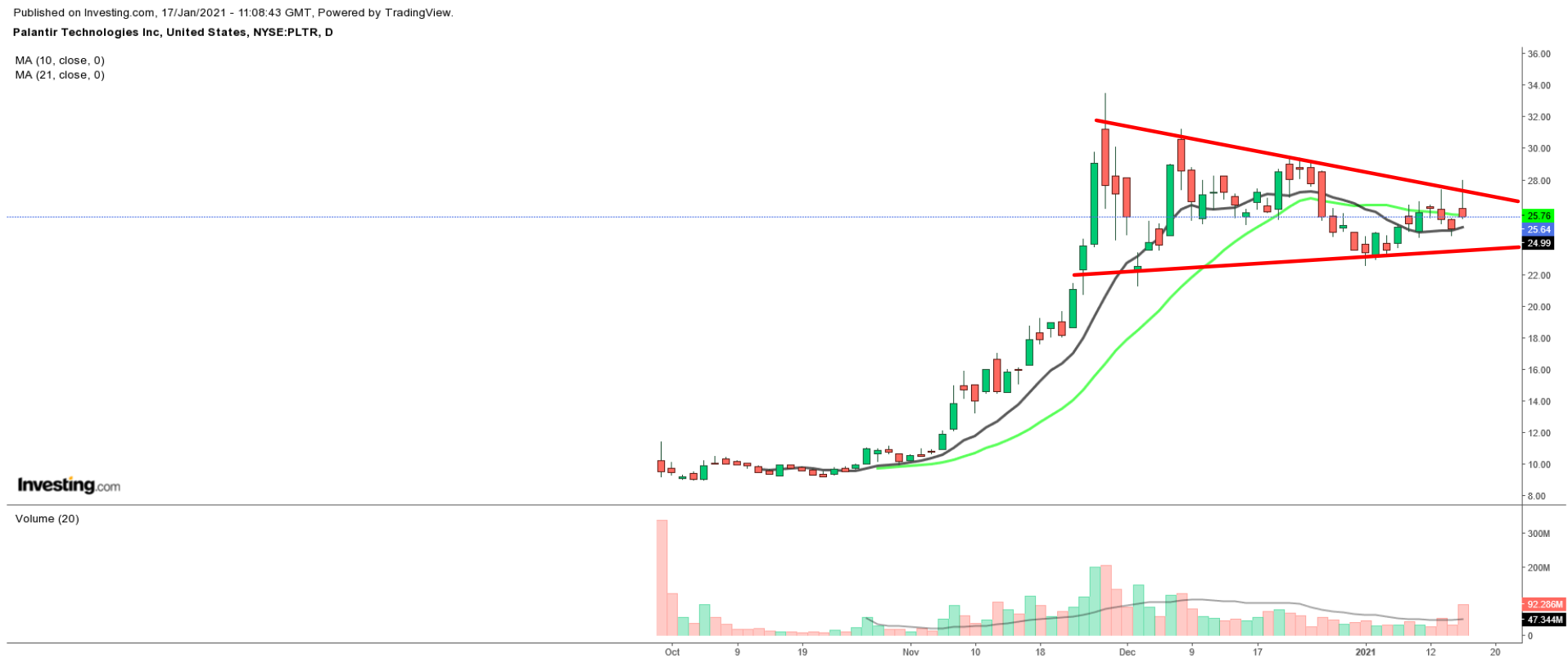 Shares—which have gained 165% from their starting price of $10—closed Friday's session at $25.64, giving the Denver, Colorado-based enterprise software company a market cap of $44.6 billion.
Chart technicals also look promising. They suggest that Palantir could be ready to break out of its recent trading range. The stock is back above the 10-day and 21-day moving averages, which usually signals more gains ahead in the near-term.
As such, we expect Palantir to continue to prosper in the week ahead, despite worries over its valuation and its looming IPO lockup expiry, thanks to the growing demand for its high-tech software tools.
The Peter Thiel-founded company recently won multi-year contracts with the US Food and Drug Administration and the UK's National Health Service, and renewed a contract with the US military.
Stock To Dump: Exxon Mobil
Investors may want to stay away from shares of Exxon Mobil (NYSE:) this week as they await fresh developments following recent news that the Securities and Exchange Commission into the oil supermajor.
The SEC's inquiry was launched after an employee filed a whistleblower complaint alleging that the Big Oil company overstated the value of one of its most important oil and gas properties in the key Permian Basin.
Several people involved in valuing the asset in an area called the Delaware Basin, which Exxon acquired in 2017 for $6.6 billion, complained during an internal assessment in 2019 that they were being forced to use unrealistically aggressive production assumptions about how quickly the company could drill wells to arrive at a higher value.
In March 2019, CEO Darren Woods said Exxon would increase and production in the Permian to one million barrels a day as early as 2024, up from previous estimates of 600,000 by 2025.
"No one I knew in the organization thought this was possible; the pressure to deliver on Woods's promise to the market permeated the organization," the whistleblower said in the complaint.
In a statement released Friday, Exxon called the whistleblower's claims "demonstrably false."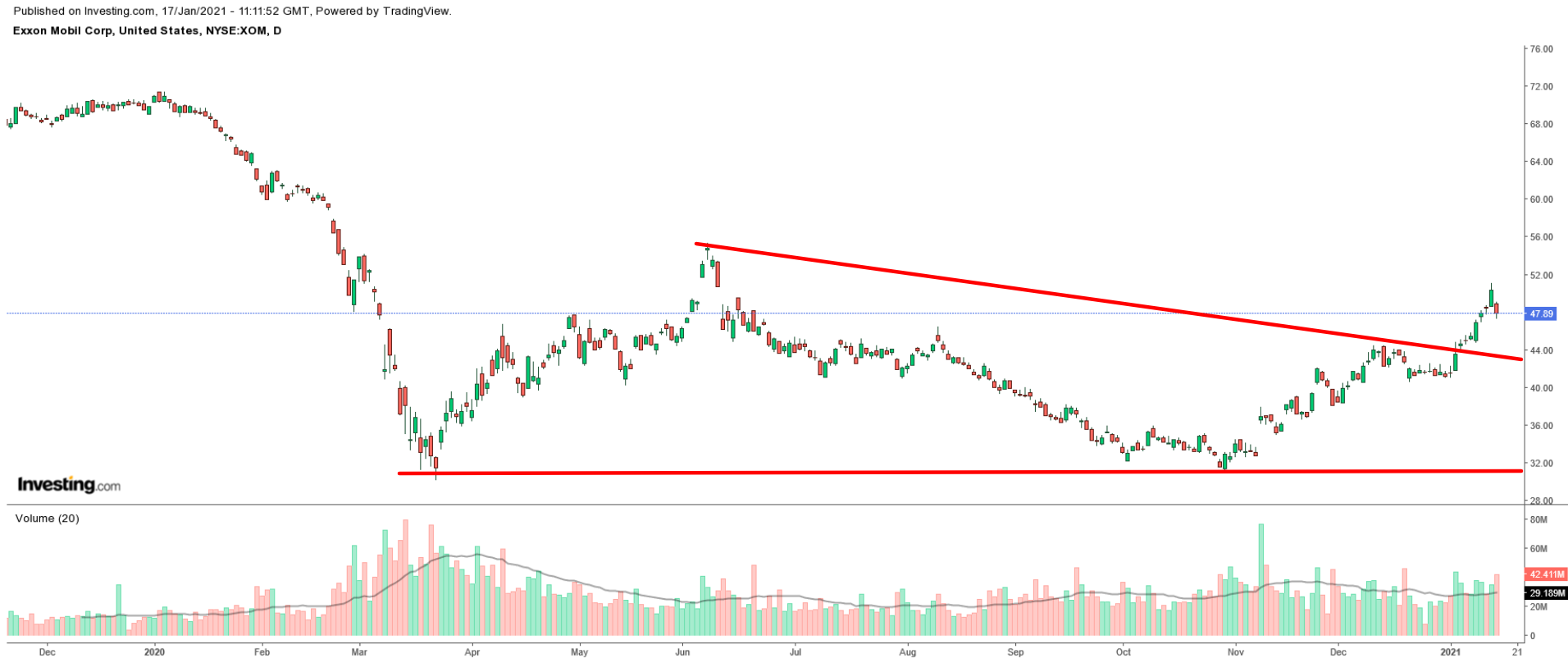 Shares of the Irving, Texas-based energy major have gotten off to a strong start to the year, ending higher in each of the first nine trading sessions of 2021.
XOM stock, which is up 16% year-to-date, soared to a more than six-month peak of $51.07 on Thursday, before retreating around 5% on Friday to close the week at $47.89.
Despite the recent recovery, shares are still down roughly 30% over the last 12 months as low commodity prices and the negative impact of the coronavirus-induced economic slowdown combined to hammer its key businesses.
Taking this into consideration, XOM shares look set to remain under pressure in the coming days as it deals with its mounting legal troubles.