Stocks on Wall Street closed mixed on Friday, as investors sold shares that have rallied throughout the COVID-19 pandemic and rotated into cyclical stocks which are likely to benefit from rising interest rates.
The posted a weekly loss of 1.6%, while the shed 0.7%. The fared better with a small gain of 0.1%.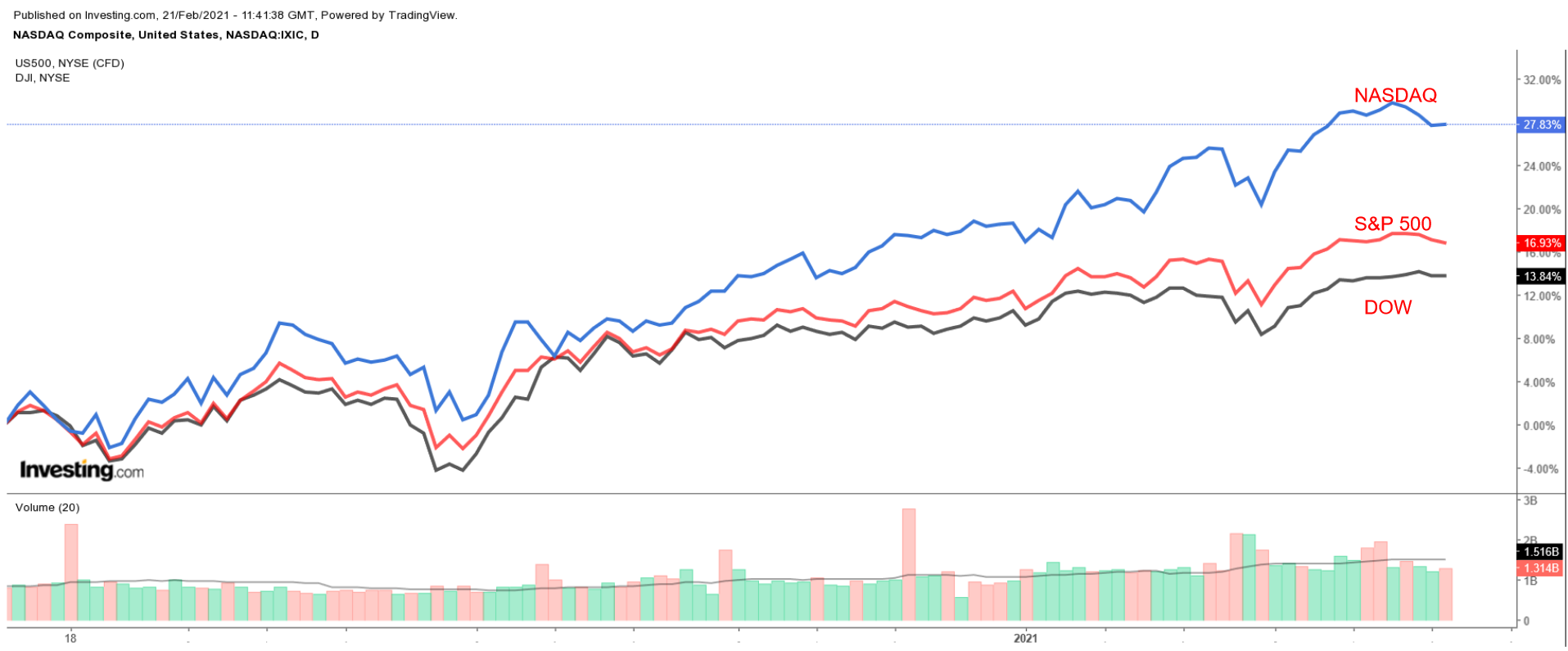 Between another heavy batch of high-profile earnings reports, as well as key Congressional from Federal Reserve Chair Jerome Powell and more important economic data, the week ahead is expected to be a busy one on Wall Street. 
Regardless of which direction the market goes, below we highlight one stock likely to be in demand in the coming days and another which could see further downside. 
Remember though, our timeframe is just for the upcoming week. 
Stock To Buy: Palantir
After sliding more 17% so far in February, shares of Palantir Technologies (NYSE:) look set to finally break out of their recent downtrend and resume their march higher in the coming days.
The latest positive catalyst highlighting the strong demand for the enterprise software company came after star investor Cathie Wood—the CEO and chief investment officer of ARK Invest, which runs three of the market's best-performing ETFs—loaded up on shares of the data analytics software provider.
In total, the ARK Innovation ETF (NYSE:) and ARK Next Generation Internet ETF (NYSE:) acquired 6.8 million shares of Palantir last week as Wood bought the dip after and an IPO lockup expiration caused the stock to drop by as much as 34% over a span of six sessions.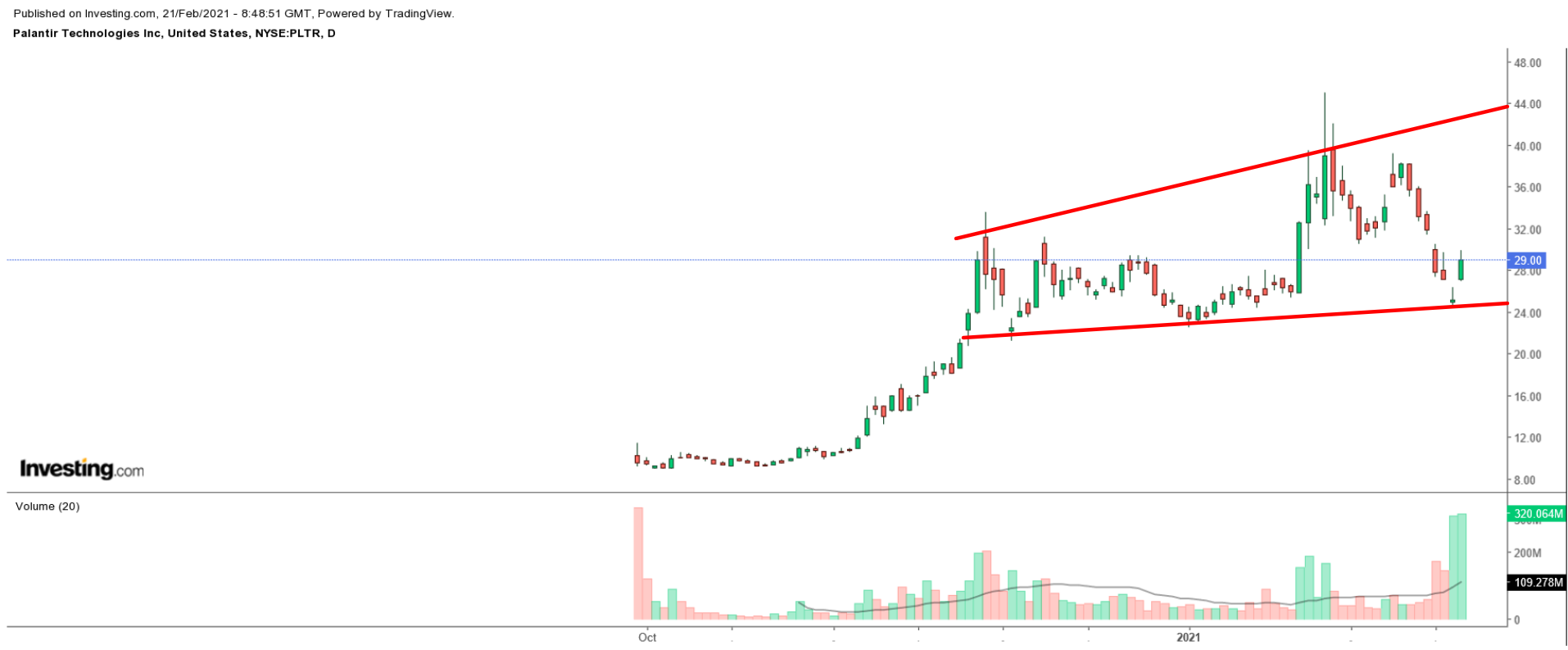 PLTR shares—which despite recent turmoil are still up 205% since making their trading debut at $10 on Sept. 30—closed Friday's session at $29.00, giving the Denver, Colorado-based big data firm a market cap of $43.8 billion.
Despite concern over stretched valuations, Palantir trades at a sky-high price-to-sales (P/S) ratio of almost 47. Many investors, including Reddit's infamous army of day traders, have taken an interest in the name.
In fact, the comment volume for Palantir on the WallStreetBets Reddit forum in recent days has overtaken mentions of other WSB favorites, such as GameStop (NYSE:) and AMC (NYSE:).
Palantir's emerging status as a social media, meme-stock favorite could result in significant buying pressure from retail traders.
Stock To Dump: Apple
Apple (NASDAQ:) stock looks set to remain on the back foot in the week ahead. A weak technical picture will likely result in more selling pressure in shares of the world's most valuable company after they broke below two key chart levels.
AAPL ended Friday's session at $129.87, roughly 12% below its all-time high of $145.03 touched on Jan. 25, earning the Cupertino, California-based tech and consumer electronics giant a market cap of $2.17 trillion.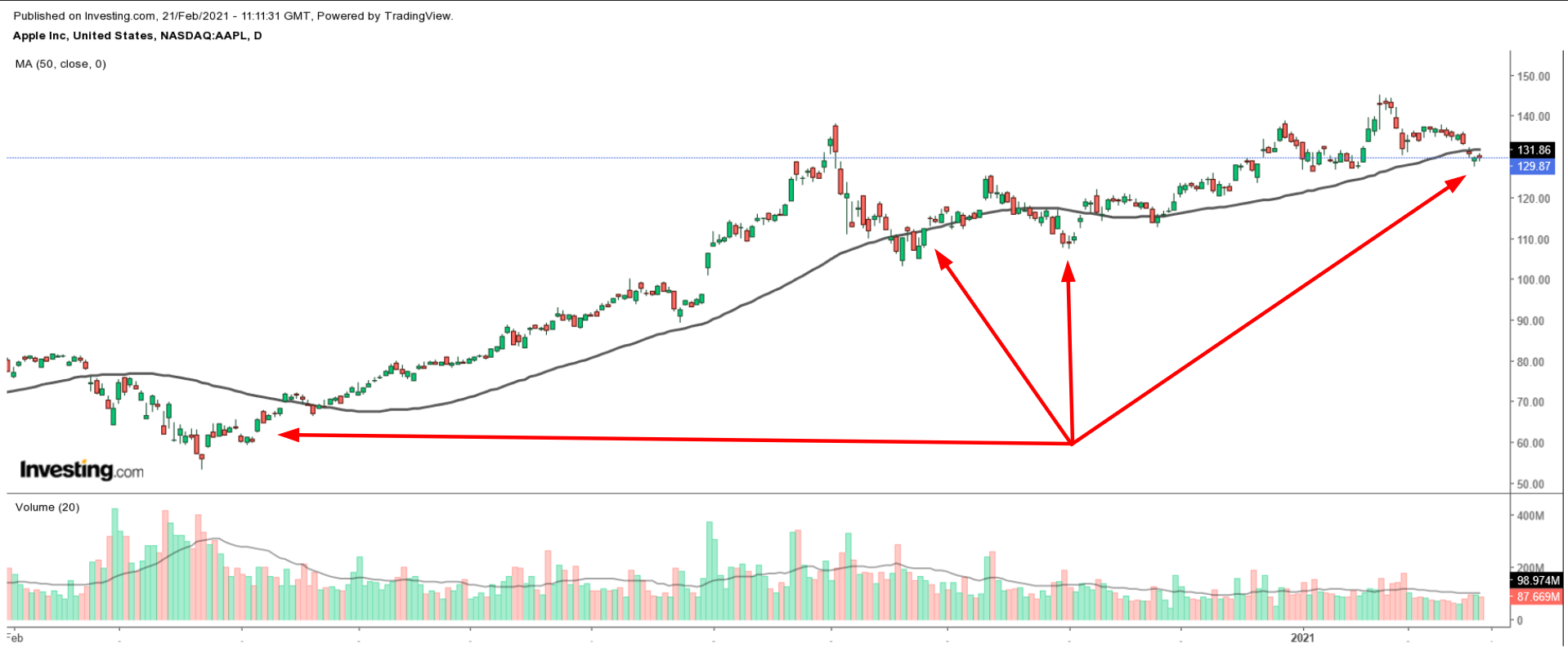 The stock closed below its 50-day moving average for the first time since Nov. 24. Many investors often view the 50-DMA as an effective indicator of a stock's short-term trend, with price above it pointing to an upward bias and action below it warning of further weakness.
However, in an even more worrying sign for bulls, Apple's stock also broke below the key uptrend line that marked its recovery off the March lows.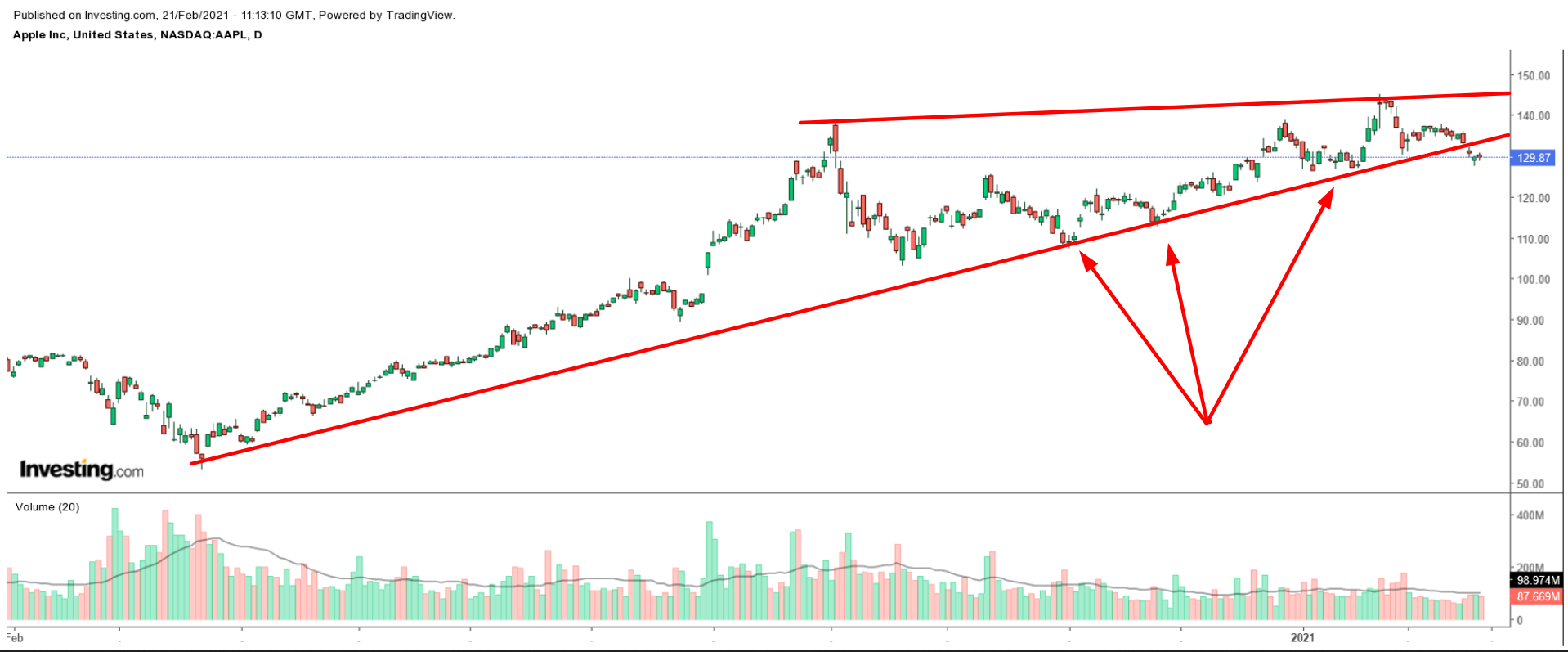 Sentiment on the iPhone-maker took a hit late last month when Apple reversed lower despite releasing its report in its history.
News last week that two of the tech behemoth's largest shareholders trimmed their stakes also weighed. The Vanguard Group disclosed that it owned 1.26 billion Apple shares as of Dec. 31, down from 1.28 billion shares on Sept. 30.
Meanwhile, Warren Buffett's Berkshire Hathaway (NYSE:), (NYSE:)—Apple's second largest shareholder—revealed that it owned 887.1 million AAPL shares, down from the 944.3 million shares it owned as of Sept. 30.
Apple was one of the top performers of 2020, gaining more than 80% amid strong demand for its lineup of new iPhone 12 models, but so far in 2021, it has slipped 2.1%.