Stocks on Wall Street ended mixed on Friday, but the major averages still managed to score a winning week, as the market shifted its focus to the the start of the fourth-quarter earnings season.
The posted a weekly gain of 4.2% to close at another record high, boosted by a rally in the mega-cap tech stocks. The and the , meanwhile, tacked on 1.9% and 0.6%, respectively, over the same timeframe.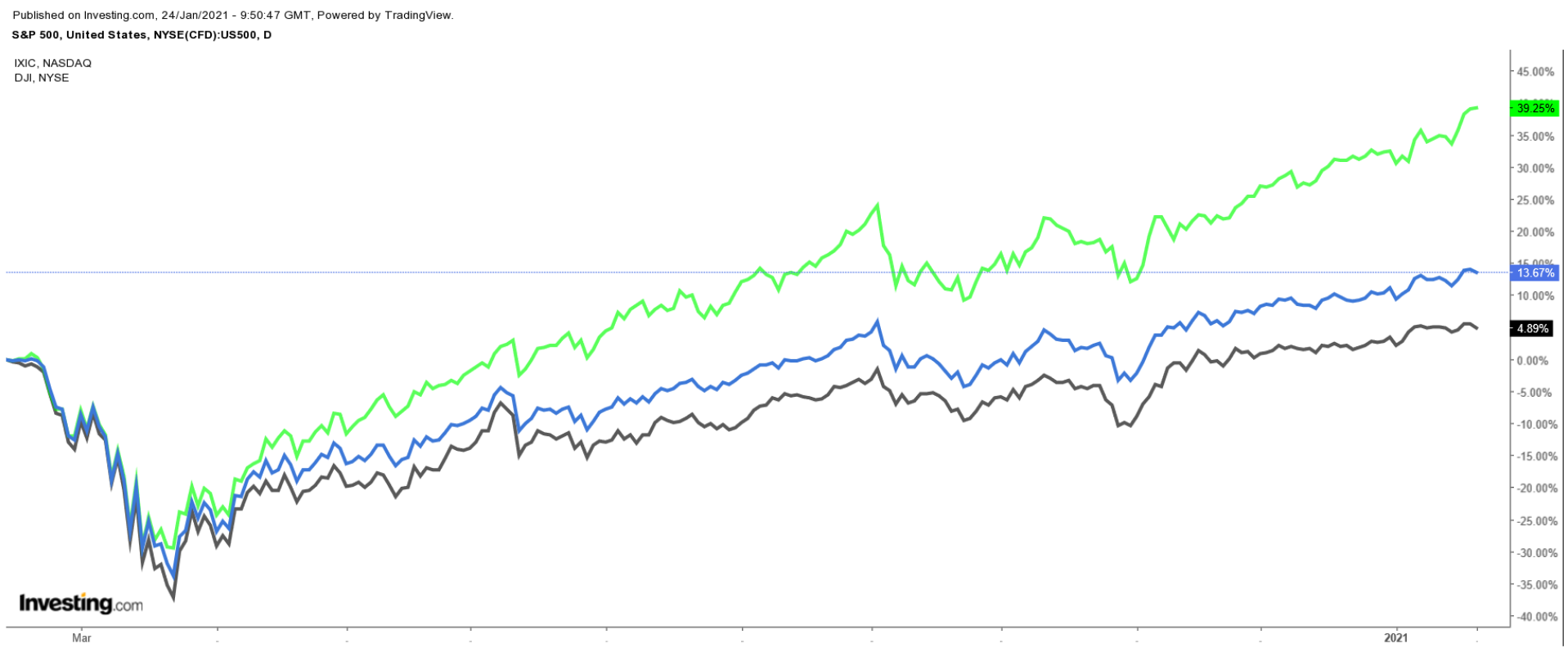 Between a heavy batch of high-profile earnings reports, a Federal Reserve , as well as key economic data, the week ahead is expected to be a busy one on Wall Street.
Regardless of which direction the market goes, below we highlight one stock likely to be in demand in the coming days and another which could see fresh losses
Remember though, our timeframe is just for the week ahead. 
Stock To Buy: Microsoft
Microsoft (NASDAQ:) will be in focus this week, as investors await the latest financial results from the Redmond, Washington-based tech behemoth, which is scheduled to report earnings on Tuesday, Jan. 26, after the closing bell.
It has either beaten or matched Wall Street estimates for 14 , dating back to Q1 2017.
Consensus expectations call for earnings per share (EPS) of $1.64 for its fiscal second quarter, up nearly 9% from EPS of $1.51 in the year-ago period. Revenue is also expected to climb about 9% year-over-year to $40.2 billion, reflecting strong demand for its cloud computing products.
In addition to the top- and bottom-line numbers, market participants will pay close attention to how fast Microsoft's booming Intelligent Cloud business continues to grow. This segment includes Azure, GitHub, SQL Server, Windows Server and other enterprise services.
Another key metric in focus will be how well Microsoft's Productivity and Business Processes segment performed. The key unit includes the Office 365 cloud productivity suite, Dynamics products and cloud services, its Teams communications app, as well as LinkedIn.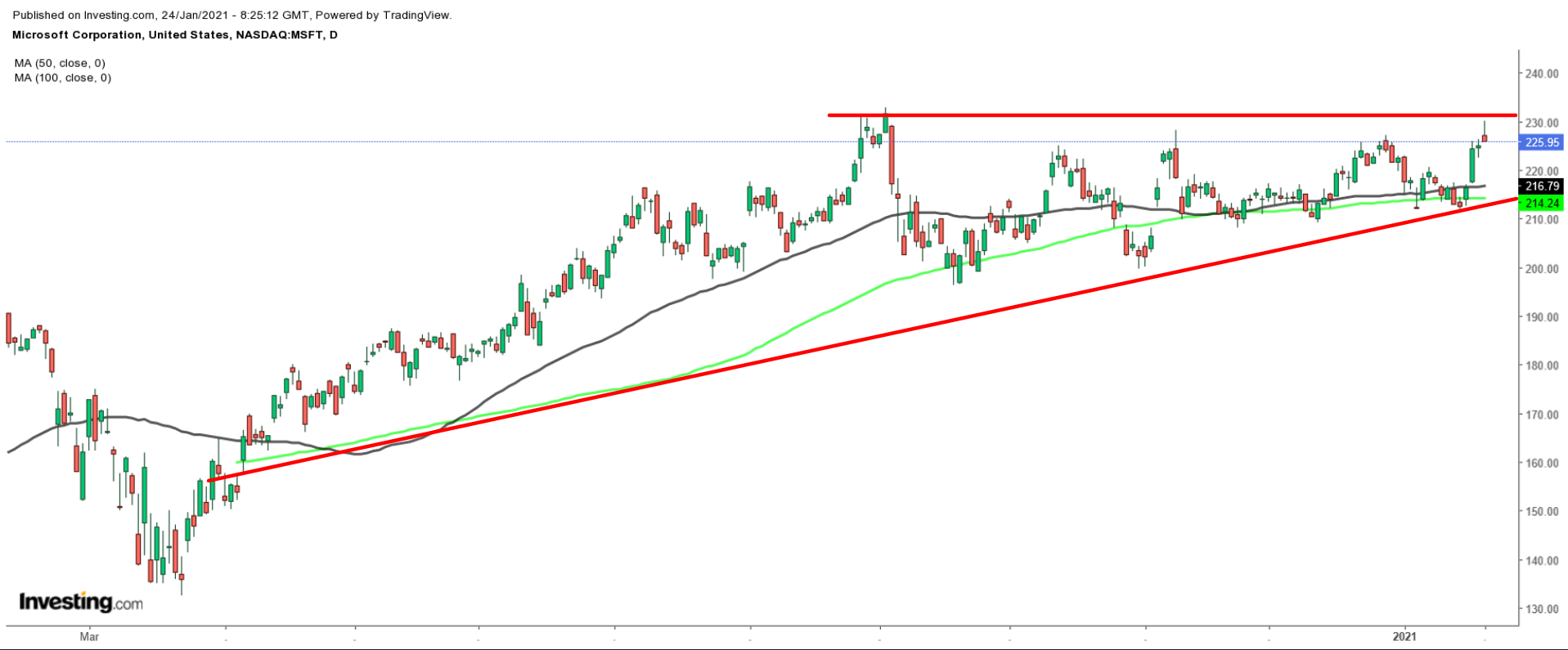 MSFT shares ended at $225.95 on Friday, not far from their record high of $232.86 reached on Sept. 2. The company has seen its stock gain roughly 35.5% over the last 12 months, easily outperforming the S&P 500's 15.5% increase over the same timeframe.
With a market cap of $1.71 trillion, Microsoft is the world's second-most valuable company, trailing only Apple (NASDAQ:).  
Chart technicals also look promising. They suggest that MSFT looks ready to break out of its recent trading range. Shares are back above the 50-day and 100-day moving averages, which usually signals more gains ahead in the near-term.
Stock To Dump: American Airlines
Shares of American Airlines (NASDAQ:) look set to come under pressure in the week ahead as investors position themselves for earnings report from the Fort Worth, Texas-based carrier.
American—which reported a sharp, year-over-year decline in earnings and revenue for its last quarte—next reports financial results ahead of the open this coming Thursday, Jan. 28.
Consensus estimates call for a loss per share of $4.11 for the fourth quarter, compared to earnings of $1.15 per share in the same quarter a year earlier.
Revenue meanwhile is forecast to plunge nearly 65% from the year-ago period to $3.89 billion, highlighting the airline's ongoing struggles as a result of the sharp decline in air travel during the coronavirus pandemic.
Beyond EPS and revenue, investors will keep an eye on the carrier's update regarding its daily cash burn, which totaled $44 million in Q3.
More importantly, market players will also focus on the company's guidance regarding its outlook for the rest of the year and beyond amid the unprecedented nature of the ongoing COVID-19 pandemic on travel trends.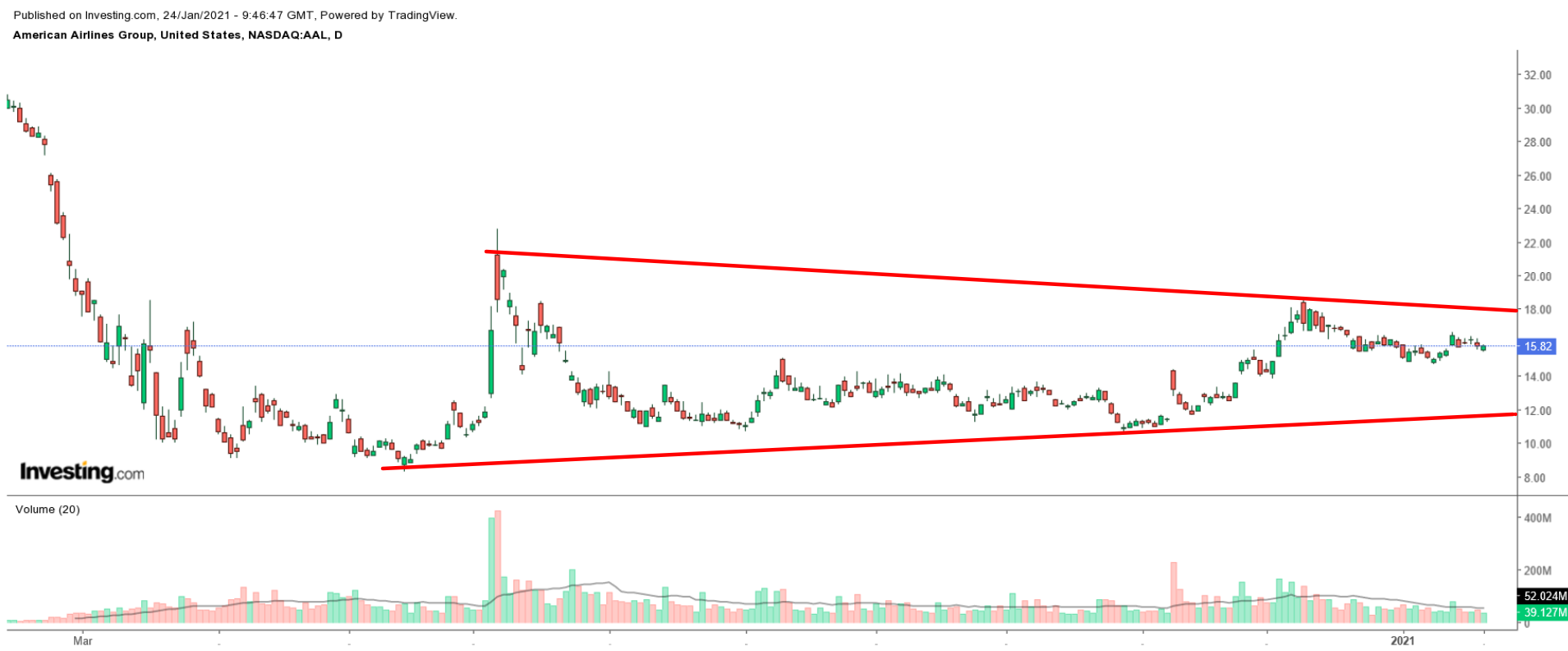 AAL stock, which fell to an all-time low of $8.26 on May 14 and is down more than 45% over the last 12 months, closed at $15.82 on Friday, giving it a market cap of roughly $10 billion.
At current valuations, American is the fourth-largest U.S. airline company behind Southwest Airlines (NYSE:), Delta Air Lines (NYSE:), and United Airlines (NASDAQ:).