Fed promises to keep supporting the economy, but may be quietly tightening
Rising yields weigh on stocks
Rates look like they'll keep climbing
Rising yields and tax increase worries are threatening to put an end to the massive equity boost that boundless QE and hefty stimulus have provided.
Yet even with Treasury yields—including for the benchmark note—reaching new yearly highs on Friday, shares still rallied with a vengeance, notwithstanding the conflicting outlooks on an economic recovery.
Fed One-Off Or Start Of A Trend?
Some of the activity in the Treasury market was fueled by the Federal Reserve it was ending capital relief to big banks that had been put in place during the height of the pandemic. The regulation, knowns as the "supplementary leverage ratio," will be allowed to expire on Mar. 31. Briefly, according to Reuters:
"Banks may need to pare bond purchases, sell assets and/or reduce lending in overnight funding markets backed by Treasuries as unprecedented growth in reserves threatens to push some banks close to their capital ratio limits."
The coronavirus reprieve allowed banks to exclude Treasuries as assets so that they were not required to hold cash against those funds. But since Friday's Fed announcement reinstituted the regular regulations counting US bonds as assets after the end of the month, banks were forced to sell Treasuries, causing yields to jump to levels not seen since Jan. 22.
There's an interesting irony here that many investors may have missed: while the Fed has been repeatedly promising it would accommodations, letting this regulation expire is doing just that. When banks are required to increase their supplementary leverage ratio it reduces available liquidity in the market.
Of course, this isn't as obvious a move as hiking rates outright or blatantly reducing quantitative easing via the slowing of asset purchases. It looks to us like the Fed chose this route because it's more complicated to follow; perhaps too, the central bank thinks it can quietly get away with it, without causing a public 'taper tantrum.'
That's what occurred in 2013, when markets learned the Fed was cutting back its asset purchases—which pumped money into the economy. Investors sold off Treasuries since they expected rates to rise. This became known as the taper tantrum.
The question now is whether this is a one-off from the Fed or the beginning of a trend as the Fed starts to tighten its policy. For now, we're going to treat this as a social experiment by the US central bank. If they feel they got away with this, and the market absorbed this lack of accommodation, they may try again.
Adding to some investor worries, now that COVID fiscal relief has been implemented, the Biden administration will likely turn to another one of its priorities, taxes. Worries concern the effect new taxes will have on corporate obligations. According to remarks made by the White House press secretary, as reported by CNBC, "Biden's tax plan will focus on ensuring that corporations and wealthy individuals pay their fair share, she said. However, a formal package has not been released."
Risk Rising But So Are Yields
For now, rising yields are shaking risk market confidence. The combination of unprecedented stimulus—both fiscal and monetary—along with the accelerating vaccine roll-out has primed the economy for a rebound, with the expectation that stocks will outperform bonds.
Naturally, then, investors sold their bonds to buy stocks. But, along with expectations for a powerful recovery came fears of , exacerbating the Treasury sell-off. The current attached yields aren't as attractive relative to the outlook for rising rates.
What could this mean for the rest of the market? As yields rise, demand for the , which denominates Treasuries, increases. On the other hand, the USD 'mirror,' , has fallen this year, after outperforming nearly all other assets in 2020.
As for equities, growth and value shares tend to move based on the business cycle. Growth stocks are seen to have potential for acceleration because they're expected to ouperform over time, whereas value stocks are those that have been undervalued and are therefore expected to provide better returns. As such, the cycle generally swings between growth stocks when the economy is in decline and value stocks during a recovery.
However, rising yields weigh on growth stocks, such as technology shares, while boosting companies that are expected to benefit from a recovery. Coming out of a lockdown, ahead of a reopening economy only emphasizes this.
Still, because yields rose on Friday after the Fed's move to tighten bank reserves, which hurt the value-oriented financial sector, technology, the growth sector, outperformed reflation-related shares on the . sold off, -1.2%. They were the second worst performing sector after , (-1.3%).
outperformed, (+0.9%), while , (+0.6%), sensitive to the business cycle, came in second.
On the other hand, when looking at the major US averages, the benchmark that represents reflationary stocks, domestic firms listed on the , gained, (+0.9%), outperforming the 'poster child' for growth stocks, the , which ticked up only 0.6%, on Friday.
The final day of last week's trade was was particularly amid quadruple witching when options and futures expire.
The NASDAQ 100 is teetering at its top.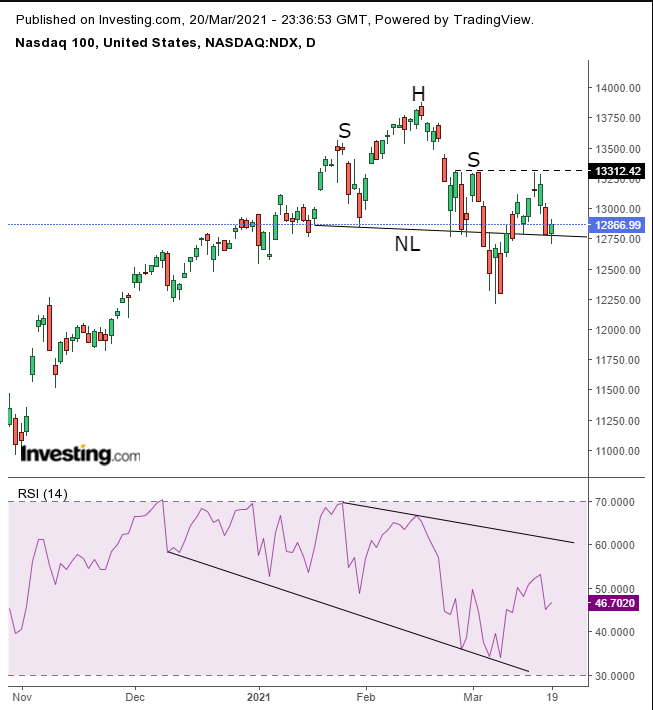 The tech benchmark climbed back of a H&S top but found resistance by its right shoulder. If the index does fall below its Mar. 5 low, that would confirm a top. The RSI seems to think that's what will happen.
Recently, small caps have been outperforming big tech nearly 4:1 as can be seen on the chart below: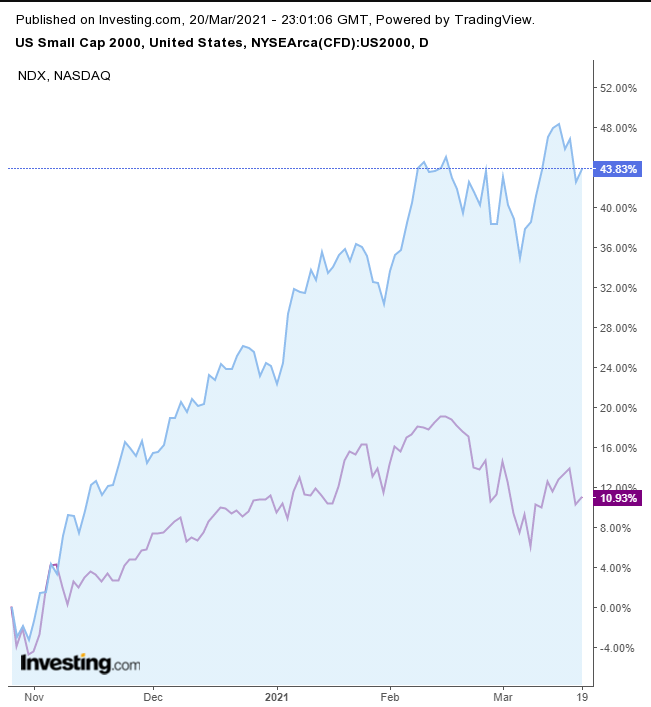 Worries are growing as yields escalate that fears of inflation will send shock waves toward risk assets causing them to plummet. Ray Dalio, founder of Bridgewater Associates, the world's largest hedge fund, says the massive stimulus will force the Fed to buy bonds in order to tamp down yields, which would be bearish for the dollar.
On the other hand, Wells Fargo's senior macro strategist Michael Schumacher sees yields hitting 2% this year, which jibes with the forces of supply and demand as seen on the technical chart, below.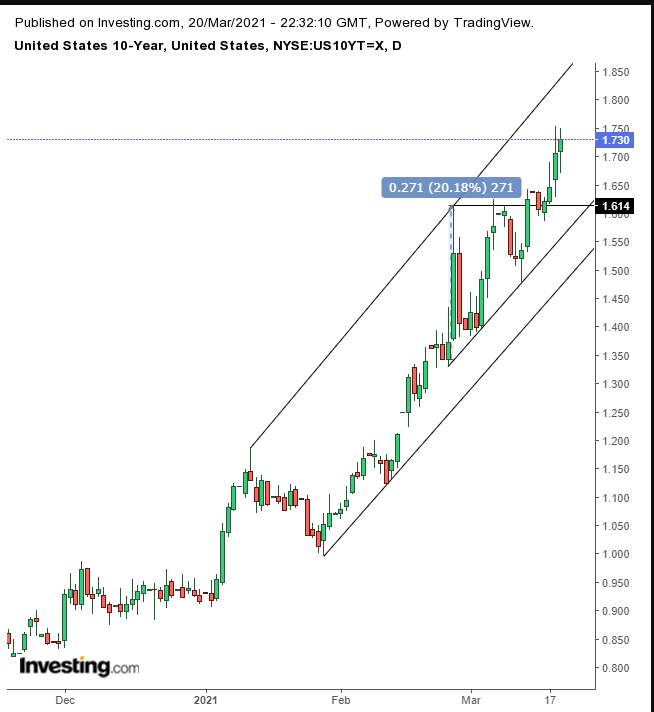 Whatever the outcome, yields will affect stocks. Plus a corporate tax rate rising from 21% to 25% is likely to limit company earnings by between 4% and 5%. A hike to 28% could shave profits by 6% to 7%, Citi.
Based on our interpretation, as things stand, we also see a better chance of the rising too.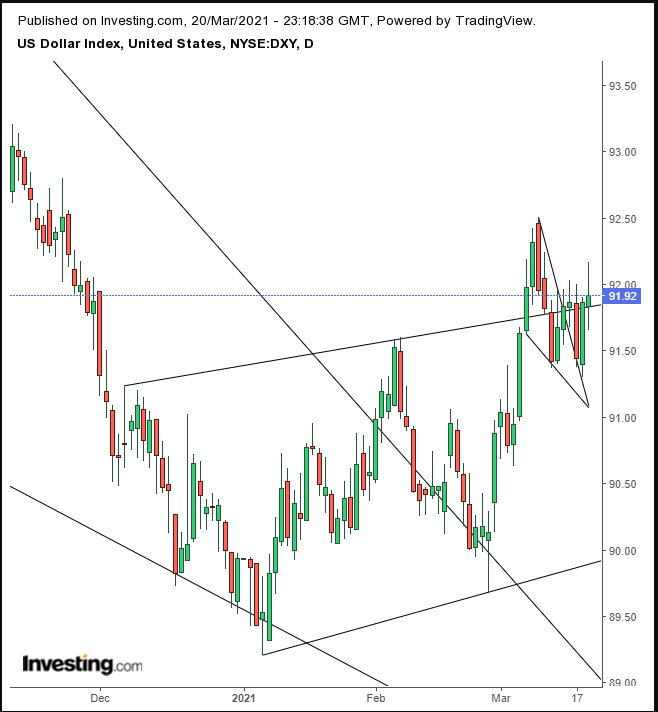 The greenback may have completed a falling flag, as it returned above the neckline of a double-bottom, after having provided an upside breakout to a falling wedge since the March high.
Surprisingly, gold rose despite dollar strength and escalating yields.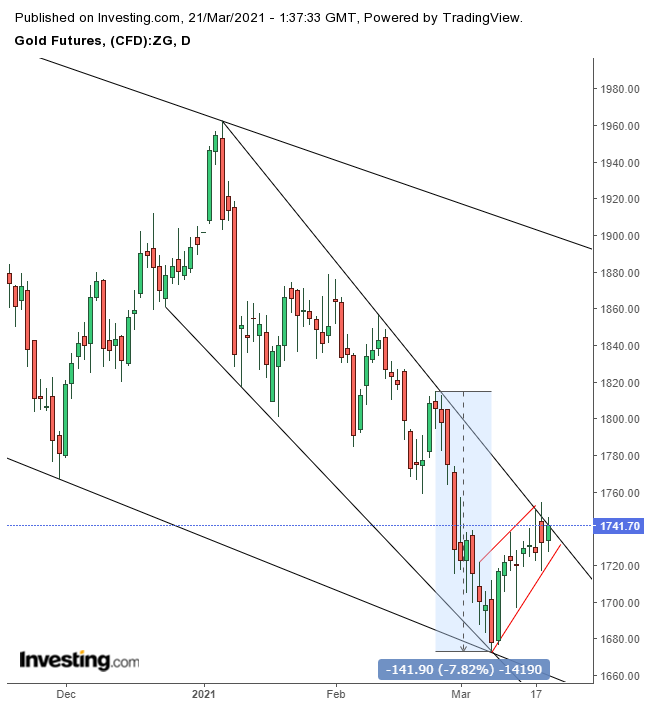 Gold Daily
However, the yellow metal stopped abruptly at the top of a falling channel since the Jan. 6 high, where it found resistance for a third straight day, within a broader falling channel since the March peak.
Gold bulls will have to face the pressure of this channel top. Moreover, the rise since the channel bottom may be a rising flag, which is bearish after the 7.8% plunge in just ten sessions preceding the congested rally. A downside breakout would complete the flag, signaling a breakdown of the broader falling channel.
, one of the most-favored assets during reflation trades, gained. But it was still heading for its biggest weekly slump since October after a selloff triggered by inflation concerns and a cooling physical market.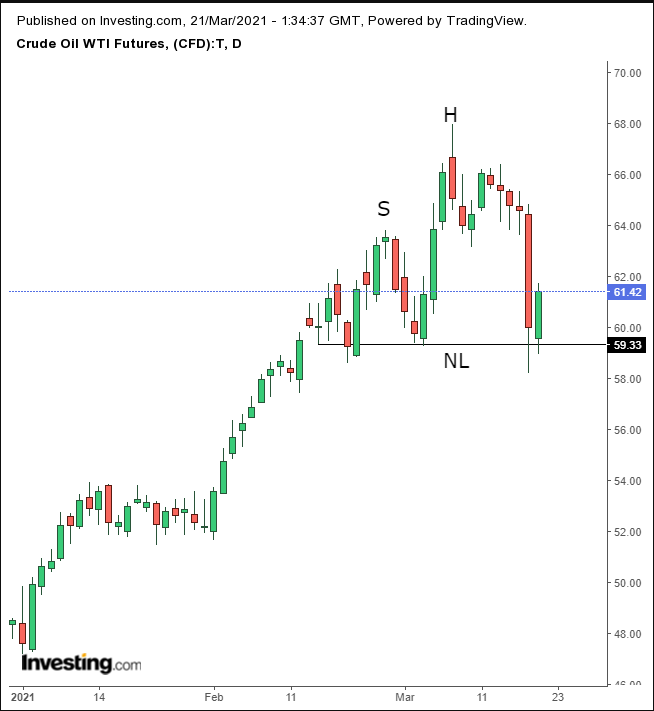 While WTI rebounded, the move only came after the commodity fell to previous lows, setting up the potential for a H&S top.
The Week Ahead
All times listed are EDT
Sunday
21:30: China – : came in previously at 3.85%.
Monday
10:00: US – : expected to edge lower, to 6.49M from 6.69M.
Tuesday
3:00: UK – : dropped to -20.0K in January.
10:00: US – : anticipated to slump to 876K from 923K.
Wednesday
3:00: UK – : seen to edge up to 0.8% from 0.7%.
4:30: Germany – : anticipated to crawl higher, to 61.0 from 60.7
5:30: UK – : predicted to remain flat at 54.0.
5:30: UK – : forecast to move up to 51.0 from 49.5.
8:30: US – : likely to fall to 0.6% from 1.3%.
10:00; US –
10:30: US – : probably rose to 2.964M from 2.396M.
Thurday
4:30: Switzerland – : seen to remain steady at -0.75%.
5:30: UK –
5:30: Eurozone –
8:30: US – : expected to settle at 4.1% from 33.4% QoQ.
8:30: US – : disappointed expectations last week at 770K.
Friday
3:00: UK – : forecast to surge to 2.2% from -8.2%.
5:00: Germany – : seen to rise to 93.2 from 92.4.