The US economy remains on track to report an unusually strong increase in output for next month's first-quarter report on gross domestic product (GDP), based on a set of nowcasts. The projected gain has softened recently, but the current estimate still reflects a hefty gain.
US growth in the first three months of 2021 is projected to rise 5.9% (real annual rate), based on the median nowcast for several estimates compiled by CapitalSpectator.com. That's a from the previous median nowcast in early March, but a near-6% quarter rise still represents a red-hot increase relative to historical record (excepting for 2020's Q3 bounce-back surge from the coronavirus crisis, which was a one-time outlier event).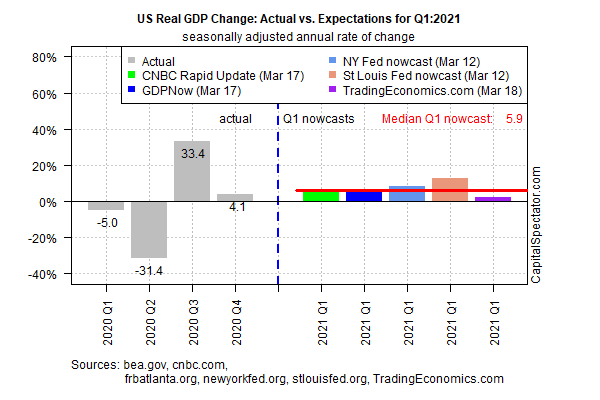 US Real GDP Change
In-line with bullish expectations for economic growth via nowcasts, the Federal Reserve yesterday upgraded its annual projections for all of 2021. Real GDP for this year is expected to rise 6.5%, a significantly higher forecast compared with the central bank's previous outlook for a 4.2% increase that was published in December.
If the Fed's new 2021 estimate is accurate, US GDP this year will increase at the fastest calendar-year pace in nearly 40 years. Despite this bullish forecast, the Fed yesterday reaffirmed that it still plans to avoid raising interest rates for the foreseeable future. The lower-for-longer rates policy is particularly striking since the Fed also raised its for 2021 to 2.4% from 1.8% previously.
The key message: the Fed will prioritize reducing over keeping a lid on , a major policy shift. Although the central bank expects inflation to rise above its 2% target this year, the increase doesn't warrant higher rates, Fed Chairman Jerome Powell said in yesterday's :
"I would note that a transitory rise in inflation above 2% as seems likely to occur this year would not meet this standard [for changing current monetary policy]."
That outlook was clearly reflected in the Fed's so-called dot plot graphic, which summarizes the central bank's current expectations for . For 2021, all members of the Federal Open Market Committee, which sets rates, anticipate that Fed funds will hold steady at the current 0%-to-0.25% target rate.
Powell was asked if higher forecasts for growth and inflation in the months ahead would force the Fed's hand to raise rates sooner than expected. He pushed back on the idea, effectively outlining new guidelines for monetary policy that would be less proactive and more reactive:
"The fundamental change in our framework is that we're not going to act preemptively based on forecasts, for the most part, and we're going to wait to see actual data. I think it will take people time to adjust to that, and the only way we can really build the credibility of that is by doing that."
For now, at least, the Fed is planning to let the economy run hot with little or no change in monetary policy. That outlook, combined with strong growth nowcasts for the current quarter, strengthen the view that next month's Q1 GDP data will reflect an economic rebound that's accelerating relative to the previous quarter's pace.