Early projections for US economic output in the first quarter point to extension of the rebound that started in last year's Q3. A set of nowcasts point to growth that's currently on track to speed up modestly from the pace of growth reported for 2020's final quarter.
Output in the first three months of 2021 is projected to rise 4.5% (real annual rate), based on the median nowcast for several estimates compiled by CapitalSpectator.com. That's a modest improvement over the 4.0% increase reported by the Bureau of Economic Analysis for last year's Q4.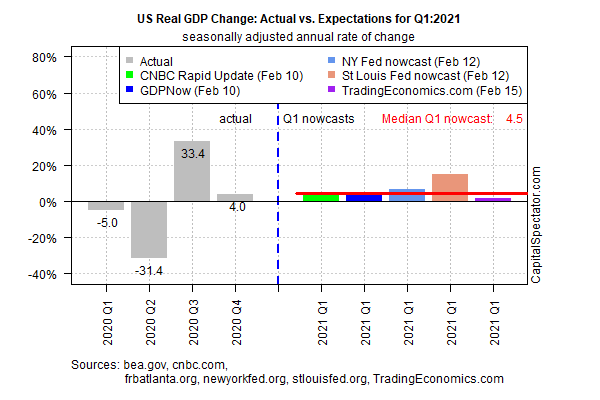 US Real GDP Change
Economists are also upgrading their forecasts, based on US President Joseph Biden's administration's plans for fiscal stimulus, CNN Business reports:
"After supplying $4 trillion of relief last year, Washington is expected to pump in another $2 trillion of deficit-financed support in 2021, according to Moody's Analytics. That represents more than a quarter of annual US GDP.
"That is a lot of economic juice," said Mark Zandi, chief economist at Moody's Analytics.
Some economists advise that the ambitious fiscal policy should be dialed down to avoid triggering runaway inflation. But the pre-pandemic mindset of policymakers holds less sway these days, at least within the Biden administration.
"I have spent many years studying inflation and worrying about inflation," Treasury Secretary Janet Yellen said earlier this month. "But we face a huge economic challenge here and tremendous suffering in the country. We have got to address that. That's the biggest risk."
Tim Duy, an economist who follows the Federal Reserve for SGH Macro Advisors, writes in a note to clients today that:
"the Fed under Powell clearly intends to fully support the Biden administration's effort to supercharge the economy. This doesn't mean that the Fed will sit on the long end of the curve, but it does mean that the Fed does not intend to pull monetary support too early in the cycle."
Risks aside, forecasters anticipate that fiscal and monetary policies will boost economic growth in the near term. The expected acceleration is modest at the moment, according to econometric-based nowcasts. But if conventional forecasts from dismal scientists are an indication, the nowcasts are due for upside revisions in the days ahead.
A key risk to this rosy outlook: the pandemic takes an unexpected turn for the worse. Although the trends for new reported coronavirus cases, hospitalizations and fatalities suggest that the worst has passed, the potential for a rebound due to coronavirus variants can't be ruled out yet. USA Today reports:
"Dr. Peter Hotez, dean for the National School of Tropical Medicine at Baylor College of Medicine in Houston, said that if the infectiousness and case fatality rate for the variant known as B.1.1.7, turns out to be the same in the US as it is in the U.K., 'I worry we could reach a staggering death toll by the summer and fall.'"
Using the numbers published to date, however, suggest that the recovery will continue in this year's first quarter. Current assumptions project that US output will rise above its pre-pandemic trend by this year's third quarter, according to one estimate highlighted in the Financial Times.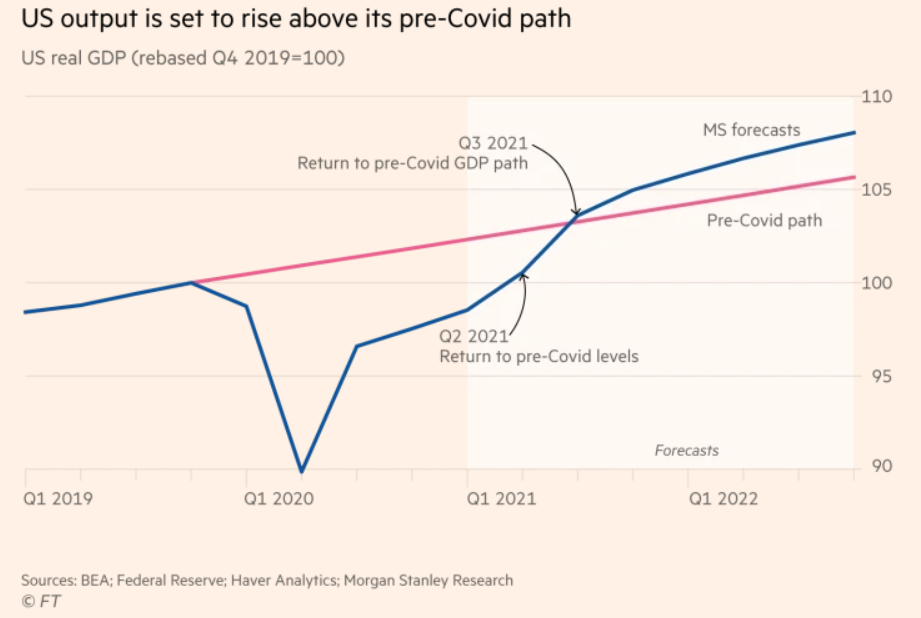 Also from the FT:
"Joe Biden's strategy for the US economy is the most radical departure from prevailing policies since Ronald Reagan's free market reforms 40 years ago."

"With plans for public borrowing and spending on a scale not seen since the second world war, the administration is undertaking a huge fiscal experiment."