This article was written exclusively for Investing.com
Stocks have fallen sharply, and the decline should not come as a surprise to anyone. Valuations in many equities have been at historically high levels. Now that rates have risen, the equity market is in the middle of a massive repricing.
The big move higher has been driven by the concept that low-interest rates could expand PE multiples. But rates have risen sharply in recent weeks. These higher rates are making the stock market more expensive when compared to bond yields. If stocks need to reprice for this shift in rates, it could result in , perhaps more than 20%.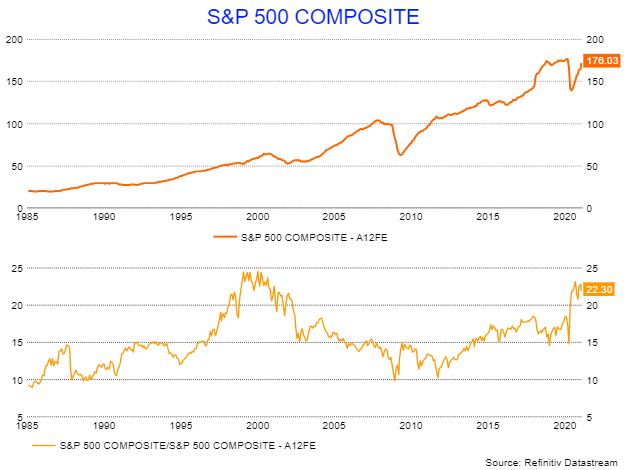 The has seen its PE ratio rise to historically high levels since the March 2020 lows. In fact, they have reached levels not seen since the late 1990s, with the S&P 500 now trading at roughly 22 times 12-month forward earnings estimates of $176.03. That is the highest the valuation has been on a forward earnings multiple since the early 2000s.
When valuing the S&P 500 on an earnings yield basis versus 10-year breakeven inflation expectations, one would find that the valuations are at extremely high levels. With a spread currently at 2.5% versus a 200-day moving average of 2.8% and a historical average of 4.24% since 1997, it would imply that rising rates on the Treasury and TIPS could harm equities, resulting in a massive repricing.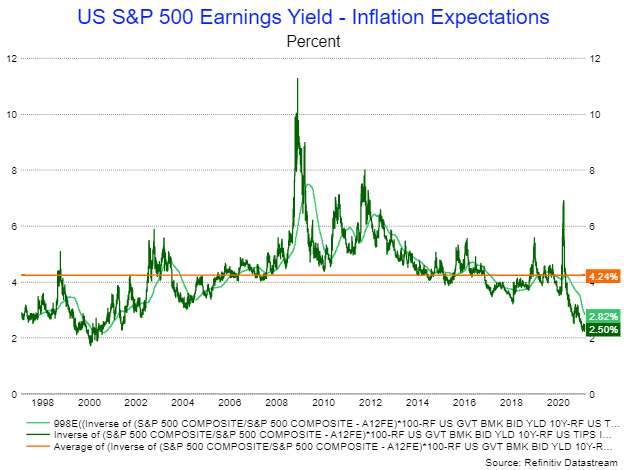 Earnings Yield To Inflation Expecations
Over the last 5 years, the average spread between the S&P 500 and 10-Year Breakeven Inflation Expectations has been around 3.9%. Assuming that spread rises to the historical average of 3.9% would push the earnings yield on the S&P 500 back to roughly 6%. That would give the S&P 500 a PE ratio of around 16.5, based on forward earnings of $176.03, the index could fall to approximately 3,000, a drop of about 27%.
It seems like technology stocks have seen a lot of multiple expansion over the past 12 months and could be the hardest hit in a repricing environment triggered by rising rates. The significant and steady growth rates became a for those investors looking for a place to park their money.
For example, Amazon (NASDAQ:) is trading at 3.2 times 12-month forward sales estimates, which is at the upper end of its historical range and well above its average of around 2. Meanwhile, NVIDIA (NASDAQ:) has seen its PE multiple climb to approximately 45 times 12-month forward earnings estimates and is at the very upper end of its 5-year range.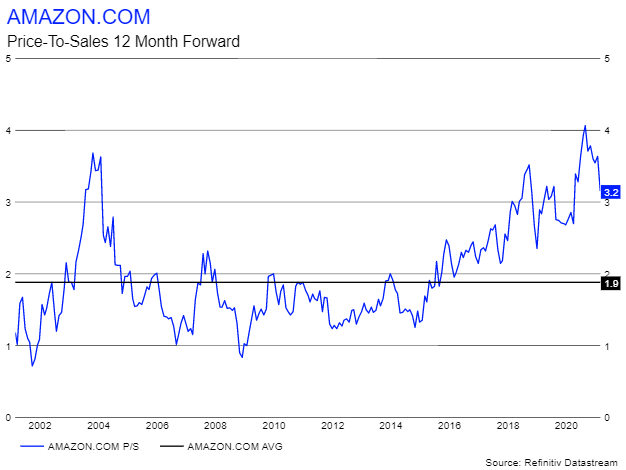 Amazon
The banks, however, have been one of the big winners recently. While they could undoubtedly get pulled into a downdraft, they are likely to benefit longer-term. Rising rates on the long-end of the yield curve have helped steepen the curve dramatically. It is likely to help the banks' revenue and net interest income boosting profits.
Stocks like JPMorgan (NYSE:) or Bank of America (NYSE:), although not cheap at current levels after seeing a massive run-up, could undoubtedly become attractive in a broader stock market pullback. Especially if the rising rate environment comes with continued economic growth.
A market drawdown would undoubtedly be welcome after the euphoric run it has had over the last 12 months. Trying to predict a pullback is never easy and not a task to take lightly. But the rising rate environment and richly valued stock market seem to have all come together, creating a perfect storm.