NYC and Germany go back into lockdown
New strain of virus discovered in U.K.
Dollar slump continues
Key Financials
Despite ongoing negative news on the spread of the coronavirus pandemic, contracts on the , , and were up on Tuesday as vaccinations began in the US and Canada. European stocks continued to build on Monday's rebound thanks to reports of progress on another round of US stimulus.
The dollar and Bitcoin are under pressure as gold rises.
Global Financial Affairs
Mayor Bill de Blasio warned yesterday that New York City might go into a hard lockdown amid rising COVID-19 cases there, following a strict lockdown already in effect in California, as the metropolis recorded record numbers. Meanwhile high-risk health care workers began getting , providing hope that the rate of contagion will ease.
In US stimulus news, the bipartisan group of lawmakers working on a relief package had a "Christmas miracle," in store, according to Republican Senator Susan Collins. The group has managed to divide the original proposal into two parts, giving both the Democrats and Republicans what they want, according to Politico.
President-elect, Joseph Biden was declared the official winner of the US general election by the Electoral College on Monday, which is expected to finally put an end to the standoff on the election victory being advanced by some Republicans, that may have made investors feel uneasy about increasing risk. More Republican Senators are now acknowledging that Biden, the Democratic winner, is the true and legal 46th President of the United States.
While some investors may think this is the time to buy into the market as sentiment seems to be improving, news of a new strain of the virus in the UK was reported and it is unclear if existing vaccines are effective against it.
Meanwhile, BlackRock (NYSE:) upgraded its outlook on stocks to "overweight," meaning the global investment firm recommends that clients increase the weighting of stocks in their portfolios, at the expense of safe bonds.
Of note: after outperforming in Monday's session—when the and sold off—NASDAQ 100 futures are lagging again. This pattern has been consistent in almost every session recently, although the was mixed on Friday.
More evidence that recent rallies are supported by —while investors reverse rotations during declines—is that contracts on the Russell 2000 are outperforming. One of the market shifts during the recent rallies has been between large and small caps.
In Europe, the Index built on Monday's rebound, even as Germany heads into a new national lockdown on Wednesday, until at least Jan. 10. The harsh measures, which include closing shops, schools and childcare facilities, are in response to 30,000 new cases and 600 deaths on Friday and could push Europe's largest economy into recession.
The rebounded from a lower open and pared losses after reports of positive movement on Brexit talks.
Asia was painted red, as coronavirus news continued to dampen sentiment, only days after regional benchmarks hit records. Even China's growth, as measured by —which increased for the eighth month in a row—garnered no positive reaction. The index fell 0.6% to the lowest in over a week, just after a series of record highs in recent weeks.
Yields, including on the Treasury note, rebounded from a second day decline, as investors continued to move into stocks.
Stimulus progress weighed on the .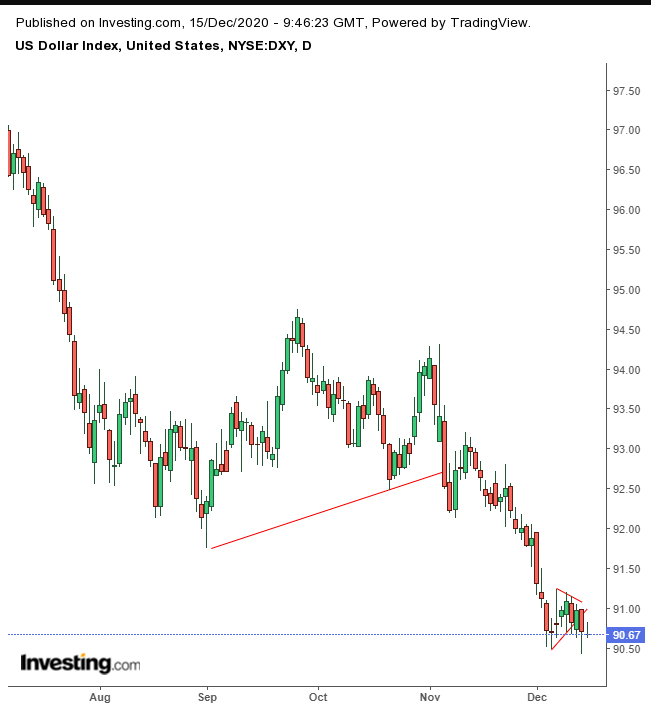 The greenback extended a downside breakout to a bearish pennant, signaling another leg down after the continuation H&S pattern.
Although it did not enjoy increased demand amid much of the USD's recent weakness, especially during risk-on days, off its 200 DMA.
Nevertheless, the yellow metal is still trading within a falling channel.
We recently pointed out that Bitcoin has stolen much of gold's thunder. Perhaps that is why it was not rallying amid dollar weakness and stock selloffs. It's noteworthy that on a day when gold finally is rising, is under pressure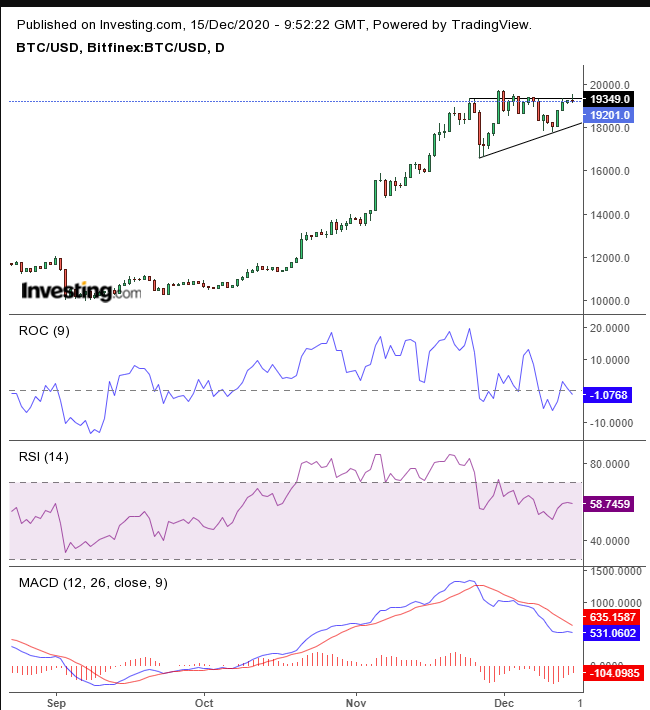 Bitcoin Daily
The cryptocurrency is developing a shooting star as it nears its record high, with multiple indicators providing bearish signals, giving bulls a hard time, as they try to force the completion of an ascending triangle.
rebounded after dropping from a nine-month high.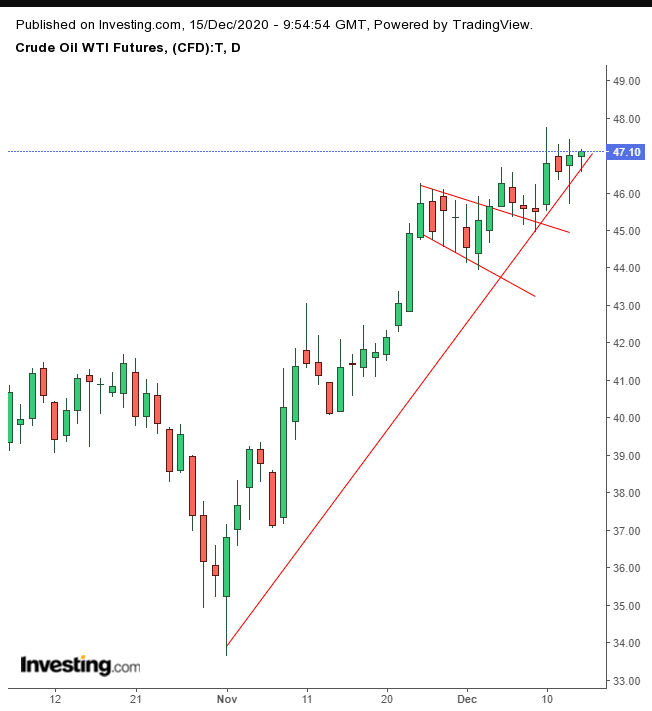 Fears that more travel restrictions will dampen demand are rising, as the price finds support by the uptrend line, after completing a bullish flag.
Up Ahead
The Federal Reserve on Tuesday and Wednesday, and markets are expecting fresh guidance on its continued asset purchases.
The as well as central banks in and announce policy decisions on Thursday.
On Friday the Bank of and Bank of announce interest rate decisions.
Market Moves
Stocks
Futures on the S&P 500 Index gained 0.3%.
The Stoxx Europe 600 Index was little changed.
The Index decreased 0.34%.
Currencies
The Dollar Index declined 0.1% to 90.60.
The was little changed at $1.2139.
The British pound decreased 0.1% to $1.3315.
The was little changed at 104.08 per dollar.
Bonds
The yield on 10-year Treasuries was unchanged at 0.89%.
The yield on Treasuries was unchanged at 0.12%.
Germany's yield fell less than one basis point to -0.62%.
Britain's yield decreased one basis point to 0.214%.
Commodities
West Texas Intermediate crude dipped 0.6% to $46.74 a barrel.
Gold strengthened 0.8% to $1,842.73 an ounce.