Supportive Fed policy joins Biden administration fiscal policy to buoy additional stimulus expectations
Tencent surge sets tone for global tech shares
Key Events
US futures for the , , and all rose on Monday, along with global stocks, on bets of further fiscal stimulus and accommodative monetary policy to combat a worsening coronavirus contagion. At time of writing, however, contracts on the Russell 2000 had reversed and were trading marginally lower.
The dollar rebounded and Bitcoin resumed its rally.
Global Financial Affairs
Ahead of a slew of this week, which include results from Apple (NASDAQ:), Tesla (NASDAQ:) and (NASDAQ:), contracts on the NASDAQ are outperforming.
According to , "Tech shares could retake market reigns as earnings heat up." This concurs with yesterday as to why tech stocks led last week's US rally. That could also explain why hedge funds are reportedly beefing up holdings in mega cap tech stocks such as Apple and Amazon (NASDAQ:) ahead of earnings.
The move back into big tech has spread beyond the US. This morning the Index opened higher, boosted by the tech sector. Expectations of positive earnings helped traders ignore the rising probability of continued global lockdowns amid a new, more contagious and dangerous strain of the virus.
Tech stocks also helped boost Asian indices earlier Monday. Tencent's (HK:) $251 billion gains which have propelled it to a $950 billion market cap has triggered a frenzy of demand for both shares and options of the company's -listed stock. The Index surged 4.5% to a new record. The tech rally helped the broader benchmark rise 2%.
Adding to the stock's momentum, Tencent is backing Kuaishou Technology, the operator of China's second-most popular video service, which is looking to raise $5.4 billion via what would be the world's biggest internet IPO since Uber (NYSE:).
advanced this morning to 727.46, scratching last week's 727.31 all-time high.
Yields, including for the US Treasury note, meandered along a pennant.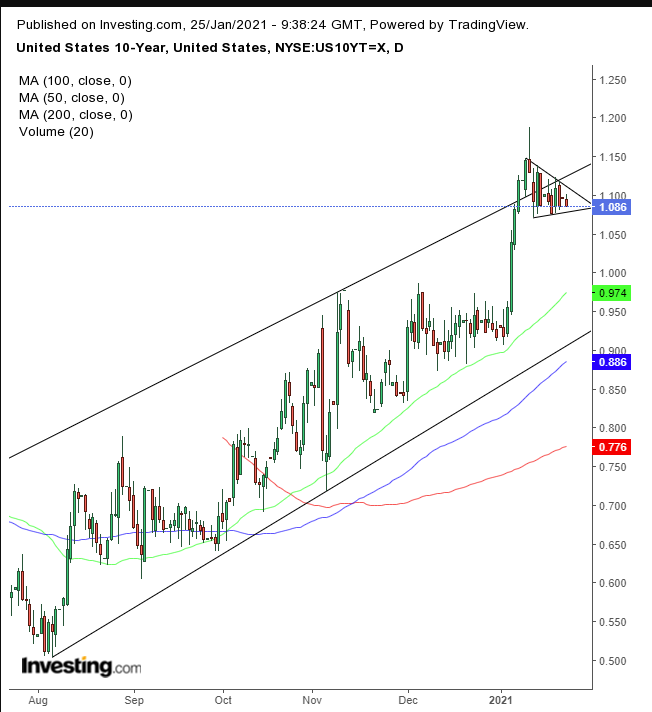 Rates are expected to break to the upside, based on the argument that the Democrats' massive stimulus agenda could cause inflation.
The bounced back from an earlier fall, reversing into a slight advance.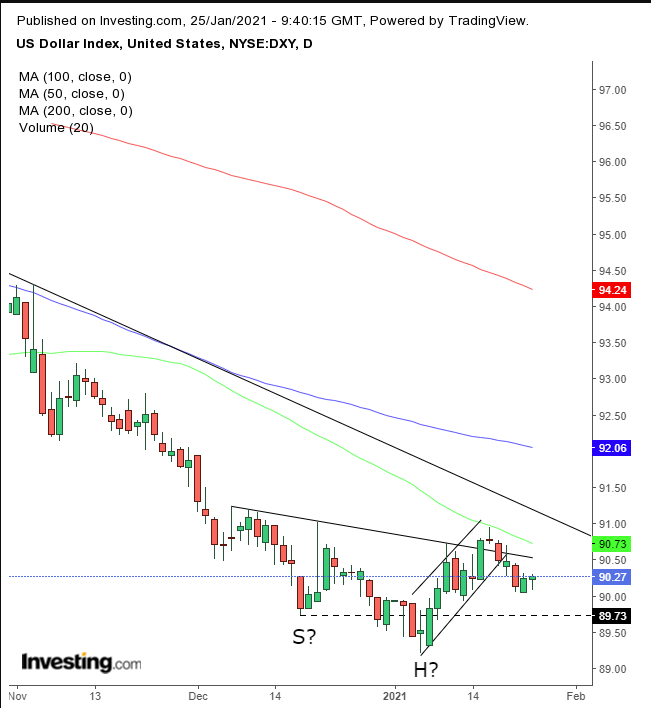 The greenback was caught between two conflicting narratives—a bearish, oversupply of stimulus dollars and a bullish higher pay-out as rates follow inflation higher. Meanwhile, the USD is flirting with a potential H&S bottom, while stuck within a downtrend.
As the anti-dollar, is showing the same dichotomy.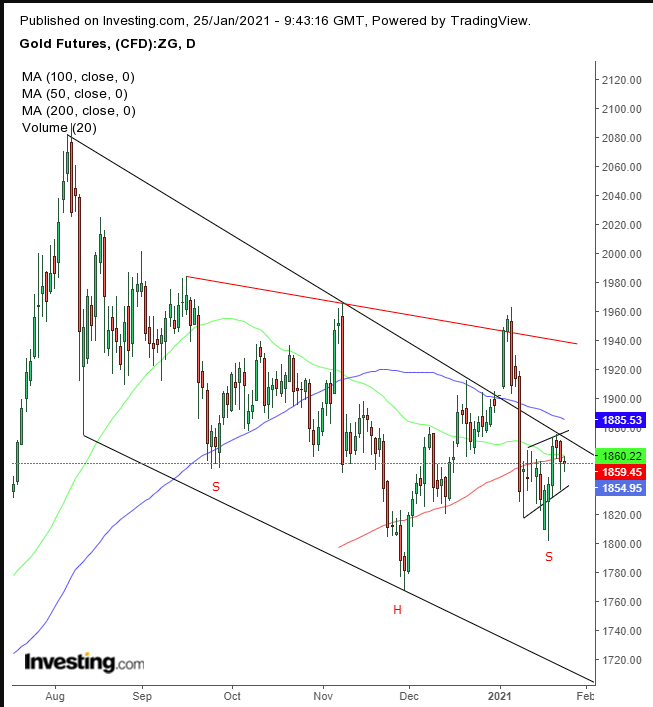 The yellow metal is developing a bearish, rising flag, within a falling channel, while possibly also forming a H&S bottom. The 50 DMA is kissing the 100 DMA, as traders wait to see if the connection is one of friendship with a positive 50 DMA rebound, or the kiss of death, with a Death Cross. Fundamentally, like many other market participants, gold is regarding additional US stimulus.
suffered its first back-to-back weekly decline since September. However, its trading pattern is making the argument for another rally.
While gold's function is to give investors a place to hide their money if the value of the dollar drops, recently, Bitcoin has been providing the same cool trick. Many analysts have attributed Bitcoin's miraculous rally to that very thing—investors taking their funds away from gold. Mad Money's Jim Cramer says the same young investors who are buying Tesla are also buying Bitcoin.
JPMorgan analysts are flagging a potential unwind of flows into the $20 billion Grayscale Bitcoin Trust (OTC:), a key crypto fund, as a sign the cryptocurrency could be peaking. Our take, however, is that the leading digital currency may have been developing a falling flag, bullish—upon an upside breakout—following the $18,756 surge between Dec. 24 and Jan. 8.
prices fell on Friday as new coronavirus cases ramped up both in the US and China. It should be noted, however, that the Biden administration is clamping down on fossil fuel drilling, which would limit future supply. In the meantime, the commodity's chart supports a potential rally.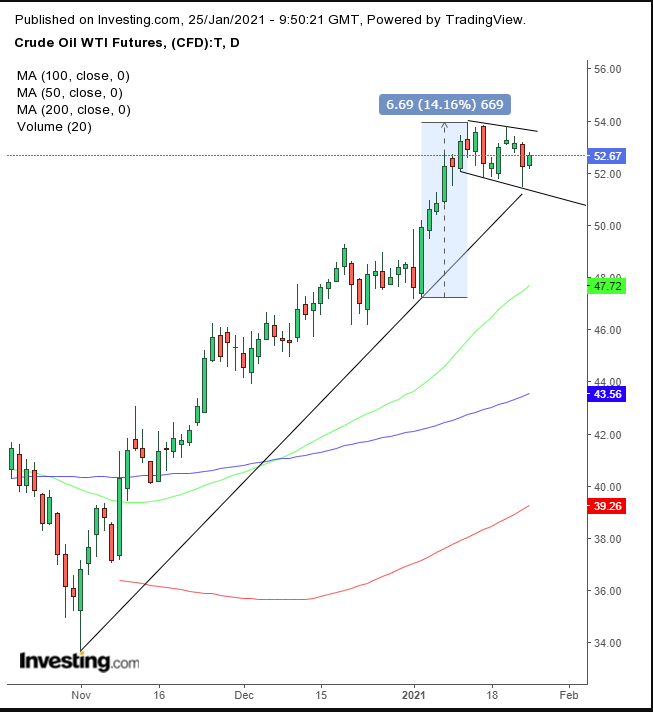 Oil fell Friday, but closed well off its lows, after bouncing off the bottom of a range, which met with the uptrend line. The commodity has been trading within a falling flag which is bullish, upon an upside breakout, following the $6.69 jump within the seven sessions between Jan. 5-13. An upside breakout above the $54 level would target the $60 mark.
Up Ahead
Microsoft, Apple, Tesla, Facebook (NASDAQ:), UBS Group (SIX:) and Samsung (OTC:) are among the companies reporting results this coming week.
Chinese President Xi Jinping is due to speak at the World Economic Forum's "The Davos Agenda 2021" online event on Monday.
People's Bank of China Governor Yi Gang and European Central Bank Chief Economist speak at a conference on Monday.
Data on US and are released Tuesday.
The Federal Open Market Committee and briefing by Chair Jerome Powell are scheduled for Wednesday.
US fourth-quarter , and all print on Thursday.
Market Moves
Stocks
Futures on the S&P 500 Index gained 0.5%.
The Stoxx Europe 600 Index increased 0.5%.
The advanced 1%.
The climbed 1.3%.
Currencies
The Dollar Index rose less than 0.1% to 90.28.
The gained 0.1% to $1.2178.
The climbed 0.2% to $1.3713.
The was little changed at 103.73 per dollar.
Bonds
The yield on 10-year Treasuries climbed one basis point to 1.10%.
The yield on Treasuries gained less than one basis point to 0.12%.
Germany's yield gained less than one basis point to -0.51%.
Britain's yield advanced one basis point to 0.312%.
Commodities
West Texas Intermediate crude gained 1.2% to $52.58 a barrel.
Gold weakened 0.1% to $1,853.45 an ounce.