This article was written exclusively for Investing.com
Investors have been expecting to become a significant problem based on rising interest rates and the big reflation trade that has taken place in the equity market.
But different parts of the market don't seem to see it that way. Measuring breakeven inflation expectations and , for example, tell a very different story and point to not higher inflation rates, but inflation rates that are likely to decline in future years. 
Over most of 2020, gold prices soared, with the metal rising by more than 40% from its March lows through August. Investors saw the metal as a way to hedge against inflation risk, as the US government instituted massive stimulus measures and the Fed pushed through easy monetary policy with a massive quantitative easing program. 
Gold Is Not Pricing In Inflation
Since August, it has been a different story, with gold prices falling by nearly 20%. The declining price indicates that future inflation expectations are not nearly as high as they were at one point. It may even be suggesting that inflation fails to materialize, should gold continue to fall.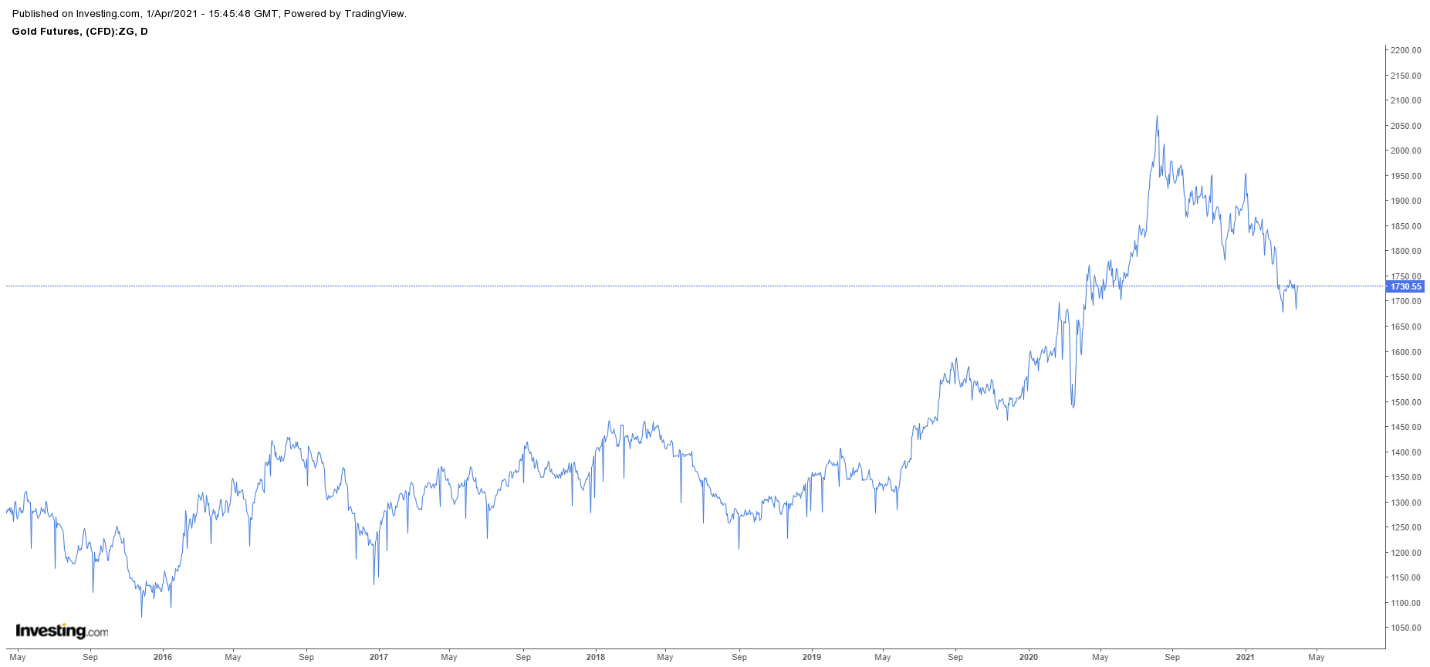 5-Year Inflation Worries
Meanwhile, 5-year breakeven inflation expectations are now around 2.55%, which is at its highest level since 2008. That 5-year level has only been witnessed a handful of times since the late 1990s, suggesting a very high reading. The 7-year and 10-year breakeven inflation expectations are lower, at approximately 2.45% and 2.35%, respectively. 
It would appear that based on those expectations, the market is pricing in lower inflation rates in coming years beyond the current five years. Again, it points to current inflation expectations being too high or future inflation expectations being too low.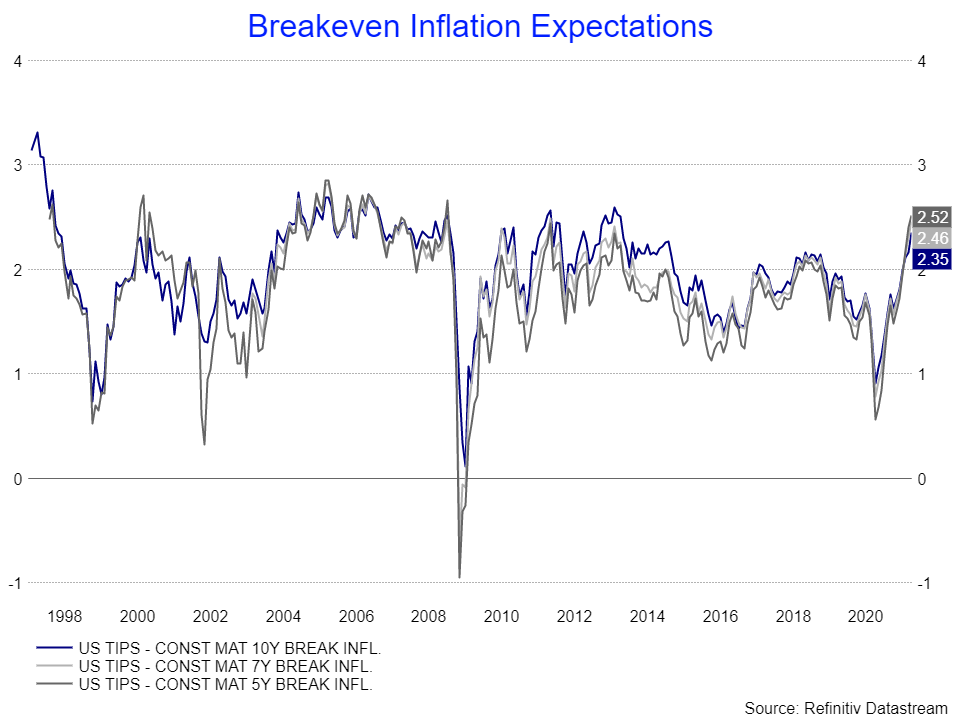 The spread between the 5-year breakeven inflation rate and the 10-year breakeven inflation rate is now 17 basis points. One would have to go back to the early 2000s to find a wider difference in inflation expectations. Of course, the early 2000s was when a recession hit the economy, bringing those expectations for the 5-year down sharply. Meanwhile, the other period that saw equally high levels as present was in the mid-2000s, followed by the financial crisis. 

Inflation Expectations May Be Too High
It is not to say that the economy is about to slip into recession; it may merely be a coincidence that happened the last two times. It suggests that these inflation worries seem to have a way of working themselves out over time. It could also be indicative that the current inflation worries are overdone, unless we start to see the 10-year rate begin to climb in a meaningful way, which at this point it has not. If the 10-year breakeven rate should rise and surpass the 5-year rate, it would be a sign that the market is pricing in much higher inflation rates in the future. 
Suppose it does prove to be the case that gold and breakeven inflation expectations are correct. In that case, it seems entirely possible that these inflation worries will have vanished in a 6 to 12 month period, with rates starting to head lower once again and fears shifting from an overheating economy to one that is heading towards a recession.