Federal Reserve Chairman Jerome Powell reiterated last week that the US central bank will be "patient" and not tighten monetary policy even in the face of economic recovery, as investors grew decidedly impatient.
Yields on the benchmark Treasuries continued to rise, topping 1.6% at one point on Friday, and Fed policymakers cautiously hedged their positions.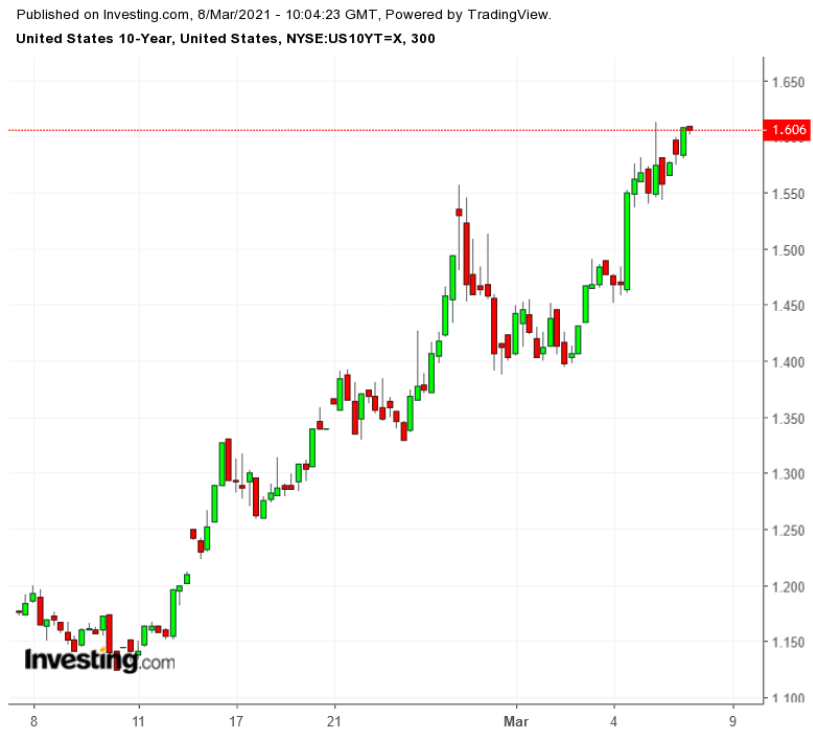 "Some of those moves last week, and the speed of those moves, caught my eye," Fed Governor said at a Council on Foreign Relations event.
"I would be concerned if I saw disorderly conditions or persistent tightening in financial conditions that could slow progress toward our goal."
Powell, too, echoed these remarks in his at a jobs summit, but so far he is not perturbed. Disorderly conditions and tightening financial conditions may lie in the eye of the beholder, but the hesitant acknowledgements from officials whetted investors' appetites for Fed action to dampen rising yields.
Congress stumbled over the weekend toward approving the $1.9 trillion COVID relief package after the Senate waded through scores of amendments in an overnight session to approve the legislation and send it back to the House to vote on its changes this coming week.
The fiscal package is expected to boost consumer spending by sending relief checks to lower income individuals as the rise in vaccinations and declines in infections enables people to go back to work. But that economic boost in turn could push borrowing costs higher, impeding the very recovery the legislation aims to support.
Growing Gap In Intenions, Expectations As Fed Priorities Shift
The growing gap between the Fed's stated intentions and market expectations comes partly as a result of a shift in the Fed's priorities.
Powell repeated his remarks from congressional testimony a week earlier that the job market is far short of the Fed's goal of maximum employment, even though data released the next day showed much stronger growth in hiring than expected as the U.S. economy 379,000 jobs in February.
But the economy was still nearly 10 million jobs short of pre-pandemic levels and Brainard spelled out the Fed's new priorities at the Council on Foreign Relations.
"The long-standing presumption that accommodation should be reduced preemptively when the nears estimates of the neutral rate in anticipation of high inflation that is unlikely to materialize risks an unwarranted loss of opportunity for many of the most economically vulnerable Americans," she said.
"It may curtail progress for racial and ethnic groups that have faced systemic challenges in the labor force. Instead, the shortfalls approach will enable the labor market to continue to improve absent clear indications of high inflationary pressures or an unmooring of inflation expectations to the upside."
Cleveland Fed Chief Loretta Mester told CNN that the Federal Open Market Committee wants to make sure the post-vaccination recovery is broad-based and sustainable. "From my point of view on policy, I think that's going to take sustained accommodation from the Fed for some time," she said.
, head of the Atlanta Fed, echoed the need to support the economy. "We need to do all we can to minimize the long-term damage from the pandemic crisis and to make sure that the recovery is as broad based and as inclusive as possible," he said at a Stanford University event.
Philadelphia Fed Chief Patrick Harker underscored this preoccupation when he noted that unemployment among black and Hispanic workers was running twice as high as that among white workers.
"Even with some hopeful signs as virus cases fall and the economy continues to reopen, I'm concerned that, as the broader economy climbs upward, far too many workers are being left behind," Harker said at a Philadelphia Fed employment roundtable.
Other policymakers downplayed the rise in yields. "If we were seeing a real uptick in real yields, that would give me pause, that would give me concern that the amount of accommodation we are providing to the economy is reducing, and that might warrant us considering a policy response," Minneapolis Fed President Neel Kashkari said, adding that higher yields so far only reflected a rise in inflation expectations.