The forex market on the daily chart is turning down from the Jan. 22 lower high. The bears hope that the lower high will be the 1st in a series of lower highs, and the start of a bear trend. They see that lower high as the right shoulder of a head and shoulders top, and a lower high major trend reversal. If they get a couple closes below the Jan. 1 low, which is the neckline, traders will look for a measured move down to the Nov. 4 low of 1.6.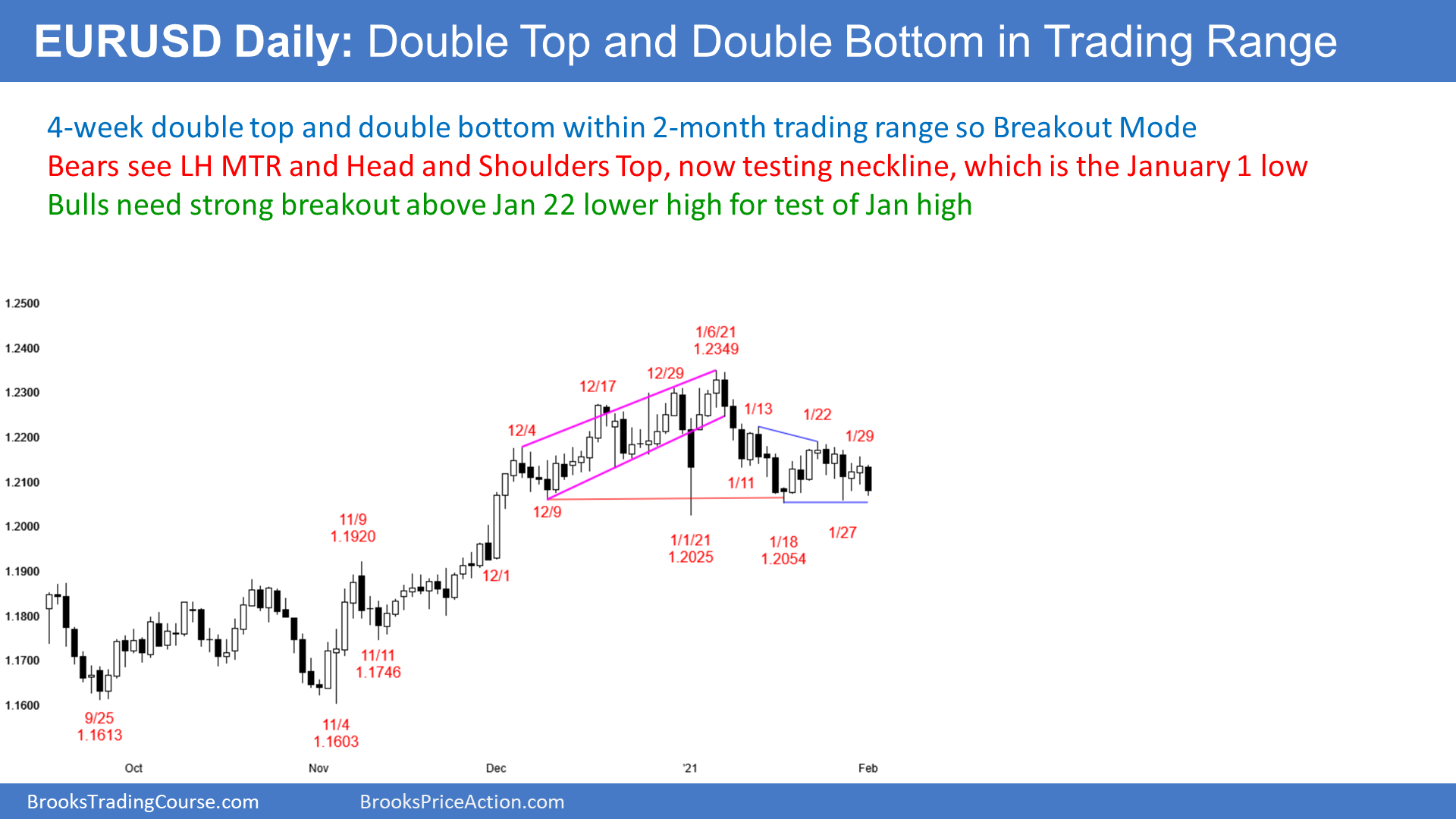 Most tops and bottoms are trading ranges, which mean they are Breakout Mode pattern. This is another example. Every trading range also has a credible buy pattern. Traders see the head and shoulders top as a triangle bull flag. The bulls need a strong break above the Jan. 22 lower high and then a couple closes above the Jan. 6 high, before traders will conclude that the bull trend is resuming.
What is most likely? Trading ranges resist change. Until there is a convincing breakout up or down, traders will continue to look for reversals. Even though at the moment the bears have slightly higher probability of a successful bear breakout, until there is a breakout, there is no breakout. The odds of a reversal are always higher than of a successful breakout.
Overnight EUR/USD Forex trading
The 5-minute chart of the EUR/USD forex market sold off sharply over night, but it has been sideways in a tight range for 2 hours. Day traders have only been making money selling. However, now that the range is so tight, even scalpers are having a hard time making even 10 pips.
Because there is a trading range and the EUR/USD is near the support of the bottom of its 2-month trading range, the bulls are willing to buy. But the bears will continue to sell rallies, hoping for a resumption of the bear trend.
A trading range is a Breakout Mode pattern. Many traders are trading reversals, hoping for a surprisingly strong move up or down. However, they have been scalping out when they quickly become disappointed by the lack of a strong breakout.
Can today have either a strong bear breakout below the 2-month range, or a strong reversal up? A tight trading range after a sell climax usually will lead either to at least a small resumption down, or a small reversal up. A relative small move on the 5-minute chart today is more likely than a big trend, especially since the EUR/USD has been sideways for 3 weeks with mostly small days.