The forex market on the daily chart has been in a trading range for 2 months. Friday's tail on top is a small 3rd reversal down, and therefore the trading range is also a triangle. Additionally, this trading range is at the bottom of a 3-month trading range.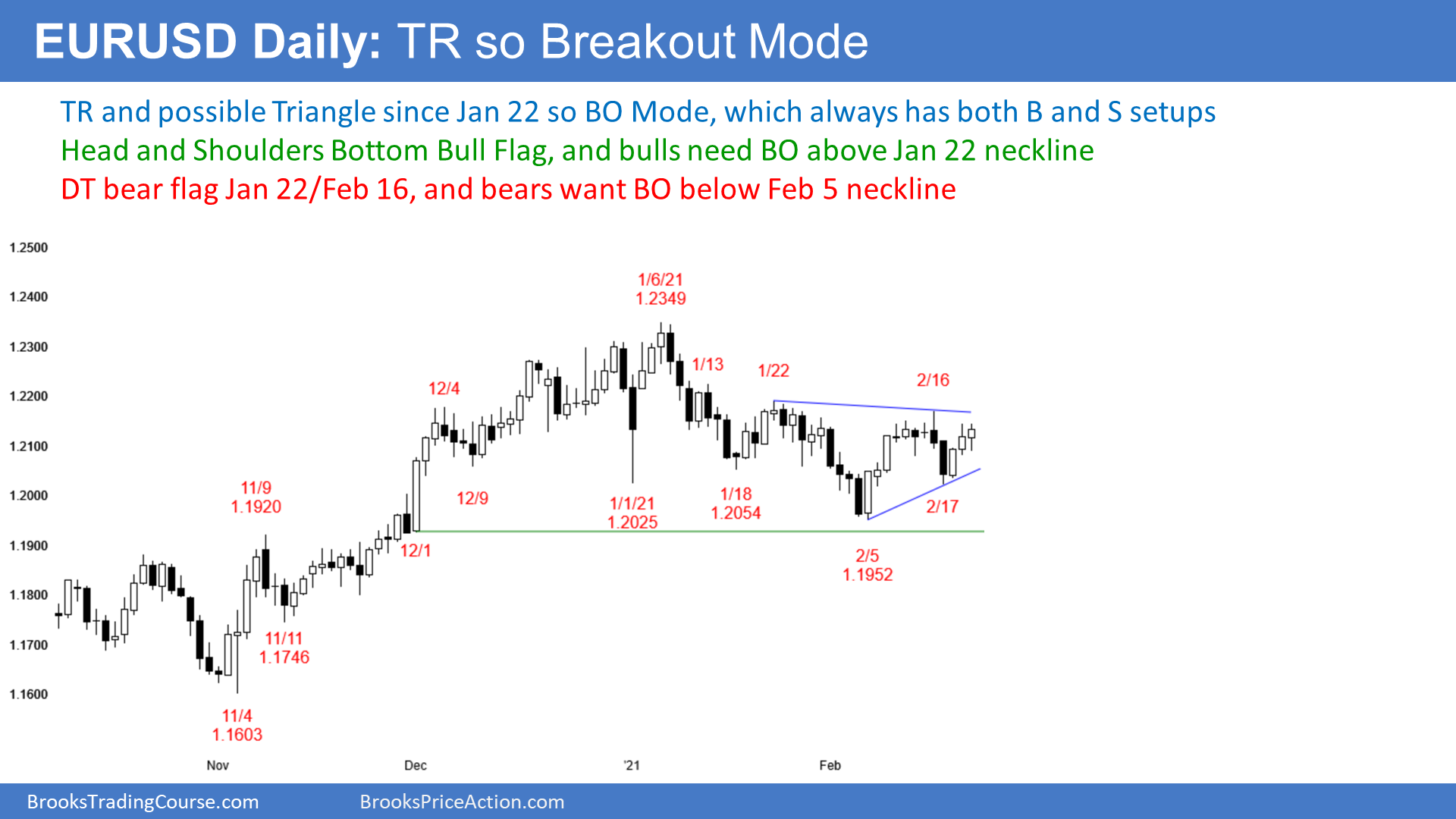 Every trading range is a Breakout Mode pattern. Traders are deciding if the current wedge top on the weekly chart is complete, or if there will be one more leg up.
Every trading range has both a buy and sell setup. The bulls see a head and shoulders bottom bull flag. For the bears, there is a double top bear flag. But, until there is a breakout, there is no breakout. The chart alternates between being bullish and bearish every few days, but the probability that a successful breakout will be up or down, never gets far from 50%. Until there are consecutive closes above or below, traders will bet on reversals.
Overnight EUR/USD Forex trading
The 5-minute chart of the EUR/USD Forex market sold off and reversed up overnight. There is room to the trend line at the top of the triangle on the daily chart. That is a magnet above, that the rally might reach today.
The reversal up has been strong enough so that day traders have only been buying. When a reversal is as abrupt as this one has been, the day typically either goes sideways or up. Therefore, the best the bears will probably get today are small scalps. But until there is at least a 20-pip pullback, day traders should only buy.
Can today break far above the Jan. 22 high today? Probably not. When a market has been sideways for a long time, it typically disappoints both bull and bears. While the bulls are happy to have a reversal up, they should expect that it will not grow into a huge bull trend day.