The buying of risky assets has intensified again in the markets. The rally in commodity currencies and the is being stretched even further. As confirmation of buyers' strength, the has added 1.35%, and futures are now above 32,000. The found support after failing under the 50-day average earlier in the week, while the reversed upward after touching its 50-DMA.
Thus, the markets are dominated by bets that the world economy is returning to normal. In this race, the former leaders, the so-called FAANG and companies like Tesla (NASDAQ:) look a little tired after last year's acceleration. Traditional value stocks and commodity sectors are now getting a chance to narrow the gap with high-tech companies.
 
Yesterday, the NASDAQ 100 returned to growth on Powell's assurances that rising US long-term bond yields are a sign of optimism about the economy rather than fear of inflation. But it is worth considering this move from another angle.
Increasing yields are bad for growth companies, which raise capital to finance advancements and are far from the phase where they will return it to shareholders. Also, higher interest rates boost the denominator in terms of companies' projected earnings. That is, it makes them more overvalued in real terms than when rates are lower.
 
This is why higher interest rates are putting pressure on growth stocks. Yesterday we saw a simultaneous rise in long-term government bond yields and a rebound in the index. However, we can hardly draw far-reaching conclusions from this.
 
Further development of rising government bond yields will keep the market focus on value equities and commodities. This trend appeared in full force in February and could remain with us for the coming months or even years.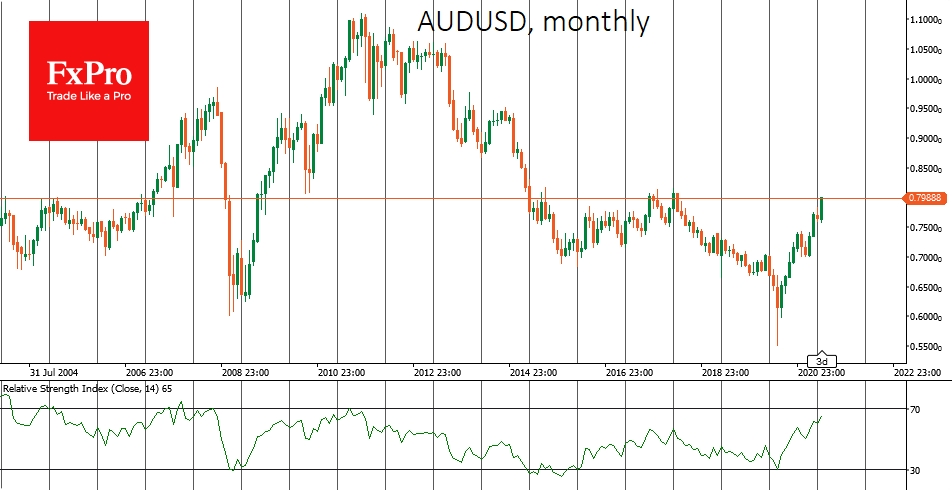 Exactly one month since the end of January, Apple (NASDAQ:) and Tesla shares, proxies of the high-tech boom in the stock market, have been pulling the indices down rather than pushing them up. Meanwhile, commodity assets are skyrocketing, and risk-sensitive currencies (, , GBP) are renewing 2-3 year highs. These currencies against the dollar have approached critical round levels, with AUD/USD approaching 0.8000, USD/CAD testing 1.2500 and GBP/USD at 1.4200, finding itself near 2018 peaks, back to pre-Brexit levels.
Nevertheless, this does not at all rule out short-term pullbacks within the general trend. Commodities could fall into short-term profit-taking at the close of February, as could several currencies, which could require a recovering correction for further gains.
The FxPro Analyst Team