The Forex market on the daily chart has been sideways after last week's big bull breakout. The bulls see this small tight trading range as a bull flag. Yesterday was a big bull day. The bulls hope that it will be the start of a breakout of the bull flag. But the bull flag had 4 bear bars. That usually does not lead to a resumption of the bull trend without first going sideways for more bars.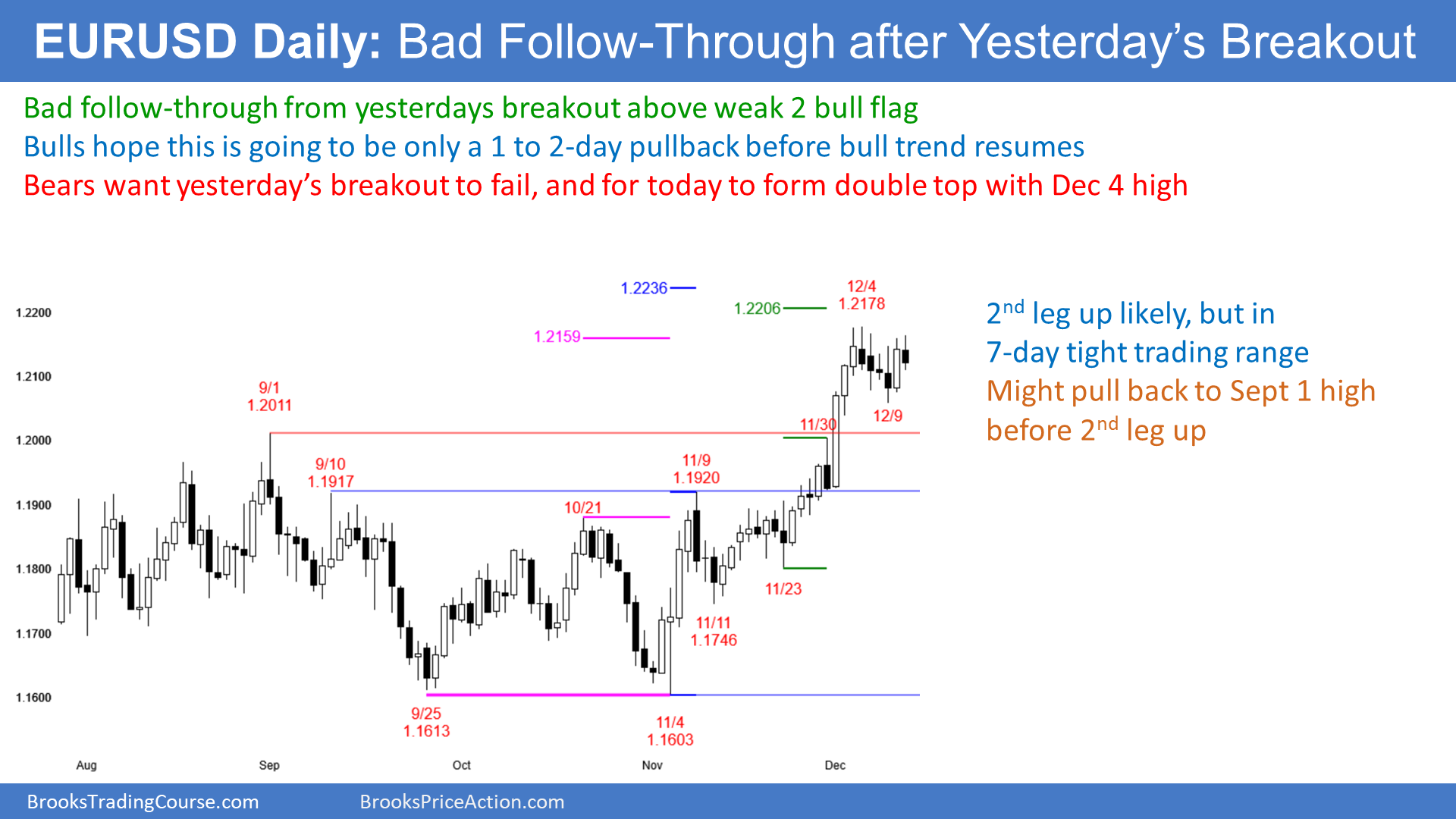 Today traded about yesterday's high, but sold off. So far, today is a big bear bar on the daily chart. That is bad follow-through and it increases the chance that the tight trading range will add more bars (days).
However, the day is not yet over. If the bulls can get it to close above the open, traders will expect higher prices next week.
The bears hope that today is forming a double top with last week's high. They want a reversal down, at least to the September 1 high, which is the breakout point. They will have a better chance if today closes on its low.
It is important to remember that today is Friday. Last week was a big bull bar on the weekly chart, and a breakout to a 2-year high. This week is the follow-through bar. The more bullish it is, the greater the chance of higher prices next week. If the week closes on its low, it will be a sell signal bar for next week.
The overnight reversal down stopped right at the open of the week. The EURUSD has been trading in a 20-pip range around the open for 5 hours. Traders are clearly paying attention to the weekly chart today. This will likely continue all day.
Overnight EUR/USD Forex trading
The 5-minute chart of the EUR/USD Forex market reversed down from above yesterday's high to the open of the week. It has been in a 25-pip range for 5 hours. Day traders are scalping reversals above and below the open.
This could continue all day. If it does, the week will close very near the open. It will have either a small bull or bear body. The bigger the bull body, the more hopeful the bulls will be for higher prices next week. The bigger the bear body, the more the bears will expect a reversal down next week.
If the week has even a small bear body, it will reduce the chance of higher prices next week. But if it ends up with a small bull or bear body, it will not offer much guidance for next week. It will increase the chance that the 7-day tight trading range on the daily chart will continue at least into early next week.