The forex market on the daily chart finally closed below the 2-month trading range yesterday. The Jan. 1 low is also the neckline of a head and shoulders top.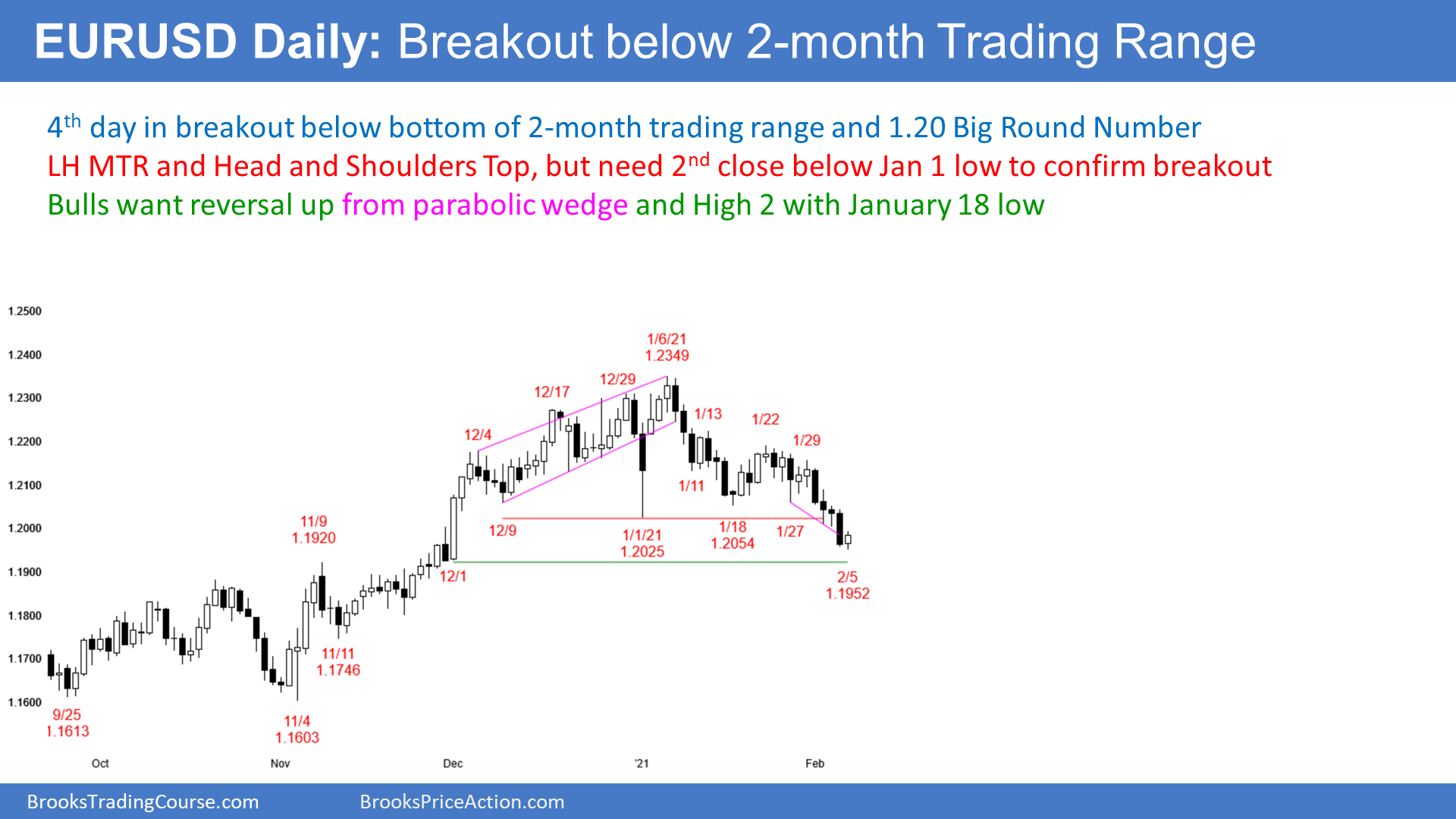 Today is the day after a breakout, which makes it the follow-through day. The more bearish it is, the more likely the selloff will continue down for a measured move. But the more bullish it is, the more likely the breakout will fail, and the EUR/USD will reverse up.
At a minimum, the bears want a small bear body. Today would then be the 2nd consecutive close below the Jan. 1 breakout point. That would "confirm" the breakout and increase the chance of lower prices.
The bulls want more than a bull body. If they get a big bull bar, traders will conclude that the breakout failed. The odds of a reversal up would further increase if there were several more bull bars over the next several days.
Overnight EUR/USD Forex trading
The 5-minute chart of the EUR/USD forex market reversed up strongly overnight from below yesterday's low. So far, today is a bull bar closing on its high on the daily chart.
If today ends like this, the bears will buy back their shorts, and the bulls will look for at least a few days of sideways to up trading. If they get several bull days, traders will conclude that the breakout failed, and that the rally will test the Jan. 22 lower high in the middle of the 2-month trading range.
The overnight reversal is strong enough for traders to only buy. They are buying for a swing up on the daily chart and for scalps. If the rally stalls and evolves into a trading range, the bears will begin to scalp as well.
Can today reverse back down to the low? That is unlikely when there is a strong reversal up from a critical price. Therefore, today will probably be sideways to up for the rest of the day.
The close will be important. If today closes near its high, it will be a good buy signal bar on the daily chart. The bears do not want that. They will try to get the day to close below the midpoint of the day's range. But they will probably need at least a 2-hour trading range before they have a chance of achieving their goal.