The forex market on the daily chart has been rallying for 5 days from a failed breakout below a 2-month trading range. Traders expect at least a couple legs up to the Jan. 22 high. Therefore, the bulls will buy the 1st 1- to 3-day pullback.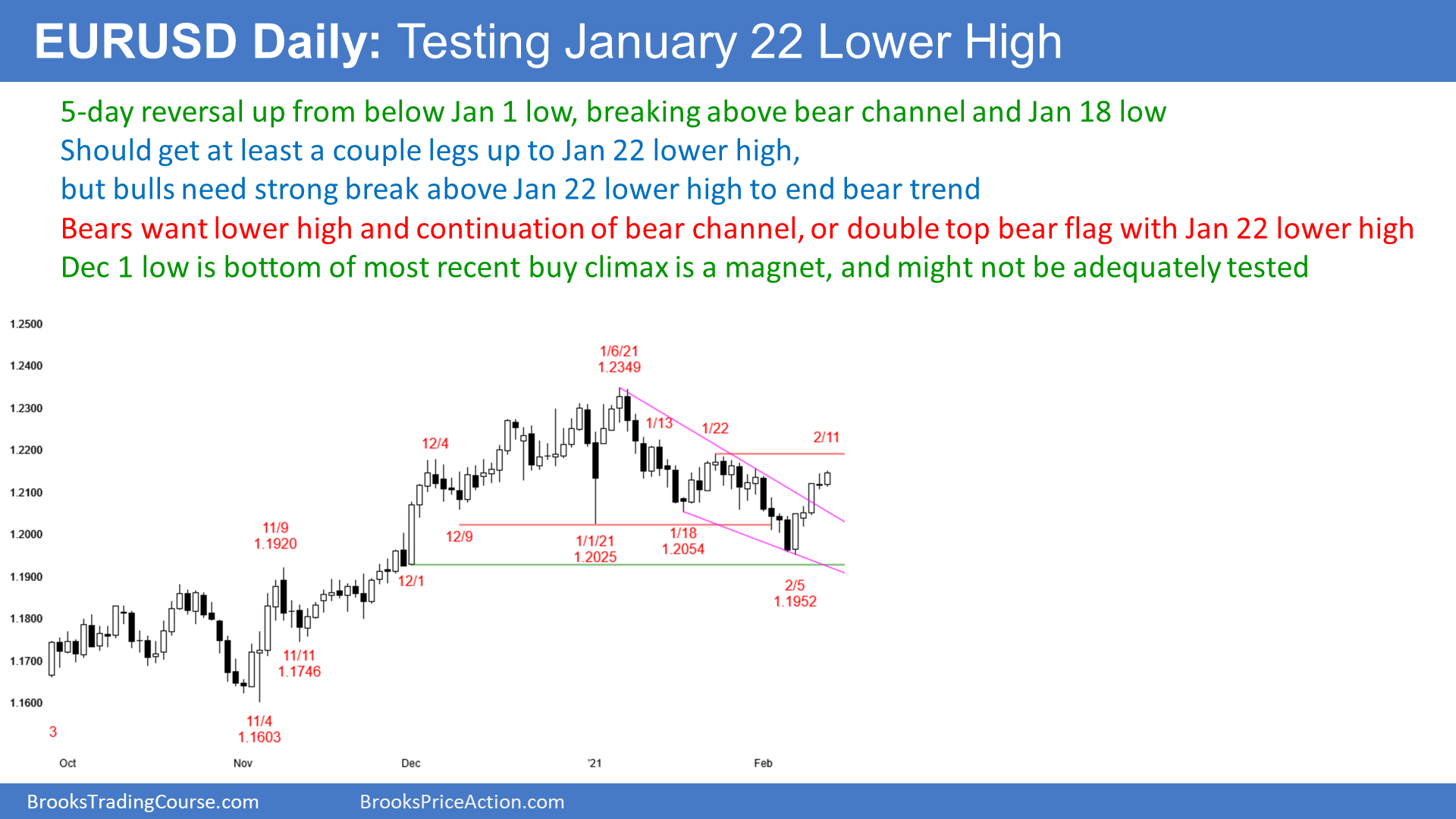 Today is a 3rd big bull body in the rally. That means it is the 3rd push up, and there must be a parabolic wedge on a lower time frame, like the 60-minute chart. That increases the chance of a pullback coming soon. For example, if today reverses down to the low of the session by the end of the day, there would be a micro double top on the daily chart. That would probably lead to at least a small pullback starting tomorrow.
Tomorrow is Friday and therefore traders will pay attention to the weekly chart today and tomorrow. Last week was a big bear bar. This week has totally reversed last week's selloff. The bulls want the week to close on its high, and above last week's high. That would increases the chances of at least slightly higher prices next week.
Overnight EUR/USD Forex trading
The 5-minute chart of the EUR/USD Forex market has rallied since opening near yesterday's close. While it spent several hours going sideways overnight, it broke to the upside over the past hour to above yesterday's high. The bulls would like today to close above yesterday's high. That would increase the chance of at least slightly higher prices tomorrow.
Remember, the daily chart is overbought. Traders expect a pullback soon. There is therefore an increased risk of a reversal down later in the day today. But since the EUR/USD is in the midst of a bull breakout on the 5 minute chart, day traders are currently only buying.
But if the EUR/USD begins to go sideways again, the bears will start to sell. They will initially only scalp. However, if they can stop the bulls and create a trading range for a couple hours, they will have a 40% chance of a reversal down late in the day.