The Forex market on the daily chart has been in a trading range for two months. A trading range always has both a credible buy and sell setup. The bulls want the five-day rally to be a resumption of the bull trend. However, the rally lacks consecutive strong bull bars. It looks more like another leg in the trading range instead of the start of a bull trend.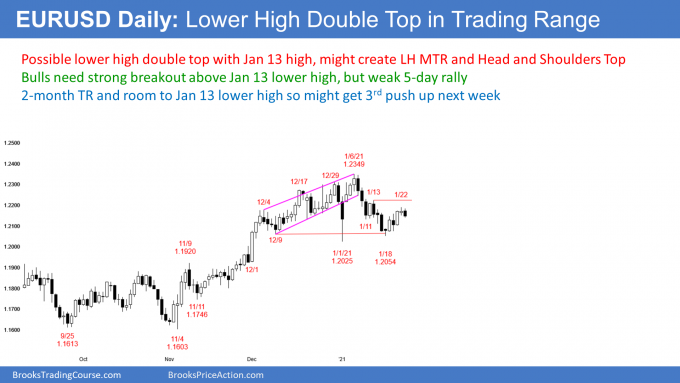 The bears see the rally as a pullback from the selloff from the January high. They expect it to soon fail, and for another move down to begin. The lower high could be the start of a major trend reversal. It would be the right shoulder of a head-and-shoulders top.
In a trading range, it is easy to only see one argument. But it is important to understand that a market can only be in a trading range if the bulls and bears are equally strong. They simply take turns at attempts to create a trend. Most attempts fail.
While the current setup is slightly better for the bears, until there is a breakout, there is no breakout. The bears need big bear bars, consecutive big bear bars, and consecutive closes below the Jan. 1 low, which is the bottom of the range. If they get that, traders will look for a measured move down to the Nov. 4 low at 1.16. Until then, traders will continue to take quick profits every few days.
Overnight EURUSD Forex Trading
The 5-minute chart of the EUR/USD Forex market sold off sharply to below Friday's low. Friday is a sell signal bar on the daily chart for a head and shoulders top. However, it had a bull body and Thursday was a big bull bar. This lowers the chance that today will be the start of a bear trend down to 1.16. As I said, most breakout attempts within a trading range fail.
There was a 25-pip bounce a couple hours ago. It was strong enough so that bears will consider buying a reversal up from a test of the overnight low. They hope that the remainder of the day is sideways instead of down.
The selloff was strong enough to make a trend reversal back up unlikely. Therefore, the bears will sell rallies.
Because the bounce was strong, there is a Big Down, Big Up, Big Confusion pattern. That makes a trading range most likely, at least for a couple hours. However, if there is going to be a trend from here, down is more likely than up.