This article was written exclusively for Investing.com
The has hit resistance again after staging a decent recovery in the past few days. But given the 's recent good run of form and crude 's struggles, could the Canadian dollar finally succumb to pressure and drop more meaningfully, sending the USD/CAD higher?
The USD/CAD has run into resistance in the 1.2590 to 1.2630 area today. As you can see from the chart, this zone was formerly supported and is where a bearish trend line comes into play: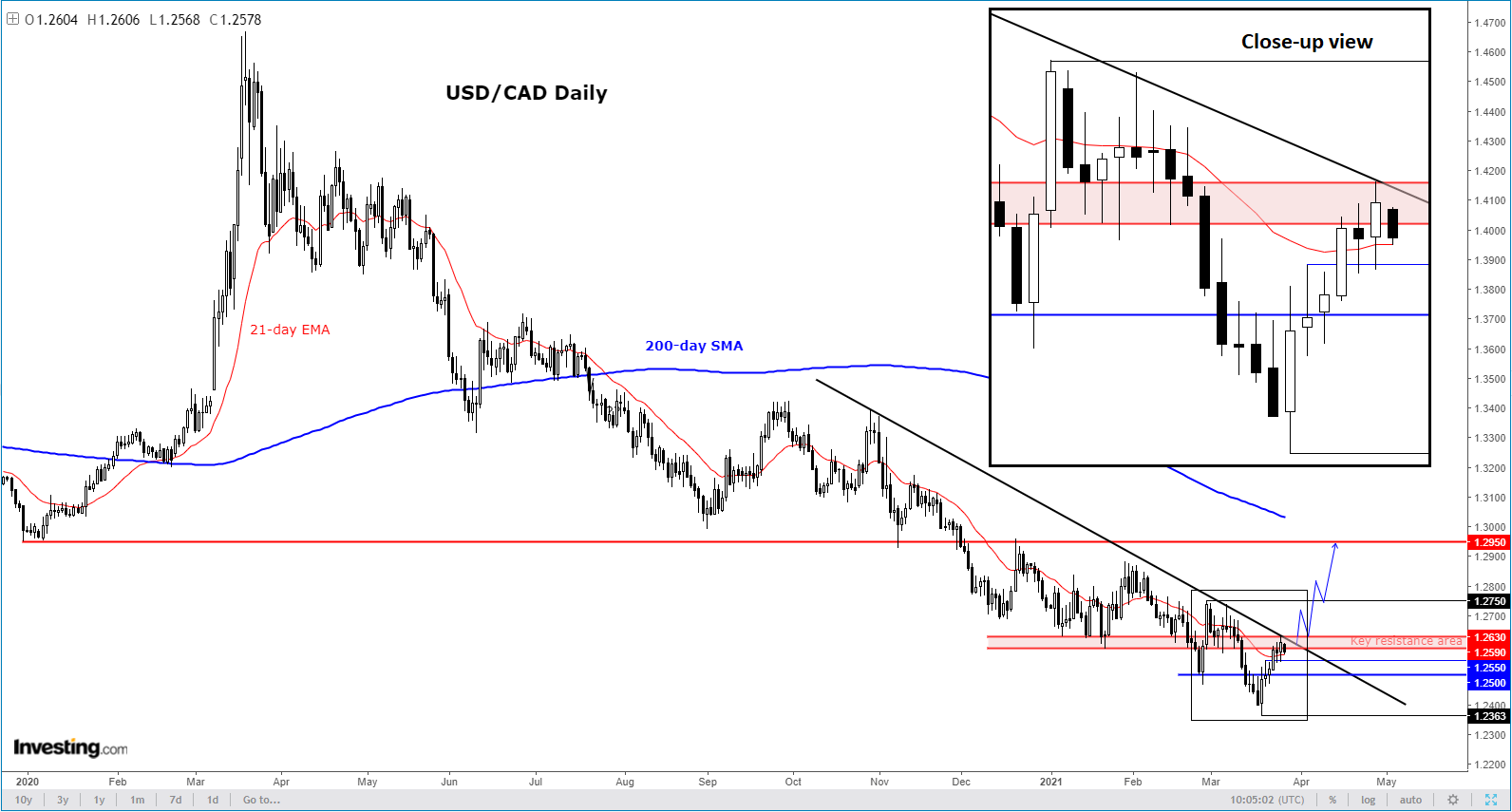 If the USD/CAD manages to clear this area then we could see the onset of a short squeeze rally in the days ahead, as the bears abandon their bets.
However, while the above resistance area holds, any bullish signals that we have so far seen in the past few days should be treated with caution, as the underlying trend is still technically bearish.
Ever since the financial markets bottomed out in March 2020, the Canadian dollar has been one of the strongest performers among the major currencies. The big risk rally and rising crude oil prices supported the North American currency. Recently, the Bank of Canada has also signalled that it will reduce QE, becoming the first G7 central bank to take its foot off the gas. Canada's economic recovery has accelerated, and crude oil prices have recovered strongly, reducing the need for emergency measures. 
Against this backdrop, you would think the outlook remains positive for the Canadian dollar.
However, it is worth remembering that much of the positivity has already been priced in. What's more, the US dollar's recovery could accelerate given the pace of vaccinations there and the potential for a strong economic recovery with so much government and central bank stimulus filtering through. What's more, with OPEC+ expected to slowly ease supply curbs, oil prices may be close to a peak. Oil prices have already fallen in the past couple of weeks, but let's see if there will be any further downside still to come.
So, the USD/CAD may be able to stage a more meaningful comeback.